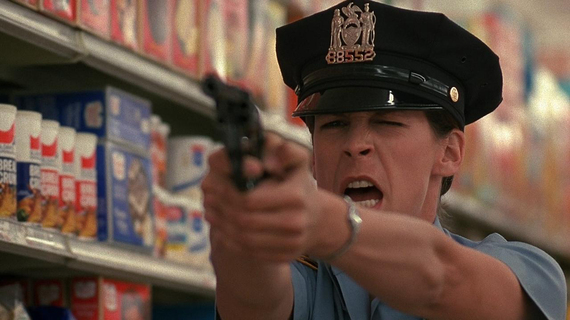 We tend to think of genre movies--cops, cowboys, kung fu, bikers, vampires, slashers, sexploitation, etc.--as an exclusive boy's club. Male directors from Quentin Tarantino to John Carpenter have made whole careers out of making nothing but genre pictures.
But it turns out the girls can genre just as hard as the boys when given the chance. For proof, check out the Genre Is A Woman festival unspooling at Film Forum June 3-16. Programmed by Giulia D'Agnolo Vallan, who has made a study of the subject, it demonstrates the female of the director species is deadlier than the male. Highlights include:
The Hitch-Hiker (1953). Ida Lupino is best known as an actress--"the American Jean Harlow"--but she directed five feature films and hundreds of television episodes, including this film noir about two pals who pick up the wrong guy.
Bad Girls Go To Hell (1965). Doris Wishman had a long career directing low budget movies, including this sexploitation flick. Screened with A Night To Dismember (1983), Wishman's final film . Wishman biographer Michael Bowen will be there to introduce her work.
The Student Nurses (1970). Stephanie Rothman directed this feminist parable disguised as a sexploitation flick. The only restrictions producer Roger Corman gave Rothman were the actresses had to be attractive and naked as often as possible. With one of the screen's first positive depictions of abortion.
Bury Me An Angel (1972). Barbara Peters directed this biker flick. Too bad they didn't include her controversial Humanoids from the Deep (1980), sort of an R-rated version Creature from the Black Lagoon (1954).
The Slumber Party Massacre (1982). Amy Holden Jones directed this slasher parody, with a script by author Rita Mae Brown, famous for her lesbian novel Rubyfruit Jungle.
Pet Sematary (1983). Mary Lambert directed this Stephen King adaptation. With Fred Gwynne (Herman Munster on The Munsters) as the next-door neighbor, and a title song by the Ramones: "Don't want to be buried/In a pet cemetery./Don't want to live this life again..."
Near Dark (1987). Kathryn Bigelow directed this modern day vampire flick, pitting blood suckers versus bounty hunters.
Blue Steel (1989). Kathryn Bigelow, again, directed this crime caper pitting rookie cop Jamie Lee Curtis (Halloween) against sexually obsessed psychokiller Ron Silver. Kind of a cross between Dirty Harry and Play Misty For Me.
Poison Ivy (1992). Katt Shea directed this teenage version of Fatal Attraction (1987). With Drew Barrymore as the psycho babysitter from hell.
Strange Days (1995). Kathryn Bigelow--what? Again? She should get her own festival--this time directing a sci-fi thriller about virtual reality snuff films.
Office Killer (1997). Cindy Sherman is best known for her still photography. But she directed one movie, this horror comedy. When corporate drone Carol Kane accidentally electrocutes one of her co-workers, the bodies start to pile up. With Brat Packer Molly Ringwald all grown up as the office bitch. Sherman will be on hand to introduce her film.
Meek's Cutoff (2010). Kelly Reichardt directed this revisionist Western. Just the title alone is enough to make me wince.
A Girl Walks Home Alone At Night (2014). Lily Amirpour directed this one-of-a-kind Iranian vampire flick. In beautiful black and white.
Film Forum is located at 209 West Houston Street in Manhattan.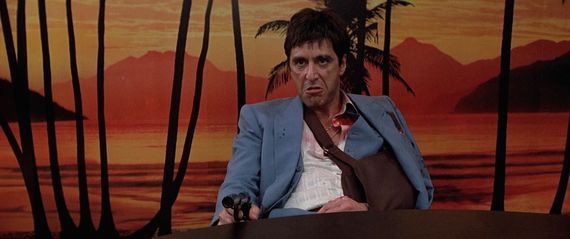 Meanwhile, if you insist your genre director has a penis, check out the career spanning Brian De Palma festival over at the Metrograph. Throughout his career, De Palma was accused of ripping off other, better directors, especially Alfred Hitchcock; but he is far more than just a copycat, as this festival will attest. Highlights include:
Get To Know Your Rabbit (1972). Tommy Smothers quits his soul-deadening corporate job to pursue his dream of becoming a tap-dancing magician. Early, atypical comedy by De Palma before he got bitten by the slasher bug. With John Astin (Gomez on The Addams Family) and Orson Welles (!)
Sisters (1973). Future Superman girlfriend Margot Kidder stars as conjoined twins separated by an evil surgeon. But which twin is the psychokiller, and which twin has the Toni? The first of many De Palma slasher flicks.
Phantom of the Paradise (1974). Rock and roll version of the Phantom of the Opera. With diminutive singer/songwriter Paul Williams ("We've Only Just Begun," "Rainy Days and Mondays," "An Old Fashioned Love Song," etc.) as the evil impresario!
Carrie (1976). Worst. Prom. Ever. The film that put both Brian De Palma and Stephen King on the map. Oh, and Sissy Spacek and John Travolta are in it too.
The Fury (1978). De Palma returned to Carrie territory with this tale of telepathy and telekinesis. Not a great movie, but you do get to see John Cassavetes blow up real good.
Dressed To Kill (1980). Brian De Palma's homage (?) to Alfred Hitchcock's Psycho (1960).
Blow Out (1981). Brian De Palma's homage (?) to Michelangelo Antonioni's Blow-Up (1966). John Travolta returns to De Palma-land as a sound engineer who accidentally records a murder.
Scarface (1983). Brian De Palma's over-the-top remake of Howard Hawkes' gangster classic. Some people thought Al Pacino's performance as Tony Montana was racist, but but it's really the quintessential 1980s film. Judge for yourself. From a screenplay by Oliver Stone.
Body Double (1984). Brian De Palma's homage (?) to Alfred Hitchcock's Vertigo (1958).
The Untouchables (1987). Big budget adaptation of the classic television series. With an all-star cast, including Kevin Costner, Sean Connery, and Robert De Niro. "Don't bring a knife to a gun fight!"
Snake Eyes (1998). Late, under-appreciated gem. Starring the indescribable Nicholas Cage as a corrupt cop in a sharkskin jacket.
The Metrograph is located at 7 Ludlow Street in Manhattan.
Popular in the Community