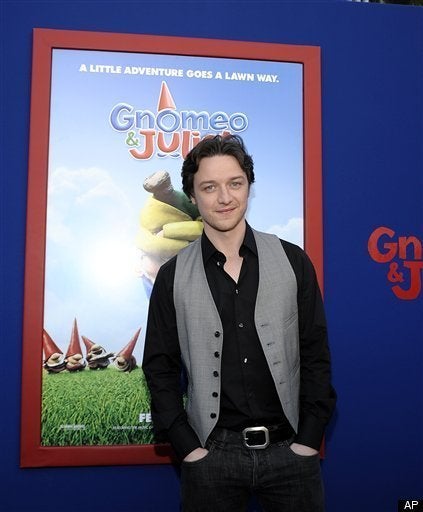 When you mix high-brow William Shakespeare with low-brow garden gnomes the result is the surprisingly entertaining Gnomeo & Juliet. Throw in the fact that Elton John is a producer whose songs appear in the musical numbers and what's not to love?
The story is introduced to the audience by a little gnome reading a prologue, saying "The story you are about to see has been told before. A lot. Now we're going to tell it again. But different."

Not only is it different, but it's also clever and funny. Here the Monagues and Capulets are two humans that share a duplex on Verona Drive in present day Stratford-Upon-Avon. Their backyards are landscaped with flowers and filled with garden ornaments, especially gnomes.
Mr. Capulet and Miss Montague do not like each other so naturally, their respective plaster garden gnomes - the blue Montagues and the red Capulets - do not either. Frozen when their human owners are around, the rest of the time they frolic in their yards with other lawn decorations like deer and bunnies, and lounge by the pond or the wishing well.
But all is not well between the Reds and the Blues who harbor a whole slew of prejudices against each other. Because of this, they constantly engage in some type of war, like destroying each others flowerbeds and exacting revenge on the others' deeds.
Using garden gnomes to tell this classic story is an unusually odd - if not bold - idea, but it works. Keeping many of the character's names the same as in the play, there's Tybalt (Jason Statham) the big Red bully who challenges the Blues to lawnmower drag racing that gets deadly. His entourage includes a fawn (voiced by Ozzy Osbourne) and a slew of gnome minions.
Of course there is Gnomeo (voiced by James McAvoy) who has a constant and loyal companion in a hopping mushroom with canine-like qualities. There is the pretty and pristine Juliet (Emily Blunt) whose father Lord Redbrick (Michael Caine) wants to keep her literally stuck to a tower so she doesn't get chipped. Juliet has her own attendant and confidante, the Scottish fountain frog Nanette (the hilarious Ashley Jensen) complete with a waterspout permanently lodged in her mouth.
When Juliet spots an orchid beyond the garden walls, she defies her family and ventures out to retrieve it only to run in to Gnomeo in a dilapidated green house. They fall in love but when realize they are opposing colors, the pair must keep their love a secret. The duo's courtship is overseen by Featherstone (Jim Cummings), a pink plastic lawn flamingo who himself has experienced love and loss as he guides the star-crossed lovers.
As in the play, things do escalate to the point where gnomes are getting broken to bits or run over by trucks in the outside world. Things culminate in one of those "Iron Man" or "Transformers"-like finales where the ultimate machine rears it's ugly head and must be stopped or else everyone is doomed. In this case, it's the Terrafirminator, a mega lawnmower (voiced by Hulk Hogan) the gnomes order on the internet after breaking in to Miss Capulet's house.
The script includes some classic lines like "Parting is such sweet sorrow" and clever takes on famous lines such as "A weed by any other name is still a weed."
The gnomes are beautifully detailed in their animation. Most sport the wear and tear that comes from having weathered the natural outdoor elements by being faded and chipped. The kitschy garden setting is exactly what one would picture including windmills, waterfalls, ponds and wishing wells. Textures like ceramic, plastic, vinyl, rubber and concrete are easily spotted in the animation and the characters move according to the constraints those materials would have on them. Kudos to Toronto-based Starz Animation (who also did the Tim Burton-produced 9) for a job well done.
The gnomes do not sing during the musical numbers. Rather those numbers are more like montages that further the story. Elton John and Bernie Taupin created new music for the film, along with some classic recordings like Don't Go Breaking My Heart and Your Song.
And thanks to the advice that a William Shakespeare statue gives to Gnomeo in the park, the ending doesn't end up being tragic. Rather, the entire 84-minute film is sweet and endearing, while proving that it's never too early to start getting kids familiar with the works of William Shakespeare.
REAL LIFE. REAL NEWS. REAL VOICES.
Help us tell more of the stories that matter from voices that too often remain unheard.