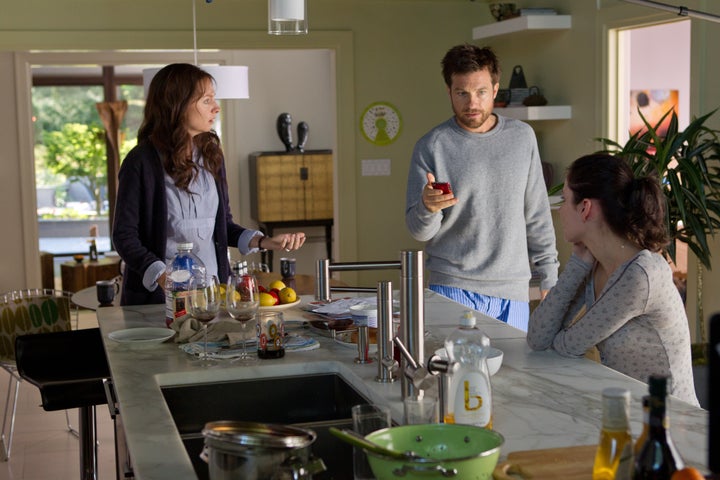 Disconnect is in the Crash / Nashville / Short Cuts school of story-telling, bringing together three disparate storylines that ultimately provide echoes and resonance between themselves, while involving people of tangential connection.
But in Henry-Alex Rubin's film, from Andrew Stern's script, the connections -- or the way they're made -- is the point. In that respect, Disconnect, opening in limited release Friday (4/12/13), is exciting, disturbing and provocative. With its look at our everyday interactions -- and the way our lives have been taken over by devices meant to help us communicate but which do the opposite -- it's a cautionary tale that will leave you shaken and stirred.
Still, to call it a tech thriller is to miscommunicate what it is about. While technology is the enabler is this story about human vulnerability and cruelty, it is not the villain. It is not even the decider.
Rather, it is merely the vehicle, the distraction into which the characters channel their energy, each in a different way.
Rich and Lydia Boyd (Jason Bateman, Hope Davis) are suburban New Yorkers, Rich so caught up in his law practice that his smart phone is a fixture at the dinner table, though he admonishes son Ben (Jonah Bobo) for doing the same thing. So it comes as a shock when he discovers that the quiet, musical Ben has been victimized by a pair of classmates, through a fake Facebook page.
Derek and Cindy Hull (Alexander Skarsgard, Paula Patton) are a couple who have reacted to a tragedy in their life by disappearing into their respective computers. But they are forced to reengage with each other -- and their life -- when they discover they're the victims of identity theft that threatens to ruin them financially.
The final story thread focuses on Nina Dunham (Andrea Riseborough), a local TV reporter who gets national play with a story about a flirty underage online sex worker (Max Thieriot), which also attracts the attention of law enforcement.
Stern's script intercuts these stories, as events force the individual characters to reconnect with those closest to them when they can. But it takes something wrenching to pull their attention away from the various screens in their lives, which seem to have magnetized their individual brains, in the same way they've invaded our collective consciousness.
Rubin's film focuses on the horror or the hope of that moment, when the gaze, suddenly torn away from that business email or that chat-room posting, begins to focus on what it actually is seeing in front of it. And that moment when you wonder, What was I thinking?
He draws a moving performance from Jason Bateman, as a father searching for reasons for his son's acts and worrying that he'd been too blind to see obvious clues. He gets subtler but similarly touching work from Skarsgard and Patton, who have forgotten how to talk to each other, despite the pain it causes them. Riseborough has the right cocky hubris as the TV reporter, while Thieriot seems to visibly shed his skin in the course of his performance.
Disconnect is upsetting, exhilarating and frightening in equal measures. It's got the ability to pierce your complacency with its cautionary tale.
Find more reviews, interviews and commentary on my website.
REAL LIFE. REAL NEWS. REAL VOICES.
Help us tell more of the stories that matter from voices that too often remain unheard.