While it might cover some of the same ground as Florian Henckel von Donnersmark's The Lives of Others, the new Polish espionage thriller Little Rose (Rózyczka) is worthy in its own right, even if it details some of the most contemptible behavior imaginable. The film seems even more harrowing because it's inspired by incidents that would be dismissed as tawdry fiction if they didn't really happen.
Set in the volatile period from 1967 to 68, Little Rose vividly recreates how Poland's Soviet-dominated ruling Communist Party blindly went after anyone who might have seemed a threat to them.
The term "paranoid" doesn't fit because many young people during the era are rioting for liberties they have been denied. A particularly painful thorn in the government's side is the Seen from Warsaw broadcasts from Radio Free Europe. Even the most slavishly devoted apparatchiks listen in fear as a writer informs the world that neither Poland nor the Soviet Union are the workers' paradises the Politburos claim.
Because the author of the broadcasts is unknown, the authorities suspect that well-known intellectuals and even Jews must be responsible. The Soviets, who sided against Israel in the Six Day War, were embarrassed by how easily the Israelis neutralized their enemies. A new wave of anti-Semitism quickly broke throughout Eastern Europe.
Because they are unable to tell who is Jewish and who isn't, the government's irrational prejudices are almost as comic and they are contemptible. The idea that the resistance might be made up of fellow Poles who are more patriotic than they are because they won't tolerate Soviet oppression never occurs to them.
The Party starts targeting a popular writer and university professor named Adam Warczewski (Andrzej Seweryn). Adam is generally reserved in public. He's a widower with a small daughter (Julia Kornacka), and most of his statements against the Communist Party are too subtle to get him into trouble.
Nonetheless, a brutal secret policeman named Capt. Roman Rożek (Robert Więckiewicz) recruits a university secretary named Kamila Sakowicz (Magdalena Boczarska) to follow Adam around in the hope that he'll tell her something incriminating. To keep Adam from finding out she's snitching on him, the reports call her "Little Rose." Initially, Kamila spies on Adam because she wants to please the cruel but hunky Roman.
As she gets to know her mark better, she discovers that the older Adam is kind, thoughtful and courageous in a way that the bullying Roman can never be. Gradually, she becomes more enamored with the man she's supposed to betray and regrets becoming an ideological and sexual pawn.
Just as The Lives of Others depended on a mesmerizing central performance by the late Ulrich Mühe, Boczarska is the driving force behind Little Rose. She runs through just about every emotion imaginable and even appears to make up a few new ones while she's at it. She and director Jan Kidawa-Błoński (who co-wrote the script with Maciej Karpiński) also give Kamila enough back story to make her sympathetic even when she finds herself becoming little more than a tool of the State.
The same could be said for Roman who actually is a Jew but hides it from his superiors. There's something almost pathetic about his bullying of Adam, who turns out to be a Gentile, because the latter would certainly be more trustworthy than the fellows he's trying in vain to win over.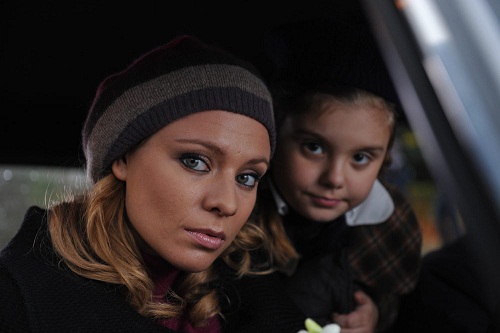 Magdalena Boczarska and Julia Kornacka in Little Rose. Photo by Krzysztof Wellman. © 2010 Little Rose Movie, used by permission.
One of the most curious aspects of Little Rose is that many of the more outlandish aspects of the story are fact. Adam is loosely based on Pawel Jasienca, a historian who died without knowing his paramour had betrayed him, and a rousing performance of an 1824 Polish play was really enough to scare Moscow into thinking the Poles might become as resistant as the Czechs were later.
Little Rose takes a while to get into if you're unfamiliar with the Eastern Bloc during the late 1960s. Thanks to Boczarska's performance and Kidawa-Błoński's sense of tone and atmosphere, it's still easy to get hooked.
Calling all HuffPost superfans!
Sign up for membership to become a founding member and help shape HuffPost's next chapter