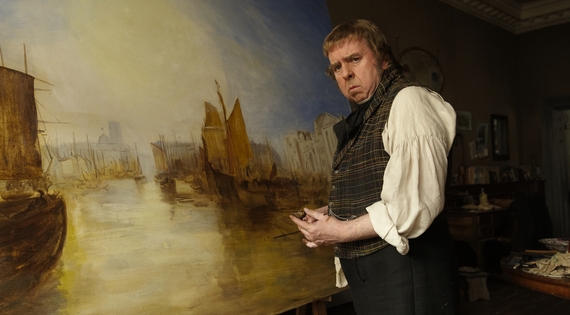 Well, there I was on page 222, just where Knausgaard is travelling on a train, staring at the "burning red ball in the sky." The vision for him is so overpowering that he declares the "pleasure that suffused [him] was so sharp and came with such intensity that it was indistinguishable from pain." Knausgaard goes on to reminisce about various works of art that have had the same effect on him over the years, including "Turner's picture of the sunset over the sea off a port of antiquity" that he viewed at London's National Gallery.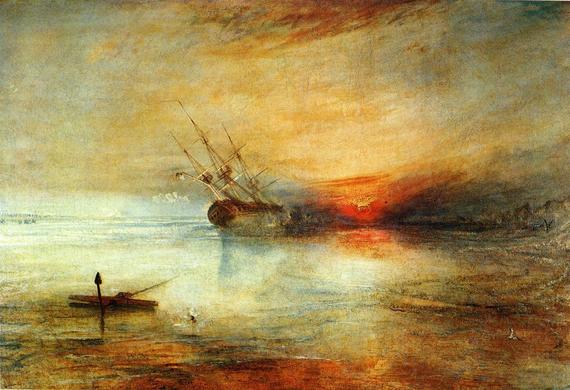 This pleasure that is indistinguishable from pain permeates Mr. Turner, one of the best films to delve into the creative processes of an artistic genius in quite a long time.
For those who have not as of yet taken Art History 101, Turner, whose life spanned the late 1700s until the mid-1800s, was best known as an English Romantic landscape painter and as one of the greatest masters of the genre. His ability to capture the luminescence of the skies, both on calm days and feverish ones, plus his dominion over the painted waters, had him labeled as the "painter of light."
With a little artistic license, the film chronicles the last 25 years of Turner's life, a time when the painter was both lauded and derided for elbowing aside the fashions of the day. More importantly, his painting evolved to a point, according to Dr. Leo Costello of Rice University, that with "its looseness of handling, saturated color, and obscure thematics . . . the artist seem[ed] to transcend time and place to inform later modernist movements, such as French Impressionism and American Abstract Expressionism."
Leigh opens his often salty tribute with a Dutch landscape. A windmill sits upon verdant plains. Two women in Dutch bonnets, carrying buckets, are laughing and gossiping as they approach us. Slowly, a silhouette in the distance becomes more and more prominent. It's a man embraced by nature. It's a painter sketching away. It's Mr. Turner (Timothy Spall).
For the next two-and-a-half hours, we are witness to a prickly gent living for his art while not unaware of the politics necessary to achieve enduring fame. The Queen detests him while the unctuous and fey art critic John Ruskin (Joshua McGuire) sings his genius. His ailing dad (Paul Jesson) is his foundation, his maid (Dorothy Atkinson) serves as his cook, his cleaner-upper, and his sexual outlet, while the twice-widowed Sophia Booth (Marion Bailey) offers him a final chance to love and laugh.
Spall's characterization is never less than towering. Possibly most recognizable for his portrayals of Peter Pettigrew (Wormtail) in the Harry Potter series and Beadle in Sweeney Todd, his performances in smaller British films such as Secrets & Lies and All or Nothing are hauntingly memorable. Now finally there's Oscar chatter for his Turner, who struts down the London's alleyways like a Dickensian villain, porcine and self-involved. In fact, he grunts throughout the film like a hog in distress or the Addams Family's Lurch. Second to second he transforms from charming ("What an elegant pair of nostrils!") to reprehensible to pitiable to shrewd.
The whole cast under Leigh's impeccable direction rises to his level, especially Atkinson, Bailey, and Lesley Manville as a modern, self-educated woman who never leaves home without her prism. Add stunning cinematography by Dick Pope and detailed production design by Suzie Davies, and what else is there to ask for? I'm at a loss.
Apparently, Turner's final words on his deathbed were "The Sun is gone." With this sublime offering, it has risen again.
Related
Popular in the Community