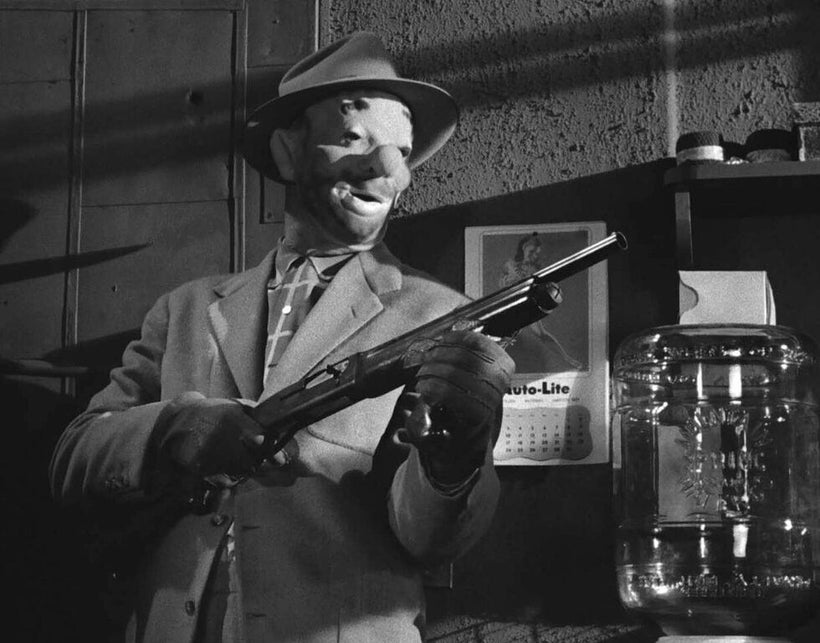 Before there was binge watching, there were double features. You got two movies for the price of one—usually an "A-picture" and a "B-picture." Double features challenged programming directors to devise unique and provocative combinations; my all-time favorite is Jaws (1975) and Deep Throat (1972), which played on the Deuce back in the day. 
Double features died out with the onslaught of VCRs, but from August 19th to September 13th, Film Forum revives this glorious tradition with The Return of the Double Feature—twenty-six classic combos in twenty-six days. So unplug from Netflix, kiddies, and go to see some real entertainment, all in air-conditioned comfort:
Friday, August 19th: Vertigo (1958) and Rear Window (1954). Two Alfred Hitchcock-Jimmy Stewart joints. You can almost see Brian De Palma in the audience furiously scribbling notes.
Saturday, August 20th: Contempt (1963) and Breathless (1960). Two by Jean-Luc Godard, starring two of the most beautiful women in the world: Jean Seberg and Brigitte Bardot.
Sunday, August 21st : Paths of Glory (1957) and The Killing (1956). Two early Stanley Kubricks—an anti-war film starring Kirk Douglas and a classic heist caper starring Sterling Hayden.
Monday, August 22nd: Sunrise (1927) and Nosferatu (1922). Two silent classics by F.W. Murnau, including the granddaddy of all vampire flicks; it was heavily sampled for the "Under Pressure" music video.
Tuesday, August 23rd: Yojimbo (1961) and Django (1966). Akira Kurosawa's samurai flick paired with Sergio Corbucci's spaghetti western. Who's more macho? You decide! Quentin Tarantino would kill for a double bill like this.
Wednesday, August 24th: In A Lonely Place (1950) and The Big Heat (1953). Two classic film noirs starring femme fatale Gloria Grahame.
Thursday, August 25th: Harold and Maude (1972) and Where's Poppa? (1970). Two counter-culture comedies about aging and mortality. Kids who think shock humor was invented in the 21rst century are in for a surprise.
Friday, August 26th: Psycho (1960) and Repulsion (1965). Catherine Deneuve is better looking than Anthony Perkins, but they're both homicidal maniacs. The real question is who had more issues with women—Alfred Hitchcock or Roman Polanski?
Saturday, August 27th: The Third Man (1949) and The Lady from Shanghai (1948). Orson Welles when he was still thin and handsome, in deep trouble with both the law and the ladies.
Sunday, August 28th: Singin' In The Rain (1952) and The Band Wagon (1953). Two Hollywood musicals about musicals. Perhaps now we can answer the eternal question, who's the better dancer—Fred Astaire or Gene Kelly?
Monday, August 29th: The Bicycle Thief (1948) and Pee Wee's Big Adventure (1985). Italian neo-realism meets American screwball comedy. What's the connection? A stolen bicycle, of course, which sets the wheels turning.
Tuesday, August 30th: The Discreet Charm of the Bourgeoisie (1972) and That Obscure Object of Desire (1977). Two by Luis Buñuel—and two of the best movie titles ever.
Wednesday, August 31st: Stray Dog (1949) and Drunken Angel (1948). The great Akira Kurosawa directing the great Toshiro Mifune in two Japanese crime dramas—it doesn't get any better than this. Mifune plays the cop in one and the criminal in the other.
Thursday, September 1st: M*A*S*H (1970) and McCabe and Mrs. Miller (1971). Robert Altman subverts the war and western genres, respectively. Real he-man types never forgave him, but cinephiles are eternally indebted.
Friday, September 2nd: Plan Nine From Outer Space (1959) and Ed Wood (1994). The best worst movie ever made, and the biopic about the demented genius who made it.
Saturday, September 3rd: Badlands (1973) and Days of Heaven (1978). Two by Terrence Malick. Mid-west mayhem.
Sunday, September 4th: City Lights (1931) and Modern Times (1936). Two late silent comedies by Charlie Chaplin. The first "talkie" was released in 1927, but Chaplin proved there was still life in his preferred medium.
Monday, September 5th: On The Waterfront (1954) and The Wild One (1953). Marlon Brandon when he was still thin and handsome. Which do you prefer—the washed up boxer? ("I coulda been a contender!") Or the motorcycle punk? ("What are you rebelling against?" "Whadda you got?")
Tuesday, September 6th: Hiroshima Mon Amour (1959) and Last Year At Marienbad (1961). Two by Alain Resnais. Frankly, I haven't seen either one, but I'm sure they're good. Go!
Wednesday, September 7th: The Big Sleep (1946) and The Long Goodbye (1973). Who played Raymond Chandler's hardboiled detective, Philip Marlowe, better—Humphrey Bogart or Elliott Gould? Howard Hawks' classic film noir paired with Robert Altman's genre subversion.
Thursday, September 8th: The Maltese Falcon (1941) and The Thin Man (1934). Two detective flicks based on Dashiell Hammett novels. Who do you prefer—hardboiled Sam Spade or debonair Nick and Nora Charles?
Friday, September 9th: Notorious (1946) and His Girl Friday (1940). Two starring Cary Grant, a Alfred Hitchcock thriller and a Howard Hawks screwball comedy.
Saturday, September 10th: Dial M For Murder (1954) and House of Wax (1953)—both in glorious 3D! Forget CGI, kids—this is the way thrillers were meant to be seen.
Sunday, September 11th: Laura (1944) and Leave Her To Heaven (1945). Two film noirs starring femme fatale Gene Tierney. So beautiful, so deadly!
Monday, September 12th: The Umbrellas of Cherbourg (1964) and The Young Girls of Rochefort (1967). Two French musicals directed by Jacques Demy and starring Catherine Deneuve. Oui!
Tuesday, September 13th: Double Indemnity (1944) and Mildred Pierce (1945). And finally, two more film noirs based on James Cain novels.
Calling all HuffPost superfans!
Sign up for membership to become a founding member and help shape HuffPost's next chapter
This post was published on the now-closed HuffPost Contributor platform. Contributors control their own work and posted freely to our site. If you need to flag this entry as abusive,
send us an email
.