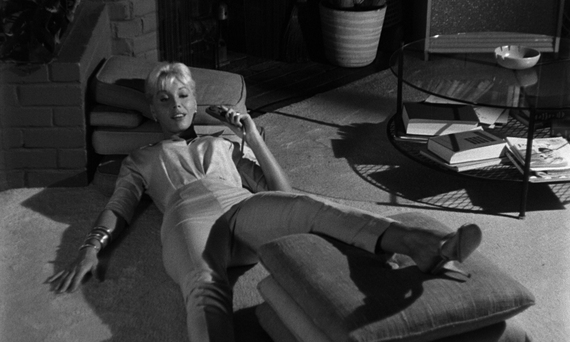 Kate Manx in Private Property

Warren Oates: You know the name. You'd recognize the face. Rarely the leading man, usually a supporting character, he stole every movie he was ever in. He died too young in 1982, at age 53. Now he finally gets the recognition he deserves in Warren Oates: Hired Hand, which runs from July 1 through July 7 at the Francesca Beale Theater at Lincoln Center. Highlights include:
Private Property (1960). The centerpiece of the festival. Long thought lost, this low budget noir erotic thriller was recently rediscovered in the UCLA Film and Television archive, and lovingly restored by Cinelicious Pics. Moral degenerates Corey Allen (Rebel Without A Cause) and Warren Oates stalk sexually frustrated housewife/blond bombshell Kate Manx. When Allen and Oates first appear on the beach, they seem like missing links that have crawled out of the primordial ooze. Directed by Leslie Stevens (The Outer Limits); Stevens was married to Manx at the time and shot the movie in his own home. Manx tragically committed suicide a few years later, which adds to the disturbing nature of her performance. The film, with its themes of voyeurism, seduction, rape, and repressed homosexuality, was considered so lurid at the time that it was released without an MPA rating, and quickly sank into oblivion.
Two-Lane Blacktop (1971). The Driver (James Taylor) and the Mechanic (Dennis Wilson of the Beach Boys) race GTO (Warren Oates) for "pinks"--car registrations--and the Girl (Laurie Bird) in this existential road trip across America.
The Hired Hand (1971), Race With The Devil (1975), 92 In The Shade (1975). Warren Oates made three films with friend Peter Fonda. No, I haven't seen any of them. But, hey, it's Warren Oates and Peter Fonda! Go!
Bad Lands (1973). Martin Sheen and Sissy Spacek play teenage Bonnie and Clyde, going on a cross-country crime spree. But first they have to do something about Spacek's disapproving father, Warren Oates. First film directed by Terrence Malick.
Bring Me The Head of Alfredo Garcia (1974). If you missed it during the Film Society's recent Sam Peckinpah festival, here's another chance. Down-and-out piano player Warren Oates decides to collect the bounty on Latin Lothario Alfredo Garcia's head; the only problem is, Garcia is already dead. Rare starring vehicle for Oates, and one of Peckinpah's most over-the-top violent flicks, which is saying something. Oates' character was said to be based on Peckinpah; he even wore the director's sunglasses throughout the shoot.
The Brink's Job (1978). After mega-hits The French Connection (1971) and The Exorcist (1973), and mega-bomb Sorcerer (1977), director William Friedkin tried to get his career back on track with this comedy/heist caper. Peter Falk (Columbo) assembles a gang of thieves to pull off a daring bank robbery. Oates plays a deranged veteran who proposes opening the safe with a bazooka. Kind of like Rififi (1955), but with more laughs.
Stripes (1981). Warren Oates in a Bill Murray comedy? That's the fact, Jack! Oates's tough drill sergeant plays straight man to Murray's goofball raw recruit. Kind of like Platoon (1986), but with more laughs. Directed by Ivan Reitman (Ghostbusters). With an all-star comedy cast, including Harold Ramis and the late, great John Candy.
The Francesca Beale Theater is located at 70 Lincoln Center Plaza in Manhattan.
If you can't wait for Warren Oates, the New York Asian Film Festival is already underway at the Walter Reade Theater at Lincoln Center (June 23-July 5) and at the SVA Theater (July 6-July 9). Now in its fifteenth year, the festival features dozens of films from China, Japan, Korea and beyond, and enough genre types--zombies, gangsters, kung fu masters, demons, exorcists, prostitutes, crooked cops, corrupt politicians, superheroes, mermaids--to satisfy any film freak.
The Walter Reade Theater is located at 165 West 65th Street in Manhattan. The SVA Theater is located at 333 West 23rd Street in Manhattan.
Popular in the Community