Co-authored by Cole McNamara, co-founder of the teen movie review site Crixit, and Riley Roberts, Fanlala.com personality.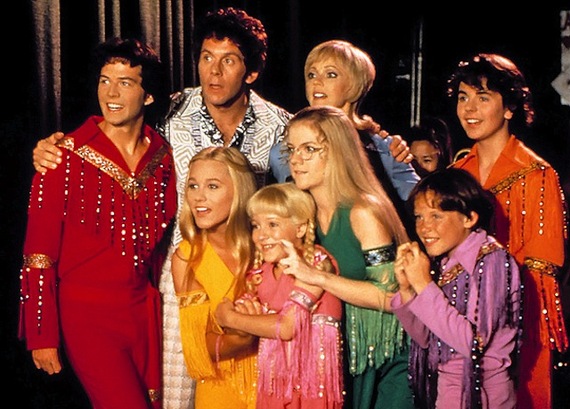 Happy Father's Day, Stepdads! Let's face it, stepfathers don't get much credit. In fact, in cinema circles, they get a lot of resentment, hate and ridicule. Stepfathers in film are usually portrayed as the doofus, the villain, or a distraction to the mother. In our family, our stepdad is a pretty cool guy who takes care of us and cares for us - and is a really great cook! We're pretty sure that more stepfathers fall into this category. These men deserve movies that show them as the heroes...or at least a good guy who has a good relationship with the family he married into. Here are the best (if not the only) positive portrayals of stepfathers in film:
1. Big Mommas: Like Father Like Son (2011).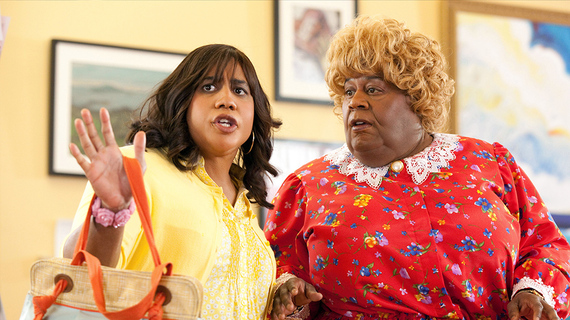 Paramount
In the third Big Momma film, FBI agent Malcolm Turner (Martin Lawrence) has been Trent's stepfather for more than a decade and the "step" really isn't relevant anymore: they're family. When Trent is in the wrong place at the wrong time during a sting, he gets pulled into Malcolm's operation and the two must go undercover together to get the bad guys. The storyline is outlandish, but the relationship is not. The two may be frustrated with each other from time to time, as is normal with family, but the two have a respect and love for one another. (PG-13, recommend for age 9+).
2. Journey 2: The Mysterious Island (2012).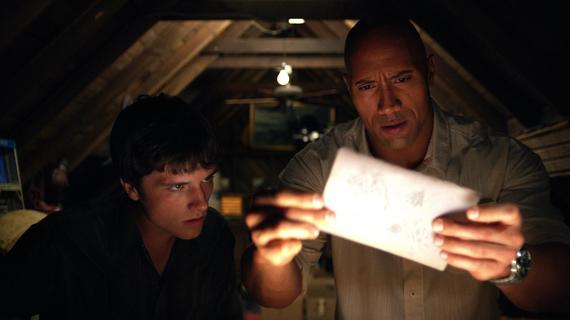 Warner Bros.
Hank (Dwayne Johnson) is a stepfather who realizes he has an opportunity to build a relationship with his trouble-finding stepson Sean (Josh Hutcherson). When the two decode a message that seems to be from Sean's missing grandfather, the duo team up for a trip to Palau. The trip and the subsequent Jules Verne-inspired adventure allows Sean to see that Hank will do everything in his power to help him and, more importantly, that he really cares about him, not just his mom. (PG, Age 7+)
3. Love Actually (2003).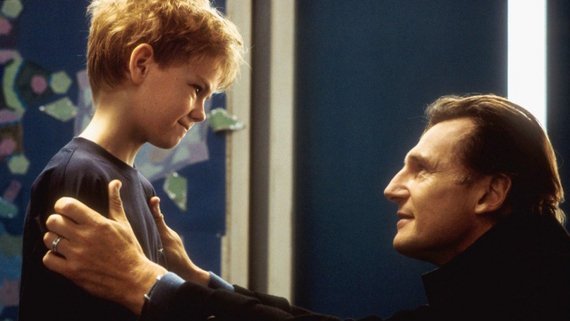 Universal
Among the hodgepodge of love stories told in this Christmasy film, the loveliest is that of Daniel (Liam Neeson) who becomes the sole caretaker of his stepson Sam after the death of his wife. Daniel is sensitive to the fact that Sam is grieving just as he is and when Sam finds a passion - a girl who sings in a band - Daniel gives him the love and support he needs to pursue this outlet for his young emotions. Watch with much older teens, though, because of a separate, hilarious and incredibly un-kid-friendly storyline about a couple who find love while working as stand-ins in the porn industry. (R, Age 16+).
4. Yours, Mine & Ours (2005).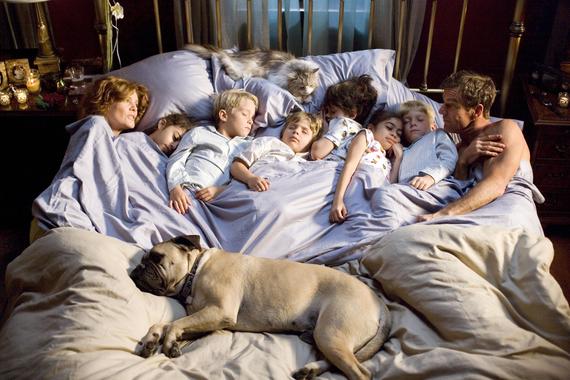 Paramount
This family film may not be the most memorable of any of the actors' careers, but it does show a good, if not extreme, snapshot of strict vs. liberal parenting styles. Using comedy, the film approaches all the feelings kids and parents may have in blending a new family, while always making it clear that adjustments have to be made by all. It works because love is the foundation. Stepdads may relate to Dennis Quaid's Navy dad character who is tasked with trying to find middle ground with his new wife despite years of successful structured parenting. (Also check out the 1968 original starring Lucille Ball and Henry Fonda.) (Ages 5+.)
5. Air Bud: World Pup (2001).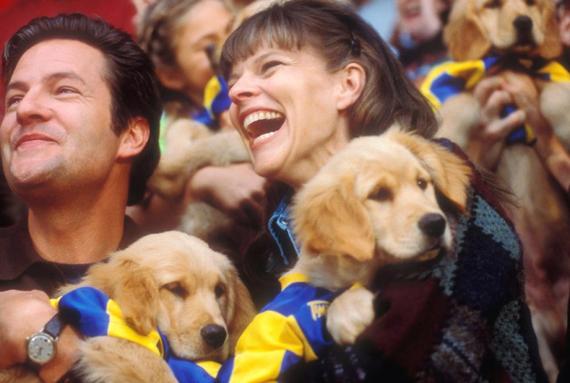 Walt Disney Home Video
First, you can never go wrong with choosing an Air Bud movie with a young child. While the dog and the kids are always the main focus, World Pup takes place after Josh's mother remarries a good guy who loves the entire family. (Ages 4-10).
6. Aristocrats (1970).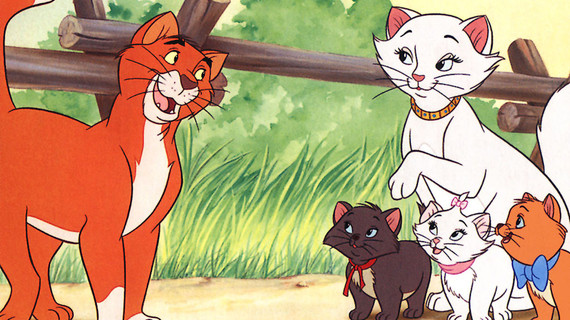 Walt Disney Home Video
When Duchess meets alley cat Thomas O'Malley, she's a single mother to three kittens who've never known a father. Duchess is unaware that she will be the heir to her wealthy owner's fortune, but the long-serving butler does - endangering the cats and forcing them to go on the run. O'Malley looks out for the kids, teaching them all they need to know about life and how to survive outdoors. As the kittens look up to O'Malley as a father figure, he and Duchess fall in love. By movie's end, O'Malley becomes an official part of the family and treats the kittens as his own. (G, All ages.)
7. Freaky Friday (2003).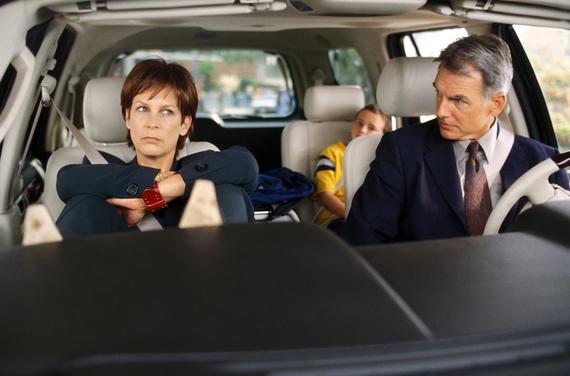 Buena Vista Pictures
This remake is all about the relationship between a mother and daughter, but unlike the 1976 original, it's also about welcoming a stepfather into the family. Anna (Lindsay Lohan) doesn't like the guy (Mark Harmon) who is about to marry into her family, but after switching bodies with her mom (Jamie Lee Curtis), she realizes that he would do everything for that family. (PG, Age 6+)
8. The Brady Bunch Movie (1995).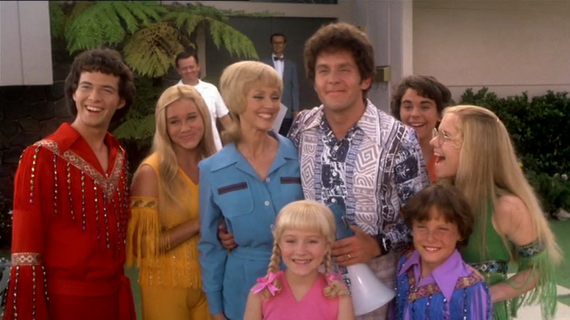 Paramount
As this parody film points out, Mike and Carol's families blend ridiculously well. Mike Brady is the epitome of a positive stepfather, but this film satirizes the 1990s as much as the 1960s TV show so kids will need to be familiar with both to enjoy the experience. (PG-13, Age 11+).
9. Blended (2014).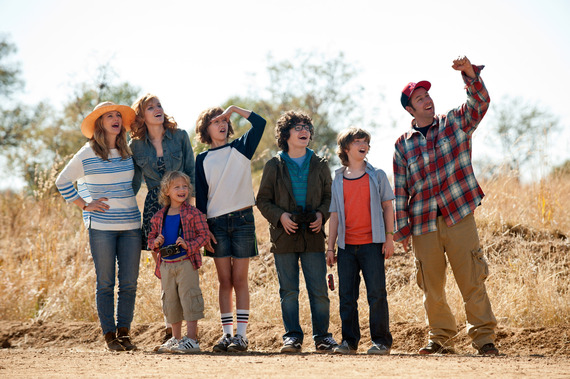 Warner Bros.
Adam Sandler is a widower with three girls and Drew Barrymore is a divorced mom of two boys. Both are well-intentioned and try hard, but neither one is crushing it. This comedy points out that sometimes having a parent of the same gender can be a real help. (PG-13, Age 11+).
10. The Big Cat (1949).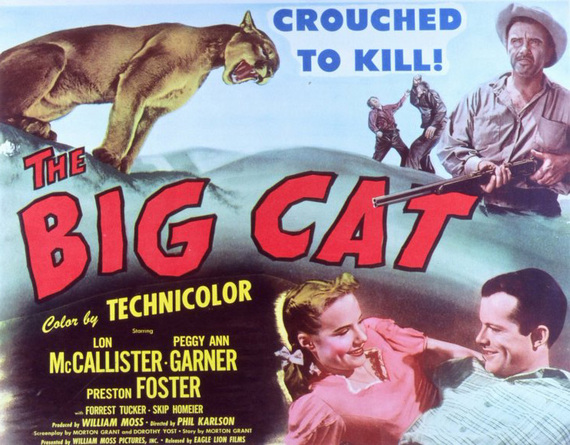 Eagle-Lion
Not exactly a stepfather relationship, but this classic captures the spirit of one. In 1933, in the midst of a drought, the Depression and a cougar that's been terrorizing a three-ranch community, Danny Turner shows up looking to work for Tom Eggers, his late mother's first love. Tom is ecstatic, seeing Danny as his opportunity to have a fatherly relationship. The two are respectful and bond over the woman they both loved while trying to survive and battle the elements. (Age 11+)
11. The Nativity Story (2006).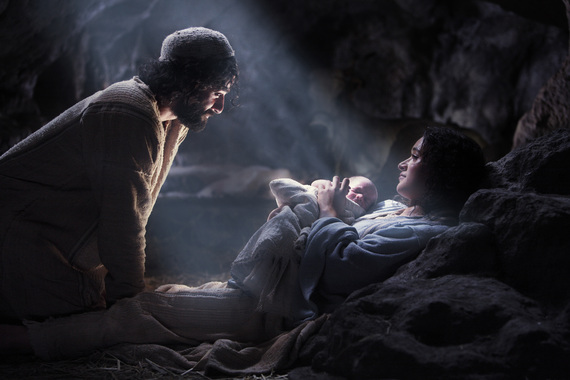 New Line Cinema
Not sure this is a Father's Day movie, but Joseph is the ultimate stepdad. (PG, Ages 8+)
Popular in the Community