Yesterday marked the 41st Anniversary of the arson fire at the Up Stairs Lounge in New Orleans, the deadliest crime against LGBT people in U.S. history. The French Quarter blaze killed 32 LGBT and allied people and injured scores more, casting a dreadful pallor over a burgeoning gay community and exposing an ugly strain of homophobia in the "city that care forgot".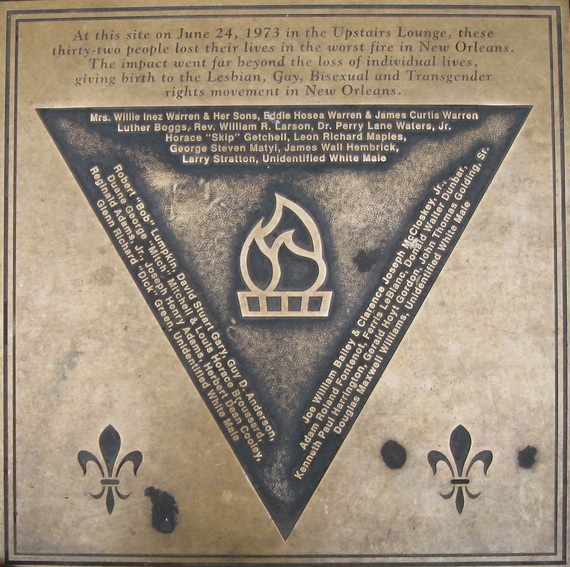 For a complex array of reasons, including homophobia, shame, and despair, the fire and its victims languished in obscurity for years, not taking its proper place in the broader sweep of LGBT history, but this is quickly changing.
"Upstairs", my musical tragedy commemorating the fire and honoring its victims premiered last year in New Orleans to sold-out audiences, as part of the 40th anniversary memorials and Pride events. A portion of the musical is now playing at the West Village Musical Theatre Festival in New York.
A new book, "The Up Stairs Lounge Arson: Thirty-Two Deaths in a Louisiana Gay Bar", released just last month, is the most extensively-researched and carefully-told history of the subject.
And "Upstairs Inferno", a documentary by acclaimed filmmaker Robert Camina is currently in post-production.
In addition, Delery, Camino, and I are advocating the inclusion of the Up Stairs Lounge site on the National Register of Historic Places.
To commemorate the anniversary of the fire, I spoke with Camina about his documentary.
The lion's share of published research about the fire comes from Johnny Townsend, author of "Let the Faggots Burn", and Clay Delery. Did you interview them for the piece and what did you learn?

Well of course Townsend had a lot to contribute, because without his efforts many years ago to interview people, many of the stories would have been lost. So I think he brought a lot of insight to the tragedy that, since so many have passed on, we are not able to access.
Did you get to talk to anyone that Delery and Townsend did not get to talk to?
I don't think they interviewed Francis Dufrene. We were able to interview him. He was a survivor of the fire. He slipped through the bars and jumped and landed on the pavement. He suffered third-degree burns. He gave us a distinctive perspective of what it was like in the middle of it when the fire started, so we definitely learned a little bit of what it was like the emotions just the mood and a frame of mind of what people going through in there.

As far as you can tell, what was the Up Stairs lounge like as a bar?

It was a very comfortable place. Everyone we talked to said that the patrons were like a family. And the word that has come up that you're very familiar with is "Sanctuary".
Yes, that's why I opened my musical with a song of that title. And of course, when a place that is considered a sanctuary is invaded and ruined, it has a profound impact on a community. And I'm not sure I had a whole sense of the impact that it had until I was there last year for the 40th Anniversary to see how the community responded to the memorial events and the play.
What was your sense of how the community responded not just in the immediate aftermath of the fire because i think that's territory that we were both familiar with but sort of in recent years how things changed or stayed the same?

Well for many years people didn't want to talk about it, for whatever reasons, whether be from embarrassment or shame or pain whatever people's reasons were they did not want to talk about it and I think last year's events were a big moment for a lot of people. Some people were able to find closure with the events and just being able to talk openly about what happened. So many familys are talking about it, and victims, who are still in emotional pain. I think it was a turning point for them, and healing for a lot of people, but of course there's still a lot of healing to be done.

Skylar Fein did an art installation about the fire several years ago and he got a lot of pushback. A lot of people sort of resented it, though most people did finally embrace it because it was so well done and respectful. I think if he did that same work today he'd get a different response. Sometimes it takes someone to take the initial step and sort of break the taboo. Because of his work, my musical got less pushback than it could have.
Did you find that you got any pushback for doing this documentary?

I never received any pushback but I am very pleasured with the way I put my documentary a lot of credibility and a lot of relationships with leaders around the country so i think that it helps because it's just not a guy with a camera we have a proven track record of telling stories responsibly and with compassion.

What did you learn about New Orleans while filming this documentary?

I learned that New Orleans is a very close community. It's like a family there. There is this perception that New Orleans has always been a very liberal city, and that of course gays have always been accepted. So I think that it's been a little shocking for people to learn about, for example, the mayor's reaction to the fire. I think it's surprising to some people because, today, we have that over-the-top representation of Southern Decadence. But it hasn't always been that way and there were very limited venues and places people could go to be themselves. So i think what i learned from New Orleans is, it opened my eyes a little bit. you know, there is an evolution even in what it appear to be most liberal places today
In your documentary do you plan to talk about speculation as to who set the fire?
Yes we will be approaching it. As you know, we can't say with any certainty what happened, but we will represent the evidence at it stands and the theories as they stand and that's the best any of us can do. I am going to present theories as they were discovered in the course of the investigations.

What do you need now in order to make sure this documentary gets seen and gets completed?

It always been my vision to create a version of the film and tell the story the right away with the production values that I think it deserves. We have launched the Indiegogo Campaign to help raise post-production funds. We need money to professionally soundmix, color grade, license photographs and news footage, and more. We have reached our previous Indiegogo goal, but we're still a bit away from our actual budget. The campaign is open through June 30th.

So people can go there to donate until then.

Yes they can. there's still different approaches available in different levels.

Is there anything else you'd like to tell us about your film, and why this is so important?

I do think it's important for us to know our history it's not really a sexy topic, but, as we progress in our fight for equality, people are quickly forgetting the struggles that our community went through, not that long ago, and I think we owe it to ourselves to keep the stories alive.

And you know we live in a time when gay rights is winning and that's wonderful but you know we shouldn't kid ourselves. We have always been a minority and there is no reason to believe that every gain we make will always be there, so we should remember the times when when we really had to struggle because we definitely don't want to go back to them

Right, and that's why it's important to tell the stories that keep our history alive put a face to the stories, because i think we as a community became very complacent, reading headlines on social network or just paper. So, for me, putting humanity into the story and bringing the history alive has more impact
An excerpt from "Upstairs" is playing this weekend at the West Village Musical Theatre Festival.
"Upstairs Inferno" is currently in post-production, and seeking funding through this Indiegogo campaign.
To learn more about the movement to include the Up Stairs Lounge Fire in the National Register of Historic Places, send an email to inquiries @ wayneself.com.
Calling all HuffPost superfans!
Sign up for membership to become a founding member and help shape HuffPost's next chapter