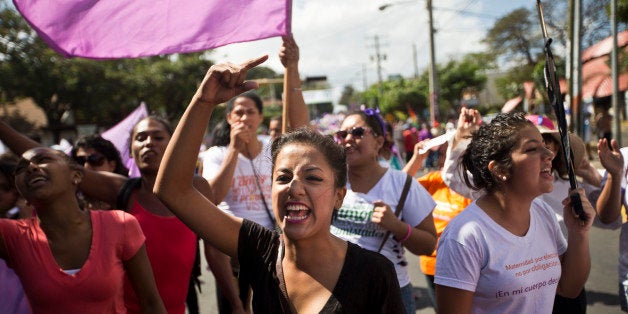 You may have heard the World Health Organization's harrowing statistic: one in three women around the world will be beaten or raped during her lifetime, most often by someone she knows -- either an intimate partner or family member. One might think it would be relatively easy to gather the data underlying this tragic statistic. In reality, it has taken almost 20 years since the landmark 1995 United Nations World Conference on Women in Beijing to demonstrate the epidemic proportions of violence against women and girls (VAWG) and the challenges that remain to achieve gender equality worldwide.
Coming out of Beijing 20 years ago, it was clear that there was a desperate need for data that could shock the consciences of societies and move them to act. In this sense, Beijing was the root of the one-in-three statistic: It was the moment that galvanized committed researchers and activists -- as well as thousands of courageous women -- to take action. Yet it took years to collect the data, because we had to start conversations with women in communities where violence against them is too often the norm and shrouded in shame and secrecy.
I found this out firsthand when I began working with a team of dedicated researchers and activists in Nicaragua in the early 1990s to study the prevalence of violence against women and girls. In Nicaragua, as in many places in the world, most women who experienced domestic violence or rape didn't tell anyone. Domestic violence was seen as a private family matter, and violence was rarely reported to the police. The few women who did seek help were often treated with scorn. They were told to go home and learn how to be a good wife. As a result, most Nicaraguans assumed that rape and domestic violence were fairly rare in Nicaragua. Politicians told victims and advocates that without hard numbers showing that domestic violence was a real problem, no party would ever support better laws or programs.
We interviewed hundreds of women about their experiences with violence. For most of the women, it was the first time they had ever told anyone about the violence they had suffered and it was often a very emotional experience. In the end, we found that 52 percent of women surveyed had been beaten or raped by an intimate partner in their lives and one in four women had been beaten in the last year alone. This was vastly more cases than had been reported by the police or health services. Only 3,000 cases of domestic violence had been reported to the police the year before, whereas, according to our numbers, almost 250,000 women had actually experienced domestic violence.
The results caused a huge wave of indignation throughout the country. Our findings were reproduced in petitions in the newspapers and we collected more than 16,000 signatures to present to the National Assembly calling on them to pass a domestic violence bill. In October 1996, the domestic violence bill passed unanimously in Nicaragua.
At the same time, researchers and activists were collecting similar data in other countries. To date, more than 82 countries have carried out similar studies, and this is how we can now say -- with scientific precision -- that one in three women around the world have experienced physical or sexual violence in their lifetimes. We also know much more about the main causes of violence. Simply put, what drives these numbers is the widespread belief that women are inferior to men, and they deserve to be beaten when they "misbehave."
As a direct result of these numbers and the hard work of the women's movement, 125 countries criminalize domestic violence today and a few countries have implemented programs that have reduced VAWG. For example, since the passage and implementation of the Violence Against Women Act in 1994, the rate of intimate partner violence in the United States has decreased by 53 percent and intimate partner homicides have decreased by 26 percent.
Although a number of countries have made progress toward criminalizing VAWG, many existing laws and programs are not effective. With the passage of the domestic violence bill in Nicaragua in 1996, our initial work demonstrated that the academic community can influence the passage of laws to protect women, but the statistics reveal that isn't always enough. Moving forward, our research focus needs to shift from studies of prevalence to understanding what works to prevent and respond to VAWG in order to reduce this public health crisis worldwide. We already know from emerging studies that changing social norms about gender and the acceptability of violence is a crucial part of the solution.
Despite the pernicious endurance of the one-in-three statistic, we know there are ways to prevent VAWG and we can see a path forward. I remain hopeful that, with the support of governments and communities worldwide, what began with Beijing can eventually lead to the end of violence against women everywhere.
Mary Ellsberg is the director of the Global Women's Institute at the George Washington University.
Calling all HuffPost superfans!
Sign up for membership to become a founding member and help shape HuffPost's next chapter