Yesterday I sold my home, the home I tended for almost 20 years, the home I painted with my own hands, the home I raised my only child in, lost my first husband in and where I finally started a new life with a new husband. Five years ago, my heart told me that the time to go was drawing near; my head told me to slow down, stop, think it over. It took a long time to let go.
I loved this house, with its sagging garage, drafty chimneys and unkempt yard gone to wild flowers. In the kitchen my cats would stare out the large window at the squirrels and robins in the back yard. In my mind, my daughter still sits at the kitchen table doing her homework, and I wash the dishes, in the same sink I washed dishes in for nearly two decades. I never could pass by any sunbeam on the pine floor that didn't have Dudley in it, our English bulldog, gone from this world over 15 years ago.
Sometimes, sitting in the library by the fireplace, I could hear my young daughter reading to herself from Dr. Seuss, but my mind was simply giving me the gift of those memories. Now, at 20, she reads silently from Dickens, Saramago, Bradbury and authors of her own generation I do not know. Her little voice, though, it lives in those walls. I wonder if the new owners will hear it ...
Throughout many weeks of packing and two days of professional moving, I went through an archaeological dig. All kinds of things surfaced from behind couches and under beds and between books. I found adorable Mother's Day cards from my daughter on faded construction paper with clumsy handwriting and lots of stickers. I found notes I had written to myself during the time of my divorce about what I should do at night when I was depressed and couldn't sleep. On the last day of the move, when my daughter's bedroom furniture and rug went out the door, I walked onto a bare oak floor full of scattered random miniature things like ponytail holders and Playmobil pieces and brightly colored wooden mosaic tiles. In the middle of it all was one very tiny white sock. I picked it up and began weeping.
On moving day the house stood completely gutted, windows shut and locked. I felt as if the home I had lived so much in sensed its own abandonment. As I started to close the door for the final time, an upstairs door slammed sharply. Then another door -- slam! The man from the moving company, eyes wide, said, "The house doesn't want you to go." I whispered to the house that I loved it and that the new family would too, then I got into my car to lead the two moving trucks up to the storage facility where everything would be unloaded.
I turned on the radio, remembering that I still needed to reset my favorite stations, so I pressed "scan" to wait for them to come up and capture them on each of the six numbered buttons. I thought to myself that I wanted to hear Pink Floyd's "Comfortably Numb," imagining I could numb my own pain if only I could hear that song. It was on my iPod, but my iPod was out of juice. I would just have to listen to whatever was on the radio.
The first station that came through took my breath away ... I heard the unmistakably haunting lyrics and melody that moments before were going through my head. It was "Comfortably Numb." Stunned, I quickly captured the station on Button 1 and listened to the song, singing along softly. When it was over, I pressed "scan" again. The next station it fell on was also playing "Comfortably Numb," landing on the same refrain once again. Two doors slamming. Two songs playing.
How does one grieve the loss of cedar clapboards and stonewalls? Surely not the way one grieves the loss of a loved one? But I know I am truly grieving.
What more can I say about this house? It anchored me to all of the memories, the good ones and the bad ones, and a life that was interrupted and changed and stolen by divorce. So I left this beloved place I called home for over 1/3 of my life to make a new life with a new love in a new place I have yet to discover. But I have faith that it's waiting for me.
PHOTOS: The Home I Left Behind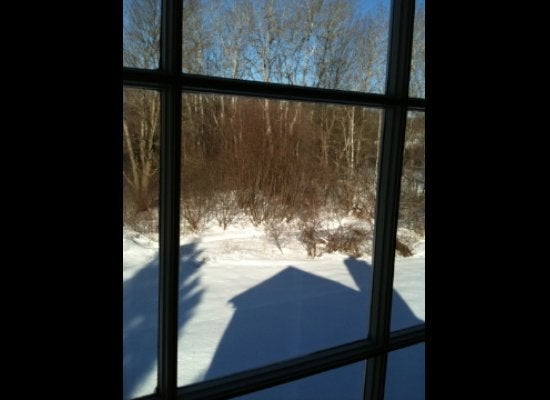 Home Lori Day
Related
Popular in the Community