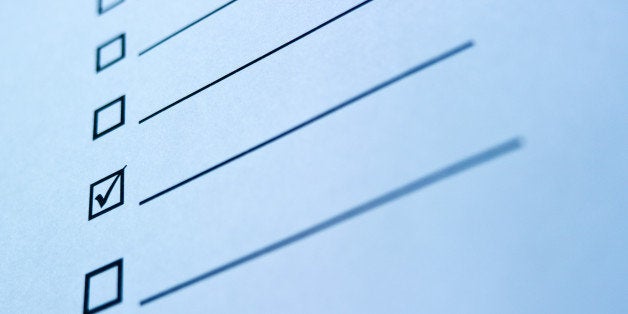 It's May and you are probably thinking of Cinco de Mayo, Mother's Day and Memorial Day celebrations. But did you know May is also National Moving Month? It "may" not be a reason to celebrate, but certainly moving will be on the mind of millions this month.

Nearly 40 million Americans move in the summer and begin planning their moves in May. If you are one of those households on the move, there is no reason to panic. Unlike the popular perception, it doesn't need to be a stressful and overwhelming process. With a bit of planning, the to-dos of moving are very manageable.
Okay, so you may ask: "What are the to-dos and when do I do them?" Here you go, use this expert two-month moving calendar to keep you organized. Simply follow these steps and check them off one-by-one. The insider secret to a stress-free move: stay in the know and know what is ahead!
• Start the process of selecting a mover. Choose your mover based on their reputation. A great reputation means a great rate. No one gets glowing reviews for overcharging.
•If you're being relocated by your company, verify what your company relocation policy covers and what responsibilities fall on your shoulders.
•Start to inventory your belongings: Decide which items to donate, to recycle, to take and which items (if any) need to go into short-term or long-term storage.
•Your tape measure is your new BFF. Measure all the rooms in your new home, include layouts of doors, closets and windows. Measure all the furniture that is going with you and create scaled cutouts to place in a scaled layout for each room. Think DIY paper doll house. Once you get each room's layout finalized make a photocopy of it, give a copy to the movers on moving day and tape a copy to each room.
Mail change of address cards or change your information online to:
•Post office
•Social security
•Insurance companies
•Credit card companies
•Credit bureau and/or other creditors
•Employer (to forward W2s)
•Car registration
•Broker
•Mail order accounts
•Department of motor vehicles
•Magazines
•Friends and relatives
•Arrange to clean furniture, drapes, etc. in your new place if necessary.
•Gather personal records (medical, dental, etc.)
•Arrange to transfer children's school records.
•Check homeowner's insurance policies to see if moving is covered. Be sure your new home is protected by transferring fire, theft and other personal-property insurance.
•Start to pack.
•Make arrangements to discontinue current utilities and schedule the start-up of new utilities:
•Telephone service
•Telephone listings
•Cable TV
•DSL/Cable/Phone line for internet access
•Electricity (check for refund)
•Gas (check for refund)
•Fuel oil
•House cleaners
•Babysitters
•Dog walkers
•Gardeners
•Pool Service
•Diaper service
•Water
•Water softener
•Parking
•Other: ________________________
•Have appliances serviced for shipment.
•Arrange to transfer local bank accounts. Speak to your bank and find out about new checks being printed, etc.
•Ask doctors, dentists and veterinarians for medical records.
•Cancel newspaper delivery.
•Refill all prescriptions. Get prescriptions transferred to new pharmacy closer to new home.
•Make arrangements to move children and pets. Do you need a babysitter for a day or two? A pet sitter?
•Confirm that mover will move houseplants; if not, make arrangements. Houseplants, usually, cannot be moved by a mover, especially on long distance or out of state moves.
•Start to disassemble any shelving, closet systems, etc. that you plan to take.
• If you need one, hire a cleaning crew to come clean your empty place after your move to get your deposit back.
•Pack in separate boxes the items necessary for first days in new home: Label "load last." And label where to put each of those boxes in your new home: "top of kitchen counter."
•Medicine (always keep prescriptions on you)
•Comfortable clothes
•Linens and towels
•Toothbrushes and toiletries
•Paper goods
•Disposable plates and silverware
•Foil and wax paper
•Plastic containers
•Microwave
•Vacuum cleaner
•Garbage bags
•Tool kit
•Step ladder
•Extension cords
•Light bulbs
•Cleaning items (mop and pail, broom and dust pan, etc.)
•Each member of the family should also pack a suitcase with what they need for a few days while you're getting settled into your new place.
•If the movers are packing all or part of your goods, call to schedule and confirm the details. Make sure your mover knows how much packing you expect to do yourself and how much you expect them to do.
•Plan to use up most food items before the move. If you have any leftover food on moving day, donate it to Move For Hunger.
•Defrost and dry refrigerators/freezers to be moved.
•Gather valuables and important documents from jewelry cases, safe deposit box, etc. to take with you in car. Do not pack these items with your other belongings. You want these items to stay with you.
•Arrange to be on-hand for last-minute details and to give directions to movers.
•Leave the whole day for your move. Don't plan to go back to work, arrange a dinner date, etc.
•Have payment for movers on-hand. Avoid having to run out to bank, ATM, etc.
•Have tips ready for everyone who is assisting you: cleaning crew, doormen, nanny, dog sitter, movers, etc.
•Before leaving, check each room and closet. Check garage, basement and attic.
•When you leave, turn off lights, close windows and lock doors.
•Supervise placement of boxes and furniture. Refer to your pre-made layout. Scotch tape a copy of the layout to each room's door.
•Check for damages. Inspect large items; look for boxes that are crushed or open. Inform the moving foreman and review the claims procedure with him.
•Go back to the truck. Make sure nothing was left behind. Check all the compartments where fragile items are often kept for their protection.
•Settle in to your new place, take photos for friends and family. A new chapter in your life has just begun! Woo hoo!
Related