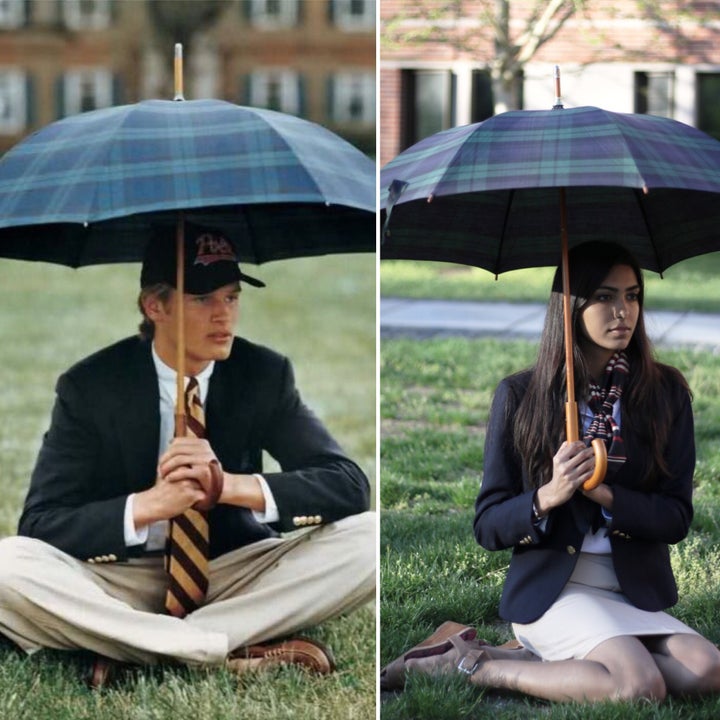 Stepping out of the humidity and into the air conditioned J.Crew store, I begin browsing through the racks of airy chiffons and crisp cottons in search of a dress for graduation. I like the cut of some dresses and the detailing on others. Summer is just beginning, so the store is filled with pastel garments; the colors are appealing, but the in-store messaging seems a bit uninviting - life-size print ads hanging near the racks feature almost exclusively white models. Another nearby store I frequent in the town of Princeton, Brooks Brothers, has similarly struggled to include models with my skin tone and features. The dearth of diversity in the imagery and messaging of brands I favor has inspired my persistent frustration.
I first noticed the lack of diversity in fashion in middle school. Ralph Lauren Rugby, my favorite label at the time, sold what was described in The Independent as "traditional and ultra-conservative sports-casual wardrobe of the American WASP, or – to give it its proper name – 'the preppy look.'" I recall flipping through the glossy Nordstrom catalogues mailed to my home and thinking at age twelve that RL Rugby's collegiate style clothing was appealing, but that it would only look good on Caucasians. Why else were nearly all of the models white?
The issue of racial diversity in fashion has been examined extensively by individuals working in the industry, and brands have consequently responded by increasingly hiring non-white models. The Council of Fashion Designers of America's (CFDA) 2016 Diversity Report analyzed runway shows and model castings in New York, and reported that about 32% of these models were non-white, a huge increase from Jezebel's report of 13% in 2008. However, where racial diversity is present and where it is not present says something important. Brands such as H&M, which market 'urban' or 'hipster' styles, often feature non-white models while premium brands specializing in traditional business casual or preppy styles typically showcase white models. For instance, the models.com database indicates that ad campaigns for H&M consisted of 43% racial minority models in 2016, while ad campaigns for Brooks Brothers and Ann Taylor featured no non-white models in the same year. Even when racial diversity does exist in many brands' ad campaigns, it often feels like an afterthought. When photographed in a group, non-white models are often at the periphery of the image, and they tend to get far fewer solo ads than white models. For instance, fewer than 19% of female models in solo ads in the April 2017 issue of Cosmopolitan magazine are racially ambiguous or non-white, a proportion comparable to that of Harper's Bazaar and Vogue.
One of the messages premium brands like Brooks Brothers or J.Crew send, either wittingly or unwittingly, when they feature almost exclusively Caucasian models is that only white people fit the affluent and educated customer segments they cater towards. The industry's inclusion of racial minority models in some styles of clothing but not others sends a message. I have to wonder why designers that market urban and 'hobo-chic' styles are more willing to include non-white models than those who market 'preppy' styles. This selective racial diversity in fashion reinforces existing and harmful racial stereotypes, and must stop. Brands that cater to an educated and affluent audience are disregarding the diversity that actually exists both within the college communities and professional world. I have been a student at Princeton University for the last three and a half years, and I am proud that nearly half of my peers report coming from racially diverse backgrounds; 43% of the undergraduate student body is composed of students who identify as part of a minority race, and this statistic is similar at many other private universities.
It is important for fashion labels, especially premium brands, to display the racial diversity that represents that of the United States. For instance, Nike's release of a branded hijab is important for symbolic reasons. It's not as if Muslim women were unable to participate in sports before Nike released the branded sports hijab. Muslim women were purchasing athletic wear from other retailers and getting along just fine. But, by featuring a hijabi woman in its advertising, Nike normalizes the presence of Muslims in America. Seeing Muslims in media helps Americans, implicitly or explicitly, accept that Muslims are part of our society. It de-otherizes us, and contributes to reducing Islamophobia. Similarly, if we, as a nation, aspire to racial equality, then it is important for premium labels that cater to affluent consumers to depict models that reflect the racial make-up of the U.S. High end brands' consumer bases may be primarily white, so featuring predominantly white models may simply be a strategic decision. And maybe that decision is not racist, but it's certainly not anti-racist either.
In the spirit of underlining how influential minority representation can be in fashion advertisements, I set out to recreate some decades-old images of university students, as well as popular images of current collegiate fashion. When I arrived at the town of Princeton for college, my sentiment that only Caucasians belonged, inculcated by years of flipping through catalogues and fashion magazines, carried over into my attitude on campus as a whole as well. My frustrations with the relationship between fashion and people of color has influenced my hope that brands will begin to promote more racial inclusivity. The Cosmopolitan Snapchat story recently articulated the sentiment behind this photo project particularly well: "Just because a company accepts your money doesn't mean they accept you. If you don't see yourself reflected in a brand's imagery...they are most likely choosing to exclude you." Fashion represents the political climate of the country, and this happens to be a pressing time for the industry to make an active step towards inclusivity.
Popular in the Community