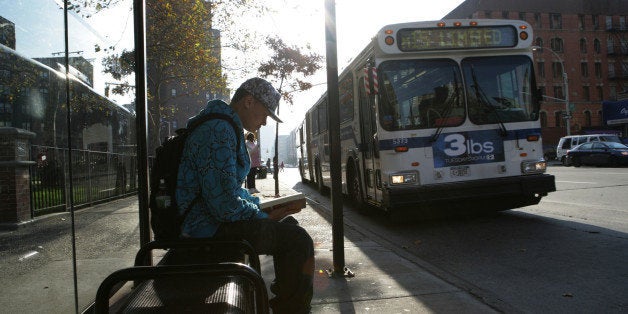 Note: This is the fourth piece in a series that explores the connection between a robust transportation system and a stronger middle class. The third piece shows the positive impact investments in port infrastructure can have on the economy and working families.
Fifty-two years ago this week, Lyndon Johnson signed into law the Urban Mass Transportation Act of 1964, which made public transportation a national priority by giving the federal government an active role in delivering safe and accessible mass transit. By pumping desperately-needed federal dollars into bus and rail systems that were on the brink of failure, this legislation secured the role of public transit as a viable transportation option for millions of Americans.
Today, public transit continues to have a profound impact on the lives of working people. Across the country, public transit ridership is soaring. It is estimated that 10.6 billion trips were taken on transit systems last year alone -- an almost 60 percent increase since the 1970s.
Despite the growing popularity of transit, strain placed on state and local budgets has prevented transit systems across the country from meeting demands. The Great Recession forced most agencies to cut back substantially -- slashing service and jobs and raising fares -- and many of those cuts have yet to be restored. Further complicating matters, corporate interests, often based overseas, are capitalizing on the failures of austerity budgets by convincing cities and towns that selling off transit services will result in great cost savings. News flash: These schemes don't work. In city after city, privatization efforts, which put profit before people, have done nothing but further reduce service and undermine safety, according to Congress' watchdog agency, the Government Accountability Office (GAO). The only so-called savings the GAO could unearth were from the "lower wages and fewer benefits" provided to transit employees by private companies.
The GAO's findings are hardly a surprise. This is what you get when you cut funding for vital public services to pay for tax breaks that enrich the super-wealthy. What may be surprising, however, is just how damaging these funding shortages and privatization schemes are to working families -- and our economy.
As economic inequality continues to increase, new research shows that commuting time -- not education or family structure -- is emerging as the strongest factor in determining whether someone can escape poverty, and access to public transit can play a crucial role. That's because reliable, affordable public transportation is a gateway to a better quality of life that comes from good jobs, quality public education and other public services. For the millions of Americans who can't afford a vehicle, a simple bus or subway route can mean the difference between chronic poverty and hope for financial stability.

Public transit systems don't just link people to opportunity; they create it.

Public transit systems don't just link people to opportunity; they create it. Every dollar spent on public transit returns four dollars to our economy, and every billion dollars we spend on transit supports or creates 50,000 jobs. That's because public transit systems help create cycles of economic prosperity. By providing working people, tourists and entrepreneurs with vital access to city centers, businesses are able to thrive, keeping job markets strong. Giving working people an easy -- and affordable -- way of getting to those jobs means businesses have access to the employees they need to succeed.
In addition to allowing low and middle-income Americans to get to and from work, transit agencies themselves are hubs for good jobs. Because of high union density in this sector, the jobs found here are steady, well-paying and come with good benefits. In fact, workers in infrastructure occupations -- including transportation operations -- earn significantly higher wages at the 10th and 25th percentile relative to all workers in the U.S. In other words, an expanding public transit sector will help to shrink the widening wage and income gap in America.
When paired with smart procurement laws and policies, the job benefits associated with transit investments can reach beyond operations and maintenance and into domestic manufacturing. American cities spend nearly $5.4 billion each year to buy buses and rail cars for public transportation systems. It makes no sense for us to squander those taxpayer investments by using the money to create jobs overseas while so many Americans struggle to earn a living wage. Jobs to Move America, which TTD is proud to support, is advocating for a smarter approach to replacing aging public transit and rail fleets nationwide. By pushing procurement reforms and new ways of thinking about where and how transit components are manufactured, we can create a self-sustaining supply chain right here in the United States. The idea is simple: local transportation authorities should award manufacturing bids to companies that maximize U.S. job creation, invest in job training and create opportunity for more veterans, single parents and residents of low-income neighborhoods.
At a time when our economy is still trying to recover from the greatest economic recession since the Great Depression, failing to invest in our public transit systems just doesn't make sense. Strong, well-functioning public transit systems create economic opportunity and have the ability to lift up underserved and impoverished communities. If this country is serious about growing its middle class -- as so many elected officials claim -- we cannot afford to sit idly by and watch as our transit systems crumble or are cannibalized by reckless privatization schemes.
It's time our policymakers realize that investments in public transit are investments in America's working people, and the businesses and public institutions that fuel our economy.
Popular in the Community