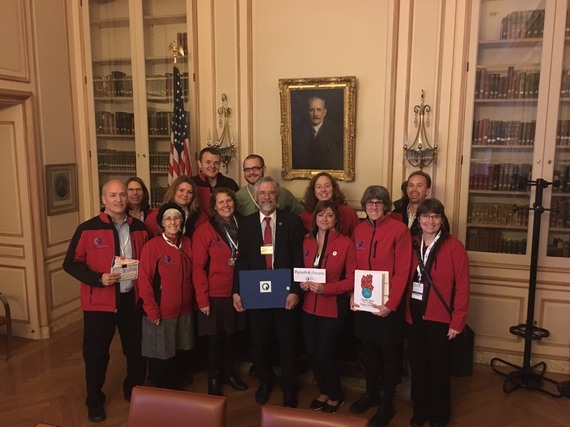 Today was the day -- our group of 10 Education Ambassadors went to the U.S. Embassy in Paris to deliver messages from our students, sharing their fears and hopes around climate change, to President Obama's Science Advisor Dr. John Holdren. My fifth grade students at The Galloway School in Atlanta created postcards that express their concerns about climate change, and how these changes affect their world. The whole of our middle school also drafted position statements to call for action on climate change. For all of us Education Ambassadors, this was a fantastic opportunity to share both our interest and our students' passion about the earth system and its long-term health.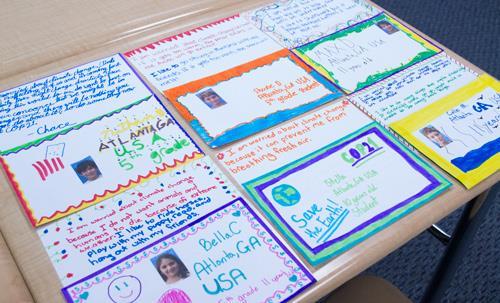 Dr. John Holdren, who is also the Director of the White House Office of Science and Technology Policy (OSTP), graciously received our group and discussed some of the latest developments in climate science and policy. He assured us that our messages would be shared with the Obama administration. I passed along three messages from my fifth graders today:
First, Mekai shared that he is "worried about climate change because places that have a lot of ice, like Alaska, are flooding now that the ice is melting. I hope that this COP turns out better than previous times and I hope the Earth will continue to thrive." One of the many types of disasters that Dr. Holdren discussed was the severe flooding that has been occurring around the globe recently.
Second, Nia shared that she is concerned about climate change and did not want anything to happen to our animals. She continued by stating "I don't want anything to happen to our planet. I know that climate change is a perplexing problem, but we need to try our best to help." Dr. Holdren agreed that both climate change science and climate change solutions are challenging!
Finally, Stella is worried about climate change "because it will create a lot of natural disasters, and that will lead to drought, famine, floods, wildfires and more! That will be awful! It will mess up our world." These fifth graders obviously "get it," but they are also hopeful that national and world leaders can make progress towards solutions.
Will our leaders set aside their differences to move towards solutions? If we cannot move towards solutions, we consign our planet to a state of slow and painful decline. At that point, it will not matter how much money we have, how educated we are, how many tanks we own or how much food and water that we have. Can we move forward on climate change for the children? By elevating the voices of my students, I hope we can motivate our leaders to do the work that must be done.
Minneapolis-based nonprofit, Climate Generation: A Will Steger Legacy, is leading a delegation of 10 Education Ambassadors to COP21 through their Window Into Paris program, December 5-11. These 10 teachers -- representing diverse subject areas, grade levels and school communities from Denver, Atlanta, upstate New York, western North Carolina and Minnesota -- are connecting their students to climate policy in action, helping to build both climate literacy and the relevance of this issue in their students' lives. Follow their stories via their blogs and daily digests.
REAL LIFE. REAL NEWS. REAL VOICES.
Help us tell more of the stories that matter from voices that too often remain unheard.