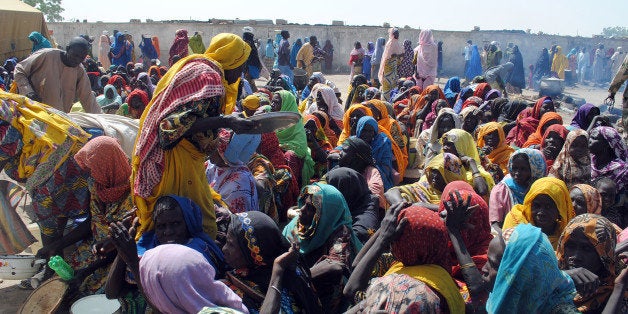 Twenty years ago, my friend Graça Machel submitted a report to the UN Secretary General called "The Impact of Armed Conflict on Children." The horrors depicted in its pages were meant to spark the conscience of the world.
At the time, many children were being coerced and conscripted to serve in conflict -- forced to witness, endure, and contribute to unimaginable violence. Yet, one of the cruelest revelations in the report was what happened when these child soldiers came home. All too often, in place of love, comfort, and joy were stigma, rejection, and fear. "Home" should be a sanctuary and place of belonging -- yet, for these children, it meant exclusion and pain.
Returning child combatants might find that their families had perished, and have no one to take them in. Others might be shunned -- especially girls who'd been raped or sexually abused, and now were seen by their cultures as unfit for marriage. Some former child soldiers couldn't go back to school because teachers feared they would disrupt the classroom. Thus, children who'd had their childhoods stolen by war faced a future of isolation as well.

I was reminded of this report when I read a piece by Kevin Sieff in the Washington Post, describing the hardships of women and girls who'd been freed from Boko Haram's rape camps in Nigeria. Similar to the child soldiers in the Machel report, these young women have faced a lonely journey home.
After months in which they were held in captivity as forced labor and sexual slaves, now, they are shunned, mistrusted, and scorned by the communities to which they've returned. Housed in military-run displacement camps, they are viewed with suspicion by neighbors; when they go to collect food, other people shrink back, as if they are toxic to touch.
Why are these victims treated with the same contempt as their captors? In part, it's because Boko Haram has deployed more than 100 women as suicide bombers in the past two years, causing people to worry that the freed women are sleeper agents for their assailants. In addition, some women were impregnated by their rapists, and are now carrying or caring for those babies -- raising fears that the evil from which they have escaped has followed them home.
But I believe that part of these women's agonizing experience is related to deep-rooted misogyny -- one of the ancient, barbaric traditions that can surface and be legitimized in times of conflict. What else permits the stigmatization and shaming of a rape victim and her innocent child? Martin Luther King once wrote, "Darkness cannot drive out darkness: only light can do that." We need to shine the light of justice into the darkest corners.
Let's not forget that promoting misogyny is just what Boko Haram and groups like them want. Targeting women and girls, and treating females as "less than," are brutal hallmarks of their strategy.
The U.S. State Department reports that in Iraq and Syria, ISIL and affiliated groups have abducted, abused, and raped thousands of girls and women in the past year, selling some in slave "markets," with price tags attached, while delivering others to ISIL fighters as "spoils of war." And a March 2015 UN Security Council report on "Conflict-Related Sexual Violence," which assessed conflicts in 19 country settings, found that "a common point is that waves of conflict-related sexual violence take place against a backdrop of structural gender-based discrimination, including in formal and informal systems of law, and the exclusion of women from political life." The report concluded that "the disempowerment of women that attends the rise of violent extremism is not incidental, but systemic."
That is why, alongside policies and programs to facilitate reintegration and reconstruction, we must be relentless in combating misogyny at its roots. It will not be enough to #BringBackOurGirls; we must #ValueOurGirls as well -- and not just in Nigeria, but in every community and country in which their rights and dignity are denied.
Popular in the Community