With Valentine's Day just around the corner a few couples might be ready to take a big step in their relationship: moving in together . Maybe you think the hardest part about moving in together will be the extremely private details that will emerge with cohabitation. No. That's the easy part. The hardest part about moving in together is combining two design styles and bringing together two households of furniture.
Before you can even think about combining design styles, you've got to first combine the things you own. Whether you are getting a new place or one of you is moving into the other's place, the tips below can help.
1. Be prepared to purge just as much as you expect your partner to
You're moving in together. So you can't expect your partner to sell, donate, or trash most of their things while you keep the majority of what you own. Sure you can always argue that your things are better, but don't we all think that? That sort of sentiment will lead to a good bit of resentment. Instead you should both make lists of what you'd like to keep/trash, and compare your lists, so you are deciding together what you'll be putting in your new space. Ask yourself why you want to keep certain things. If the answer is "I've had it forever," that might not be good enough. Don't force your partner to be stuck with ugly, old furniture because you're a creature of habit. Treasure the things that have sentimental attachments or are high-quality goods that you've purchased recently. The exception to this rule: one of you clearly has better stuff. I'm talking new quality pieces versus jankity college leftovers. If that's the case, one of you will be purging more than the other. This is the time for all of your mismatched, dorm furniture to disappear.
2. Box up 80% of your knick-knacks
Don't trash them, just put them in a box for safe keeping. Pick out a few of your very favorite things, to put on display. Since two people are coming together in one space, you don't want the whole thing to be filled with twice the accessories, or showcase just one person's personality. I'm sure I don't have to say what I'm about to say, but just in case: if it's from an ex, put it away. This space now belongs to the both of you, so avoid making the other feel awkward.
3. Buy new things together
You both have things that you love, things that define you respectively. But what will really help harmonize your interior styles is something that defines you both. Shop together to pick out something new that you both love. Perhaps a sofa, or a rug, a bookshelf, or an amazing piece of wall art. Create a new focal point in your space that represents the two of you.
4. Compromise your design styles so you're both happy
There is always a way to combine styles. Find out your respective design styles, and pull aspects from each into your interior. This space belongs to you both, so be sure it reflects the two of you. This mood board, designed by Tastemaker decorator Lauren Borisoff, for a bedroom envisions how to decorate for a husband and wife with completely different design styles. She loves Rococo design and he likes understated and more modern pieces. The decorator worked with the couple to create a his and hers bedsides tailored to each's style. I love this idea!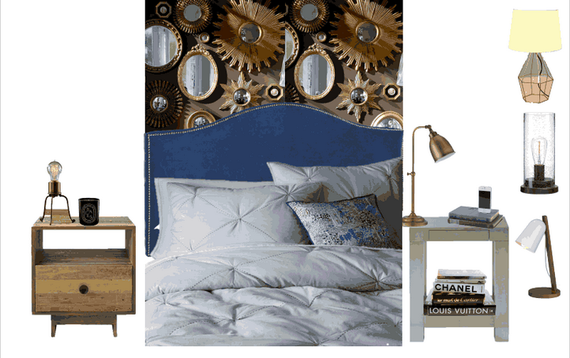 As the design progressed, Lauren created a style for the couple to showcase both of the details they loved. She called it Vintage Industrial Romantic. It combined some classic, feminine touches with more masculine pieces like rustic wood and industrial lighting.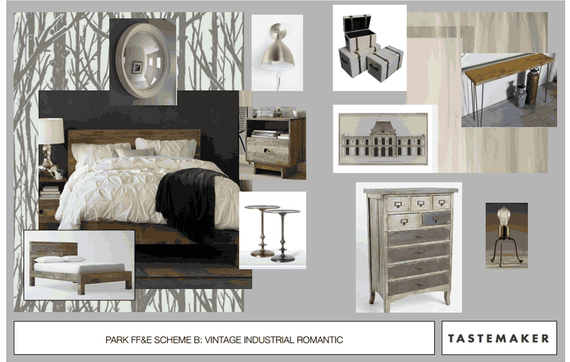 There's always a way to find common ground in styling. Like Lauren helped her couple do, find details that speak to you both like natural wood, metallic finishes, dramatic spaces, or particular color palettes. Consider the feel of the space as well. Do you both prefer casual environments, formal settings, bold spaces? Rather than rely on a distinct style in the space, use those shared details to create an atmosphere in your room. In doing so, your space will be an eclectic mix of your preferred design styles and something you will both love and feel comfortable with.
Moving in together can be a great way to explore new ways to style your home and think outside the box. Use it as an excuse to restyle the way you live!
Related