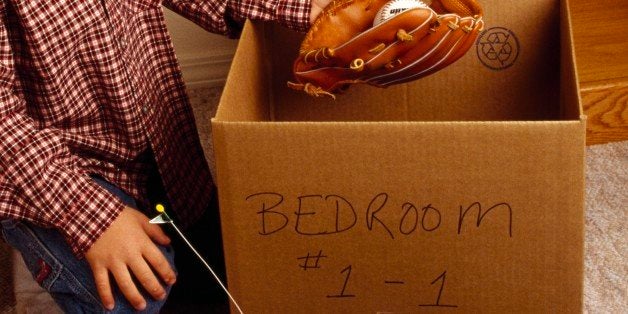 BY ALLISON BOND
NEW YORK Wed Apr 16, 2014 4:09pm EDT
(Reuters Health) - Moving to a new area may be hard on the mental health of children, especially adolescents, according to a new U.S. study.
Based on analysis of medical records for more than a half million children, researchers found the chances a child will require mental health care rise by as much as 20 percent after a move.
"Knowing how moves affect psychological health issues in children is important so families and healthcare providers can anticipate those challenges and prepare accordingly," said Jeffrey Millegan, lead author of the study and a psychiatrist at Naval Medical Center in San Diego, California.
Although military families have a long tradition of moving frequently, "geographic moves are an increasingly common part of the American experience in general as our economy becomes more dynamic," Millegan told Reuters Health in an email.
Thirty-five million Americans - more than 10 percent of the nation's population - had a geographic move in 2010, Millegan and his colleagues write in the Journal of Adolescent Health.
Past research has shown that kids' mental health can suffer in a move, they write, but studies looking at civilian families have trouble separating the potentially stressful reasons for the move from the move itself.
In military families, at least one parent is likely to be keeping his or her job and health benefits, so that possible source of family stress is eliminated. Indeed, prior studies have found the children of military families act out less and have better social competence in the context of frequent moves.
To see whether these kids nonetheless show signs of difficulty with moving, the researchers looked at medical records for 6- to 17-year-old children of active duty members from the Military Health System Medical Data Repository between October 1, 2006, and September 30, 2009.
Altogether, the records for 548,336 children were included in the analysis, and nearly 180,000 - about 25 percent - had moved to a new city or town at least once during the past year.
Researchers divided the children into two groups by age: 6 to 11 years old and 12 to 17. They looked at whether each child had had at least one healthcare visit - outpatient, emergency room or hospitalization - with a mental health diagnosis during fiscal year 2009.
The study team also collected additional data from the records about the children and parents, including psychiatric history, service branch, military rank, gender, race and age.
Finally, they calculated the odds of a child having a visit for mental health diagnoses including anxiety, self-injury, adjustment, developmental, personality and mood disorders.
The study found that compared to peers who had not moved, kids between the ages of 12 and 17 who had moved over the past year had 20 percent higher odds of visiting the emergency room for a psychiatric issue, along with 4 percent higher odds of an office visit and 19 percent greater odds of a psychiatric hospitalization. Children between the ages of six and 11 had about 3 percent higher odds of having an office visit for mental health reasons.
"It shouldn't come as a surprise to us that adolescents in particular - even more than younger people - have a difficult time making adjustments," said Christopher Bellonci, a child and adolescent psychiatrist at Floating Hospital for Children at Tufts Medical Center.
"The job of adolescents is to find a peer group and an identity outside of the home, and that is harder when your peer group and school are disrupted by a move when they should provide support and strength," he told Reuters Health.
For families with an upcoming move, preparing kids and teens is key, said Bellonci, who was not involved in the study.
"Change is stressful, and parents should talk with their kids about the transition coming up," Bellonci said.
If possible, parents should help kids brainstorm ways to make the new space -such as their bedroom - their own. Getting a chance to meet future teachers and peers can also help smooth the transition to a new city. For parents and kids alike, it's all about fostering a new support system of friends and peers.
"The nice thing about military families is there is usually a pretty good network, particularly if you are on base housing. Tap into that network," Bellonci said.
Healthcare providers who work with young people also should be aware of the impact a geographic move can have on the mental health of a child or adolescent.
"Primary care and mental health professionals should be asking about upcoming or recent moves and recognize the potential disruptive effects it can have on children," Millegan said.
SOURCE: bit.ly/1gZIZLg Journal of Adolescent Health, online March 18, 2014.
Popular in the Community