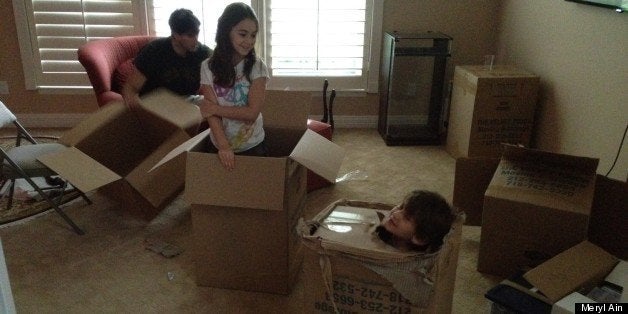 When people ask me whether I miss the house our family lived in for more than three decades, my knee-jerk reaction is an unqualified NO.
It wasn't until our eldest son expressed the desire to "see my house one last time," that I thought about what, if anything, the house meant to me.
Through his eyes, I saw our house as the home we made.
It was the house in which he took his first steps, the house in which we brought home from the hospital two more newborn baby boys, and in which we celebrated all of their accomplishments and milestones. It was the house in which I cried when the babies were old enough to go to kindergarten -- and then to camp and college.
My eyes welled up as I pictured my parents parking their Buick in front of our house and coming in for their weekly visits -- always carrying food. There were countless holiday celebrations and life events with our parents, siblings, extended family and friends.
It was the place in which we entertained prospective daughters-in-law and where I pondered what it meant to be a mother-in-law. It was the same house in which we were consoled by our family and friends after my father, mother, mother-in-law and father-in-law died over the span of seven years.
But before that it was a party house where I catered numerous kid and adult birthday celebrations, anniversaries and assorted get-togethers.
It was also the place where we grappled with problems and analyzed issues. We searched for faith and attempted to inculcate values. It was the sanctuary in which we shared our disappointments, rejections and hurts, and sought words of wisdom to comfort each other. It was, simply put, home.
So much has changed in the world since we moved into our first house so long ago. We had been married less than three years, younger than all three of our children are now. There were no cell phones, cable TV or Internet. There were 34 children on the block, and after dinner each evening, there was a friendly parade of strollers. Neighbors rang the bell bearing pies to welcome us.
But that changed over time, as I and the other mothers went back to work and the children grew up and moved on.
The house felt empty and quiet. The time was right for us to start anew.
The Optimum commercial says: "Moving is hard." And it is. It is emotional; it is stressful; it is exhausting. What to save, what to toss -- as lives are relived through photos and papers and objects.
Do I miss the house in which we raised our children? No, I do not miss the physical house. It was merely the canvas in which we lived our life as a family.
The memories do not reside in the house; they live forever in our hearts. We take them with us to our new home.
The Living Memories Project, by Meryl Ain and her co-authors, will be published later this year by Little Miami Publishing Company.
Related