Philosophically, one of my favorite subjects is to justify fashion's relevance historically and socially. Our "suiting up" is not only the stuff that carries individuals through their days and endeavors, it marks time and place and reflects us as accurately as any song or news story might.
The beautiful math that is the evolution of women's garb pulls society and change right alongside it: Divided skirts, aka Bloomers, allowed freedom of movement for women as never before, where heretofore unheard of mobility lead to fledgling forms of independence via feminine-founded strengths, where those freed-up bodies led to freer dispositions that in fairly short order inspired suffrage, prohibition and empowerment of women over their own bodies. Though borne of the right stuff, some movements were fatally flawed despite solid intention, their warping largely at the hands of masculine counterparts and naysayers, a reality we women contend with to this very day. But we put our best, best-dressed foot forward, be it in heels or high-tech sports gear, and forge ahead. That is how we do it.
Looking not quite so far back into the vast walk-in closet that is fashion history, we honor women from Elsa Schiaparelli to Eunice Johnson -- creators, consumers and instigators who through their loves of fashion found ways to revolutionize what we wear, how we wear it, who wears it and when. Add now to that the story as told in Deborah Riley Draper's Versailles 73 American Runway Revolution, a documentary vitally necessary to our contemporary fashion picture.
The Fashion Arts Society of the Indianapolis Museum of Art hosted Ms Draper for a screening of her documentary, which premiered in 2012 at the Cannes Film Festival. I for one simply love Deborah's start-at-the-top approach. Our evening, with a call for early 70s dress-up and lavender martinis on hand, was an homage to the film and the era. Yes, do give me an excuse to wear my claret-colored Missoni bellbottoms any day, any time.
Versailles 73 tells through a first-person montage of dialogue and imagery a story of integration and conquest for which we all can be proud: Americans for their innovative shaking up of an old school luxury industry, Frenchmen for their ability to shirk the bonds of patrician fashion tradition and recognize the new corner being turned, and for their having joined in that journey. Versailles 73 is an account of the fund-raising event held at and for the Palace of Versailles, the brainchild of publicist Eleanor Lambert. American and French contingencies of designers faced-off against each other on a candlelit, palatial eve for a fashion-based show that in the course of about three hours catapulted fashion and its presentation into our day, our century.
The film's dialogue is well crafted, the flow as if its diverse and colorful speakers seemingly finish each others' sentences. The film left me wishing for more live action footage, in particular Liza Minelli's Euro-formality-smashing performance, and longing to hear some of the music to which the models, a bold and beautiful mix of exquisite facial-types and ethnicities, strutted and swirled. Not that this is even a direct criticism of the film's rendering, but that it, as all historical tales, should inspire me to look and listen a little deeper into its back story and components.
What the French could not (despite sun-king-level pomp and self-elevation) accomplish in over two hours, the Americans did in thirty-five minutes: Blass, Burrows, De la Renta, Halston and Anne Klein, their garments and their gals redefined ultra cool and took their audience up and out with them. The models and their energy, with many choreographic details improvised due to abysmal scheduling snafus (likely intentional) that they, the Americans, had to put up with, turned the conglomerate of latter-day cafe society elite it on its perfectly coiffed, collective head.
Programs tossed into the air in jubilant approval, princesses to bespoke-suited movers and shakers whooped it up for the Americans, reduced and elevated at the same time to a frenzied fandom normally reserved for world cup matches and rock concerts, passion for fashion having reared its gorgeous head with a vengeance. Moving mountains with lettuce-edged chiffon is definitely one way to do it.
As French writer Jean Fayard said in the film and my new favorite quote, "Walk like a soldier, turn like a dancer."
Links:
Versailles 73 - American Runway Revolution
Eunice Johnson & the Ebony Fashion Fair, exhibit
Indianapolis Museum of Art Versailles 73 Movie Event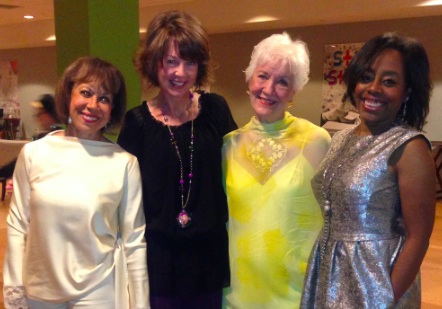 Photo courtesy of Kimann
Alpha Blackburn, show host and moderator on the left, Deborah Riley Draper at far right.