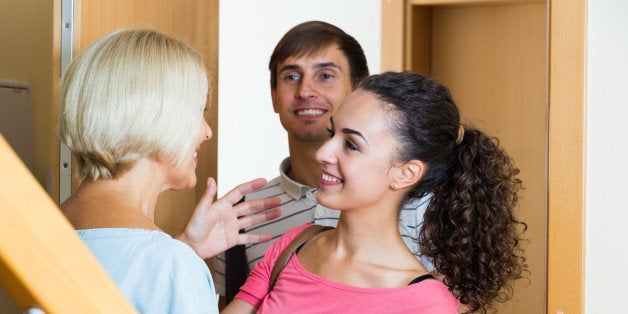 Boxes are packed and trucks are loaded. My youngest son is smiling from ear to ear, excitement and eagerness plastered across his mischievous grin as my heart is pulled in two. I've watched all morning as he, his father, brother and friend have made numerous trips up and down the stairs hauling box after box, pieces of furniture and clothes to load.
I've watched and I've cried. Bawled. Waiting for 3:30 p.m., when his apartment keys will be available, like I'm waiting for an execution to happen.
How is it that as parents, we spend YEARS teaching -- encouraging even -- our children to be independent, responsible and opinionated only to have them grow up -- and actually do it?
I've dreaded this day for three months now, ever since he came home and told me he was looking at apartments. I understand his reasoning of being closer to college and work, but I don't want to understand it. I want to tell him that he will never spend as much in gasoline driving back and forth as what it will cost in rent, utilities and all that is needed to maintain a household. I want him to nod his head in agreement and toss his crazy idea of moving out to the side like yesterday's trash. I want him to put this silly idea of 'being an adult' aside and realize that it's not all it's cracked up to be. I want him to curl up in my lap like he did when he was two and let me rock him to sleep, thinking that I ruled the world.
But I know that my almost 19-year-old is ready. As much as I hate to even admit that, he is ready. He has taken everything that he has been taught, all of those hard lessons learned, and has allowed them to mold him into a fine young man.
The world is his oyster and he anxiously wants to explore it, wants to suck the marrow out of all it has to offer.
And who am I to hold him back?
I know I should be cheering him on. I know I should be the one encouraging him, like I've encouraged him through everything else in his life. But it's tougher than anything I've ever had to do as a parent; throwing him to the wolves of life and watching as he maneuvers through the best he can.
We always say that life is a tough a teacher and mistakes the best tool of learning, but when the rubber meets the road and it's YOUR kid who is struggling to find his place in this great big world, those mother instincts kick in and make me want to swarm down on top of him and hold him as far away from those gnashing teeth as possible.
I know it is time. It is HIS time. And all I can do is pray that I've done all I could do as a parent; prepared and equipped him with every tool he will need to chop a path out with his name on the street sign. His path in the trail of life. Like we have all done before him.
Like we all continue to do.
And know that even if I'm not, he is ready. And that's what truly matters.