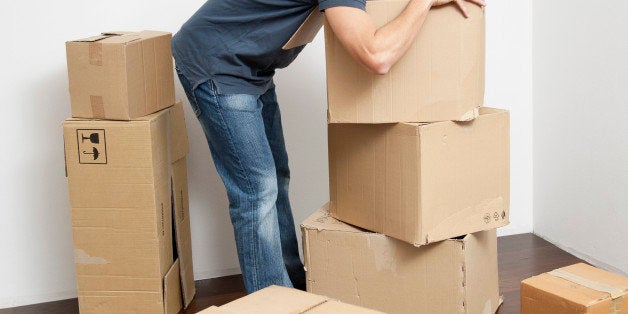 However, every day men facing divorce move out of their home, and every day men going through divorce quickly learn why it can be such a blunder. Once you vacate the marital home, it can be exceedingly difficult to get back in.
Should I Stay, or Should I Go?
One of the most common reasons men move out of the home is they feel it is their obligation to be the one to leave -- even if the divorce wasn't their idea.
Here is a typical scenario our Cordell & Cordell attorneys hear during initial consultations all the time: The wife comes to them with the bombshell that she wants a divorce, tells the husband that he needs to find a place to stay for a while and in a daze, the husband packs an overnight bag and leaves the home with his tail between his legs.
Unknowingly, he has just dug himself into a hole before any papers have been filed -- particularly if he has any children.
The top reason not to leave the marital home "voluntarily" is that it gives your wife's attorney the opportunity to label you as abandoning the family. Even if you feel you are being bullied into leaving by your wife, let me be perfectly clear: You have no obligation to leave the home if your name is on the lease or mortgage.
Your wife may try to pressure you with various claims, such as, "It would be best for the kids not to see us fight" or even threaten to call the police. She may also try to bribe you with empty promises of all the parenting time you could possibly desire.
However, there is no way to ensure she follows through with these assurances after she has achieved her goal of getting you to leave the house of your own will.
Even if she goes to the length of filing for a protective order, having the court remove you from the home allows far more room to argue that despite all your efforts toward maintaining the family routine, you were forced to leave.
By leaving the home voluntarily, you show the court that staying close to your kids for daily interactions is not that big of a deal to you. Even if you were the greatest dad in the world, it sends a contradictory message when you pack your own bags and leave.
Presenting the court confirmation of your positive involvement and influence in your children's lives is the best way to receive a reasonable custody decision. Freely moving out and only seeing your children occasionally does not foster credibility that keeping close to your children is your top priority.
Moving out of the marital home establishes a new status quo that could potentially be transitioned into temporary court orders while the divorce is pending, and then end up in the final decree if the current arrangement appears to be working in the eyes of the court.
You could be stuck paying far more in child support, but worst of all, receive far less time with your children than you truly deserve -- all because you foolishly left the marital home.
How Moving Out Impacts Childless Couples
While moving out is tremendously detrimental when you have children, it can also negatively impact childless marriages as well. If you are the primary earner for the household and you decide to find your own apartment while the divorce is pending, there is a chance you could be required by the court to continue paying for your wife's living expenses as well.
Some states can authorize a "status quo order," meaning if you had previously paid for the mortgage, bills, groceries, car payments, etc., during the marriage, then you will be obligated to continue while the divorce is proceeding. Not to mention if your spouse has a lower paying job, you may also be required to pay her temporary spousal support so she can afford the lifestyle to which she is accustomed.
Not only can this be financially crippling while you are going through a divorce, but it sets up a standard the courts can use when it comes to the decree. If you could afford to support your wife like you had for the months -- or even years -- it took for the divorce to be finalized, there is no reason for the court to believe you cannot continue to do so after the divorce is over.
Additionally, when you leave on short notice, most men do not think to grab copies of all their important financial records. With it being so difficult to get back into the home after you have voluntarily left, it can be nearly impossible to retrieve those documents -- and you never know what vital files may "disappear."
Even though most can be recovered through the process of discovery, it will drastically increase your attorney fees if your lawyer must spend the time hunting down documents that could have been readily available.
Your best option when facing divorce, both financially and if you want the best possible custody outcome, is to stay in the marital home. With 25 years of experience representing men in divorce, I can tell you it may feel like moving out will reduce tensions and make the divorce more amicable, but it will more than likely result in far more problems in the long run.

Figuring out a way to continue living under the same roof, hopefully at least somewhat peacefully, is your best option when facing divorce. Move to a spare bedroom, avoid any unnecessary interactions with your soon-to-be-ex spouse, and most importantly, continue being an active part of your children's lives.
Far too many men continue to commit stupid mistake number one, which all too often ends up being the biggest mistake of their life.
Speak with an experienced domestic litigation attorney before you decide to take such a drastic step.
Otherwise, it may be too late.
Related