Walaa is afraid of her pillow.
That's because night -- when the 5-year-old is supposed to put her head on her pillow -- is when the attacks happened.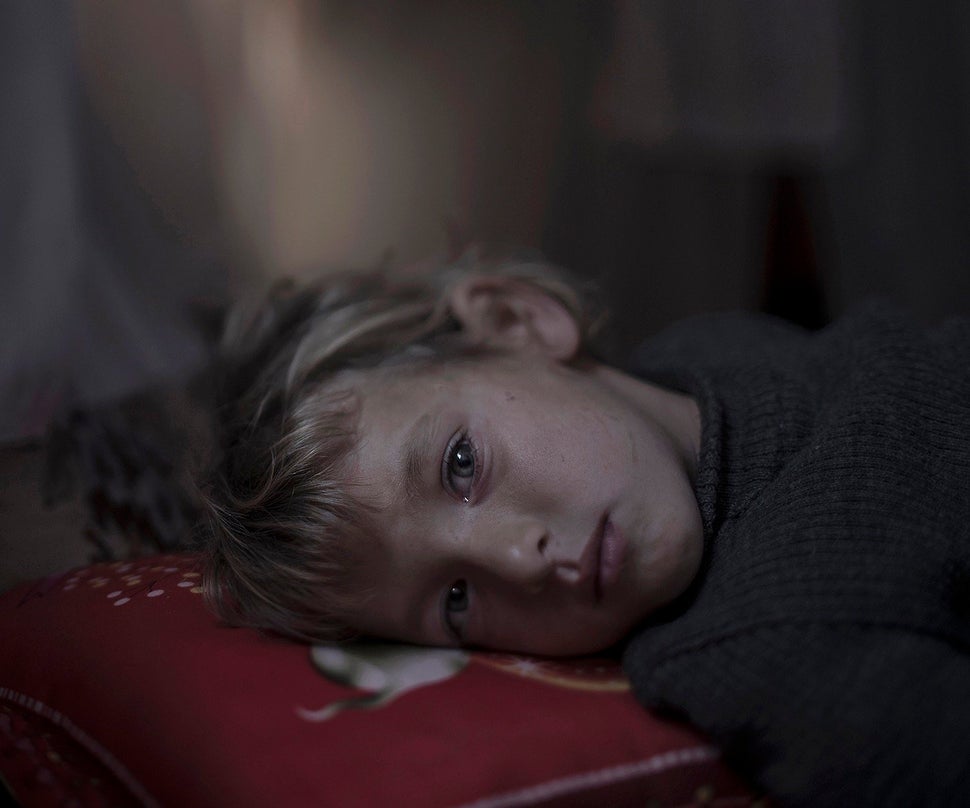 Walaa, from Aleppo, Syria, currently lives in the Mar Elias informal settlement in Lebanon. This image of her is part of "Where the Children Sleep," a new photography exhibit opening at the New York Public Library's Stephen A. Schwarzman Building, later this month. 
Resting her head on the pillow is horrible, she says, because nighttime is horrible. That was when the attacks happened.
The image caption, written by photographer Magnus Wennman and journalist Carina Bergfeldt, reads:
"Walaa wants to go home. She had her own room in Aleppo, Syria, she tells us. There, she never used to cry at bedtime. Here, in the informal settlement, she cries every night. Resting her head on the pillow is horrible, she says, because nighttime is horrible. That was when the attacks happened. By day, Walaa's mother often builds a little house out of pillows, to teach her that they are nothing to be afraid of." 
The photos are meant to show the story of the Syrian conflict, Wennman told The Huffington Post. 
"It's not just a big group of people. It's millions of individuals with different backgrounds and different stories," he said.
The United Nations High Commissioner for Refugees and Fotografiska -- a center for contemporary photography in Sweden -- partnered with Wennman to help bring the photographs to larger audiences. The images capture something primal -- and essential, Christopher Boian, a public information officer for the UNHCR, told HuffPost.
"The act of sleeping is so essential to life and the fact that these children are forced to sleep in foreign, alien, uncertain, dangerous places -- when they have no blame for being there -- is quite moving," he said. 
Ahmed, 6, falls asleep in the grass.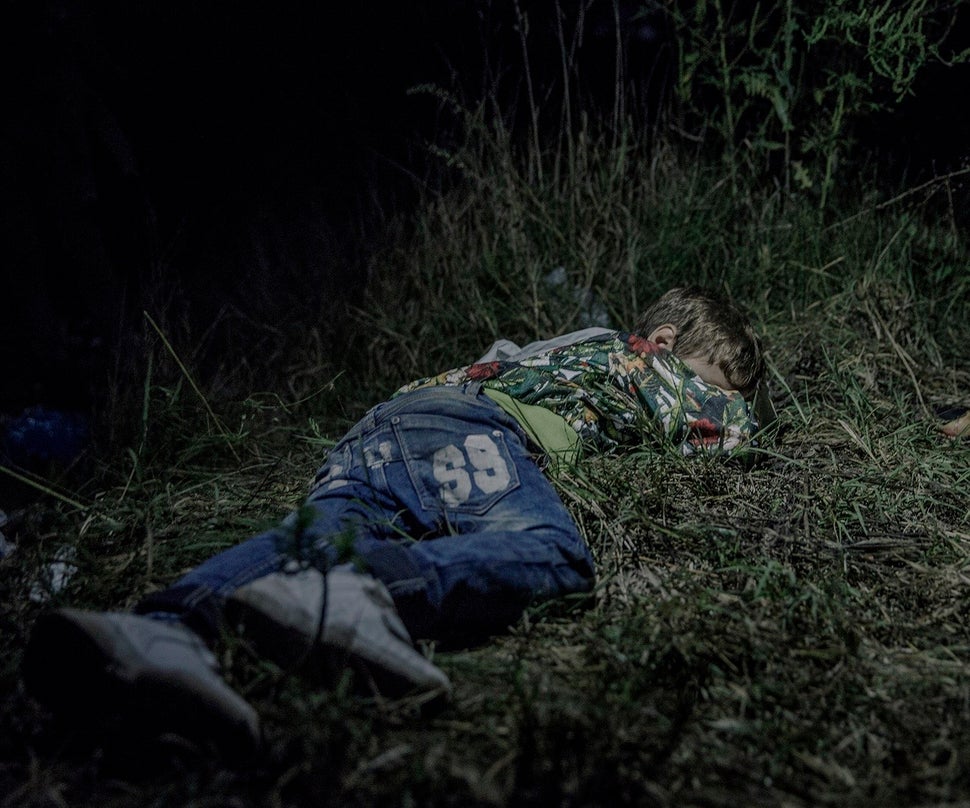 "It is after midnight when Ahmed falls asleep in the grass. The adults are still awake, formulating plans for how they will continue their journey through Hungary. Ahmed is 6 years old, and he carries his own bag over the long stretches that his family walks by foot. 'He is brave and only cries sometimes in the evenings,'€ says his uncle, who has taken care of Ahmed since his father was killed in their hometown of Deir ez-Zor in northern Syria."
Ahmed currently lives in Horgos, Serbia.
Ralia and Rahaf, 7 and 13, sleep on the street on cardboard boxes.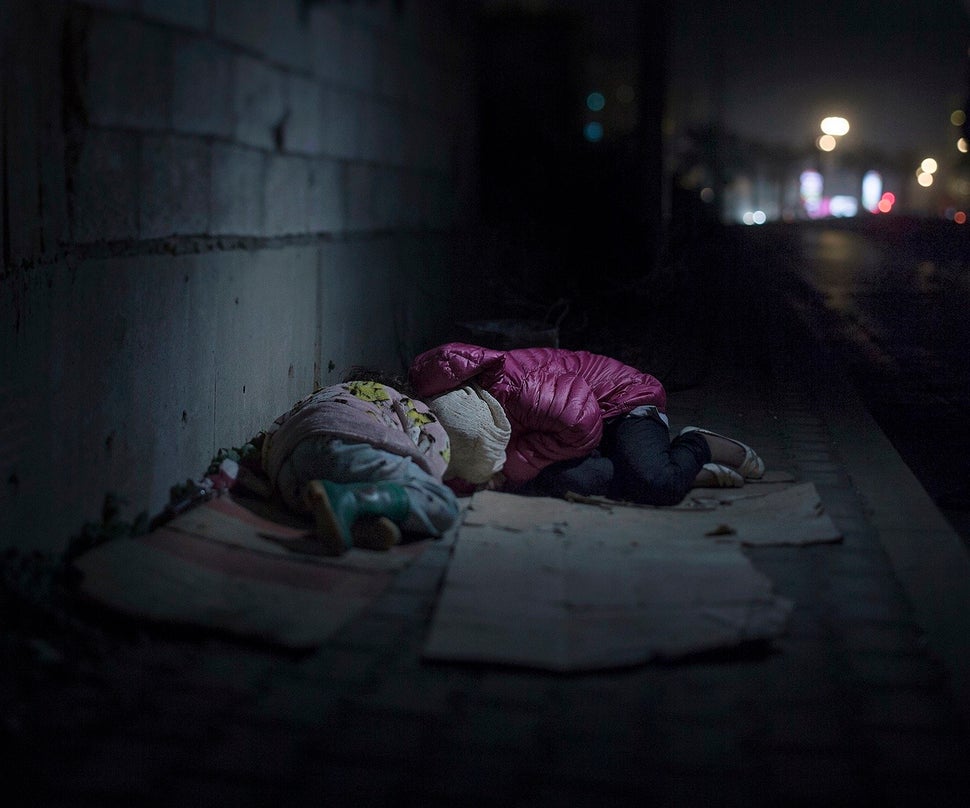 "Ralia and Rahaf live on the streets of Beirut. They are from Damascus, where a grenade killed their mother and brother. The girls and their father have been sleeping on the street for a year. They huddle close together on their cardboard boxes. Rahaf says she is scared of 'bad boys,€' at which Ralia starts crying."
Ralia and Rahaf currently live in Beirut, Lebanon.
Lamar, 5, sleeps on a blanket in the forest.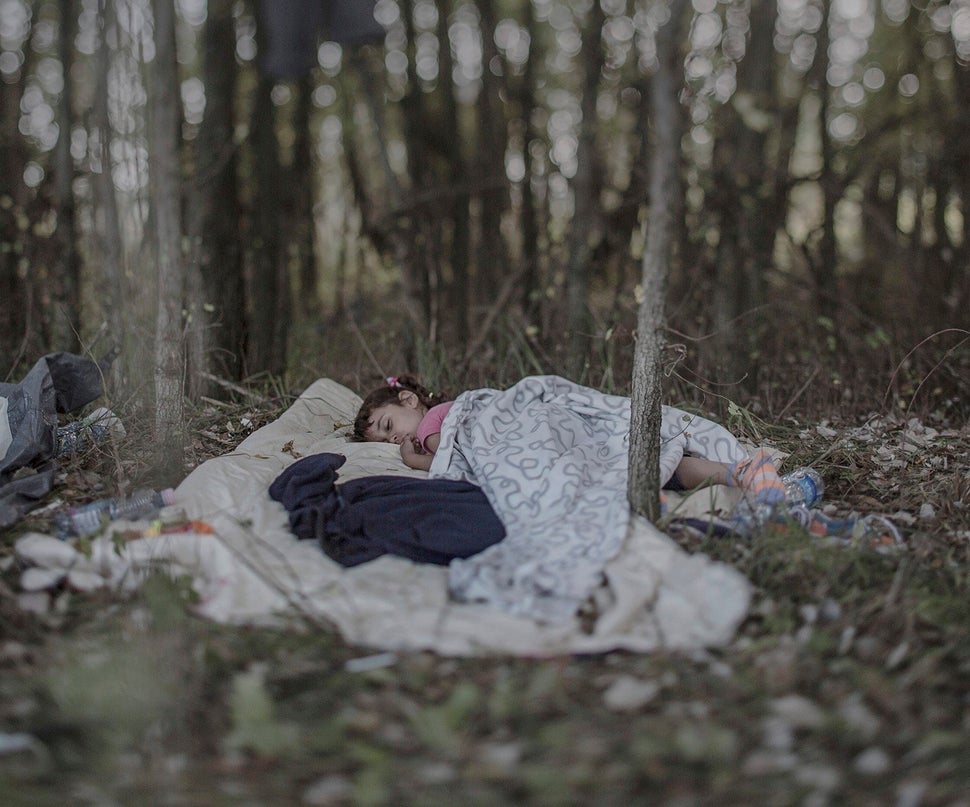 "Lamar left her dolls, toy train and ball back home in Baghdad, Iraq. She often talks about these items when home is mentioned. One bomb changed everything. Her family was on its way to buy food when a bomb was dropped close to their house. 'œIt was not possible to live there anymore,' says Lamar'€™s grandmother, Sara. After two attempts to cross the sea from Turkey in a small rubber boat, they have made it to the Hungarian border. Now Lamar sleeps on a blanket in the forest, scared, frozen, and sad."
Lamar currently lives in Horgos, Serbia.
Farah, 2, dreams of soccer balls.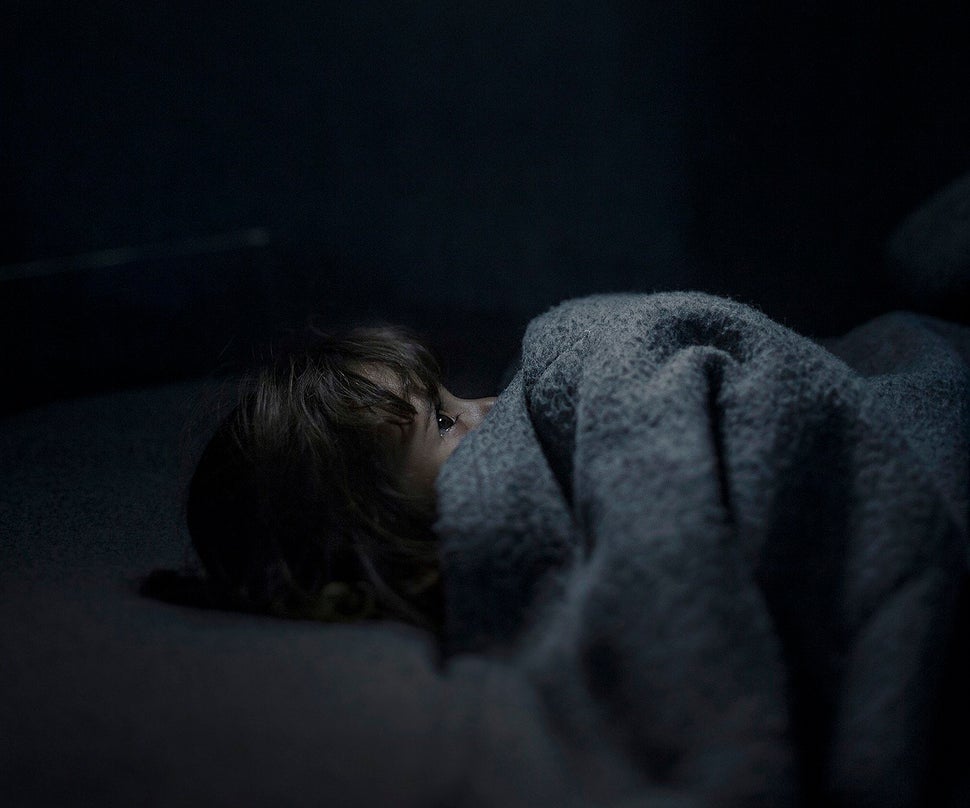 "Farah, who fled Syria, loves soccer. Her dad tries to make soccer balls for her using anything he can find, but they don'€™t last long. Every night, he puts Farah and her big sister Tisam, 9, to bed hoping that tomorrow will bring them a proper soccer ball to play with. All other dreams seem to be beyond his reach, but he is not giving up on this one."
Farah currently lives in Azraq, Jordan.
The free exhibit will be open to the public at the Schwarzman building in New York City from June 27 - July 10. 
Learn more about the refugee crisis and how you can help through UNHCR's #WithRefugees Campaign here.
Sarah DiGiulio is The Huffington Post's sleep reporter. You can contact her at sarah.digiulio@huffingtonpost.com.
Calling all HuffPost superfans!
Sign up for membership to become a founding member and help shape HuffPost's next chapter
BEFORE YOU GO
PHOTO GALLERY
Refugee Children And Their Fathers