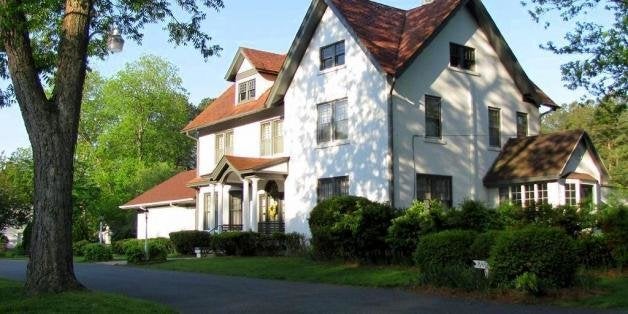 After one too many late-night noise issues, a million block laps to find parking and repeat calls to landlords regarding floods, broken air conditioners and bug infestations, our little family finally decided that perhaps the suburbs would be a better fit for us than the city. We had long been playing the pros-and-cons game that all urban dwellers do, and finally the cons of city living seemed to be outweighing the pros.
Without kids it seemed a bit premature, but I was also so sick of not having a place to feel tranquil and at peace that the "uncool" factor didn't faze me all that much. I'll take a grassy yard to kick back in with my two dogs and a REAL guest room over throngs of loud people and funky city smells any day!
So my husband, Andrew, and I skipped making offers on overpriced city condos and instead went on a house-hunting spree in the nearby suburbs outside of Boston, a journey I write about in detail in my book, Elements of Style: Designing a Home and a Life.
But it wasn't the idyllic, dreamy experience I had imagined. We put in bids on many homes and lost to other bidders or had home inspections turn up ghastly things like black mold. With the end of our apartment lease in sight, it became a wee bit stressful when yet another deal fell through or bid was trumped. So I begrudgingly went to see a house I did not love but was in a great location.
It was filled with metallic wallpaper and held an incredible stench of smoke in every room. It was small and dark and needed a lot of work. But it was solidly built, well cared for, and on a prime street where we could walk to Starbucks, restaurants and public transportation. Being in the design field, I knew I could make it into something awesome -- but did I have the bandwidth to do so? Well, we were about to find out because, practically before I knew it, we had made an offer and the house became ours.
Our first night in the house I cried for five hours about how we had made a huge mistake and I wanted to go back to the city. The house was smelly and old and surrounded by families or older folks. I could not believe I had traded the luxury to walk to Barney's and J.Crew for this. I spent that first night wide awake, wondering how I could finagle myself out of this pickle I had gotten us into.
Once I had accepted that this move was for real and that I would have to make the best of it, all the benefits of the suburbs soon came into focus. A driveway of my own, three big bedrooms, a backyard for my little fur-children and actual quiet. Oh, how lovely was the sound of nothing. By the time I rolled out the plans for our renovation, I knew I had made the right choice: I was going to get to create the home of my dreams inch by inch, and my little family was going to be happier for it.
We have been in our house for over two years now and it's the best move we ever made. Two renovations later (with plans to do a little more even), we have the house of our dreams. Not only are we so much happier than we were in the city, but we've made an investment in our future that will pay us back in spades -- and dollars -- too.
And while I'm glad I can drive into the city in 15 minutes and enjoy all it has to offer, I'm always happy to return home.
Allstate Agents understand that no two homes are alike. Your local agent will help you customize a policy that is right for you and will help keep your policy up-to-date as you update your home so you have peace of mind that you are protected.