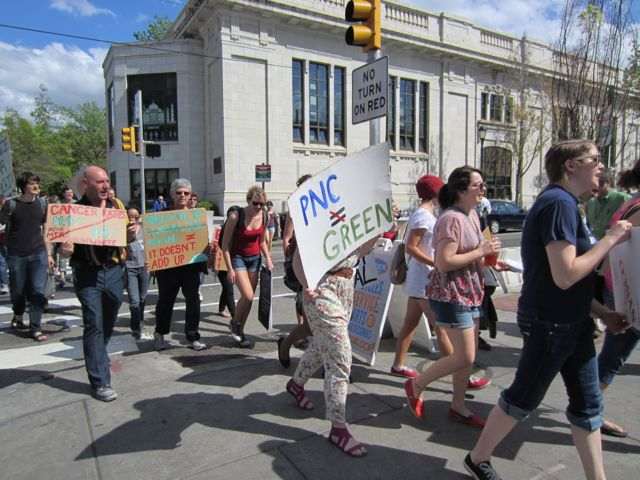 Although environmental awareness sometimes seems to drop off the day after Earth Day, this spring there are a number of eco-justice groups taking their message on the road, making connections, and building broader coalitions in the process.
On April 30 the Earth Quaker Action Team is launching a Green Walk for Jobs and Justice to pressure PNC Bank to stop financing mountaintop removal coal mining. The walk will cover 200 miles between Philadelphia and PNC's national headquarters in Pittsburgh, where the group and local allies will challenge PNC to walk the walk of being the "green bank" they claim to be. The walkers will stay with host congregations en route, offering presentations on the devastating effects of this strip mining practice on both the environment and the people of Appalachia. They also plan to visit PNC branches across the state, calling the bank to integrity and encouraging customers to join their Green Your Money initiative by pledging to close their accounts if PNC does not change its ways.
The two-year-old EQAT decided that a walk would help them reach people outside their base of Philadelphia area Quakers. Director Ingrid Lakey explains:
PNC is expanding. What started as a local bank is now the fifth largest bank in America, so we have to expand, too. This walk is connecting us with new allies across the state and beyond. By working together, we will make mountaintop removal a thing of the past.
The walk will feature major events in Harrisburg on May 7 and at PNC national headquarters in Pittsburgh on May 16. Their event at a PNC branch in Lancaster, PA on May 5 is also part of the Climate Impact Day being organized by Bill McKibben's 350.org where organizations around the world will "Connect the Dots" between what is happening in their local area and global climate change. Walking from the local Quaker meetinghouse to the nearby PNC branch, EQAT plans to "connect the dots" between their faith and their finances.
The Pennsylvania chapter of Interfaith Power and Light is also working to connect faith to both local and global issues by taking their message on the road, in their case with a bike ride from State College, PA to Washington, DC. Leaving from St. Andrew's Episcopal Church on Friday, April 27, three riders plan stops at various congregations along the way, also offering talks and discussion, before meeting with the PA Congressional Delegation on May 2.
PA IPL encourages congregations to address climate change as a moral issue from making their buildings more energy efficient to advocating for policies that will help the United States reduce its contribution to climate change, which they point out is disproportionately affecting people in poorer countries who contributed the least to the problem. By riding bikes, they are modeling earth-friendly travel while raising money for IPL programs.
Sylvia Neely, a member of St. Andrew's and the president of PA IPL, says:
These riders are a great example of how individuals of faith can motivate us to take positive action on climate change. Our congregations are delighted to send these representatives off so they can bring a message of hope to people along the way and a message of urgency to protect God's creation to our representatives in Washington.
Jonathan Brockopp, one of the bikers and Associate Professor of Religious Studies at Penn State, notes:
It's hard for some people to relate to the impact of rising seas in Bangladesh, but Pennsylvania forests and trout streams are also changing.
He hopes that connecting local conditions and global ones will motivate more people to take the moral imperative seriously and act.
The activist momentum in Pennsylvania will continue into the summer when the group Tour de Frack plans a 400-mile 14-day bike ride from Butler County, PA to Washington, DC to highlight the problems surrounding hydraulic fracking, a controversial natural gas extraction method. The riders will follow the Great Allegany Passage and the C&O Towpath, holding awareness events in Pennsylvania, Maryland, West Virginia and Virginia before delivering personal messages to policy makers in DC.
One of the most ambitious journeys is the inspiration of dancer and choreographer Cassie Meador, who plans to walk 500 miles over two months from her home in Tacoma Park, Maryland to explore the energy sources that power her home, ending at a mountaintop removal site in West Virginia. Like the other groups, Meador's Dance Exchange is reaching out to potential allies, inviting artists, naturalists, environmentalists, and documentarians to join along the way as Meador conducts research for a dance production entitled "How to Lose a Mountain."
George Lakey, a 74-year-old teacher of non-violent direct action and one of EQAT's core walkers, notes that walking has a powerful history:
We get courage from some great walks that have gone before us. Worldwide, the best known would be Mahatma Gandhi's 1930 March to the Sea in the Indian struggle for independence. Closer to home, Martin Luther King, Jr. led the1965 Selma-Montgomery March in Alabama that triggered federal legislation to end discrimination.
Likewise, these activists hope that by taking to the streets and country roads they will grow a movement that will trigger major change in the way we care for the earth and each other.