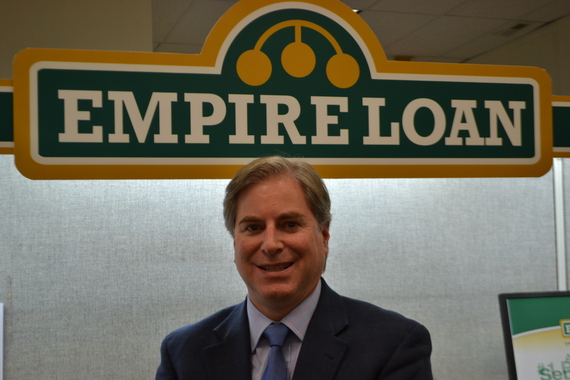 What does it take to build a massive empire from scratch? You are about to find out! I recently had a sit down with entrepreneur extraordinaire Michael Goldstein. Michael has systematically built his business, Empire Loan, over the past 30 years, and today it is, by far, the most successful pawn brokerage in New England. Michael is a third generation pawn broker, having learned the trade from his dad and his grandfather, while working at their family pawn shop in the Bronx, New York. Today, Empire Loan, a company founded by Michael, has 8 stores (plus one store that specifically sells guitars) and 50 employees, and generates $9M a year in revenue. Building a successful empire is much like winning at chess, it takes strategy, experience, and the ability to consistently move the right pawn. Here are 4 lessons to building a massive empire, one pawn at a time.
Observe and Adapt: Michael Goldstein grew up working in the pawnbroker industry, first at his family's store in the Bronx and then for Uncle Neds, a shop owned by his mentor, Hill Roads, in Boston. This was the early 1980s and they were formative years for Goldstein. He said that pawn brokerages were very different back then. Clients would walk in and the counterman would be very confrontational. Goldstein says that he couldn't understand why there was so much animosity between the broker and the client, and he felt that there had to be a better way. Fast forward to 1985, when Goldstein launched Empire Loan. Deciding to raise the bar for the industry, Goldstein says he built his company mission statement around treating customers with respect...treating them like customers should be treated. Hence, Goldstein built shops that are clean, upscale, and staffed with smart, reliable, honest, and friendly people.
Open Next to Your Competition: Empire Loan has storefront locations in Boston, Providence (2), New Bedford, Worcester, Stoughton, Lowell, and Lynn. I asked Goldstein his strategy for finding locations. He said that it's easy....he goes to areas that already have existing pawn shops. The advantage to doing this, says Goldstein, is that there is already a market for pawnshops and it's easier to compete for business than it is to educate people about what a pawn broker offers. As for the competition, Goldstein says that he's not worried about them because his stores are built on honesty and respect for the client and on loaning the client maximum value for the item they are putting up for collateral. Goldstein notes that when customers have been to other shops, then visit Empire Loan, it's a breath of fresh air for them, and they keep coming back. While most pawnbrokers still run their shops under the old school method of haggling and negotiating the customer for a penny, Empire Loan is about respecting the client from the minute they walk through their doors. Goldstein says that Empire Loan has raised the bar in the pawn brokerage world and by doing so, the customer wins no matter what. Even if a client ends up over at the competitor's store, the level of service there has increased by default because Empire Loan is their neighbor.
Know People Who Are Passionate: Goldstein feels that to build any business, you need to surround yourself with people who are passionate about whatever they do in life. This is even more true in the pawn brokerage world. While much of what is pawned in the stores is jewelry, gold coins, and other smaller ticket items, there are occasions when unusual items are pawned. This makes it necessary to have close associates who are passionate about fine art, wine, pen collections, baseball cards, and other unique items. When a call comes in from a client that wants to pawn one dozen cases of collectible wine, you better have someone passionate about wine on your speed dial. It takes a village to run any business, and the more passionate the villagers are, the faster and more profitable your business will grow.
Be Happy Now: Goldstein has three teenage children and I asked him if there are any business or life lessons he'd like to pass down to his kids. He said there's just one.... "Be Happy Now." Goldstein recently lost his own father, and he said that the loss really hit home that life goes by in the blink of an eye. He said that if you are not 100% passionate about what you are doing, then quit and go do what you love. Surround yourself with people you love and who love you back. Cherish every single day like it could be the last. Put 100% of yourself into everything you do so that you live an exceptional life. Goldstein doesn't believe in waiting for tomorrow or next year for happiness. He says that it must be seized today and if that's the one thing he passes down to his kids, he's done alright.
Michael Goldstein is certainly passionate about building Empire Loan. He said that their growth is not over and that there will be additional stores in their future. He says that when you are really happy and doing what your love, why slow down? Michael Goldstein surely isn't. He will continue making his entrepreneurial moves, one pawn at a time.
Related
Popular in the Community