By Ann Kuffner, InternationalLiving.com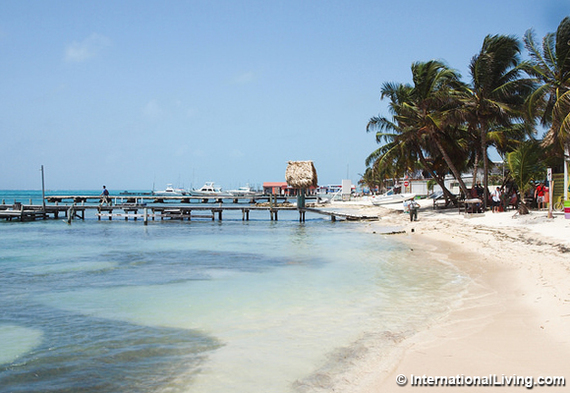 Coastline of Ambergris Caye, Belize
"I am happy. I don't worry about car insurance, driving for hours, or traffic. I don't have to put on a pair of heels and a business suit. Flip-flops and a great pair of shorts or sundress are my normal attire now," says Marlene Houghton, who owns Marbucks, her dream coffee shop on the island of Ambergris Caye, Belize.
"From here I can see palm trees, turquoise water, and waves caressing the reef, instead of concrete buildings and piles of snow. I can leave work early to go for a dive, kayaking, or a Pilates class. The things I love to do are now a part of my daily routine."
Six years ago, Marlene (known as Mar to her friends) came to Belize on a scuba-diving vacation. She traveled throughout the country, but Ambergris Caye intrigued her the most. She fell in love with the island's quaintness and the friendly Belizean people. She could see herself spending more time there.
"The pace is slow. Driving in a golf cart or riding a bicycle is the only necessary mode of transportation. And it's easy to get to know people. The island offers a simplicity like no other place I had traveled."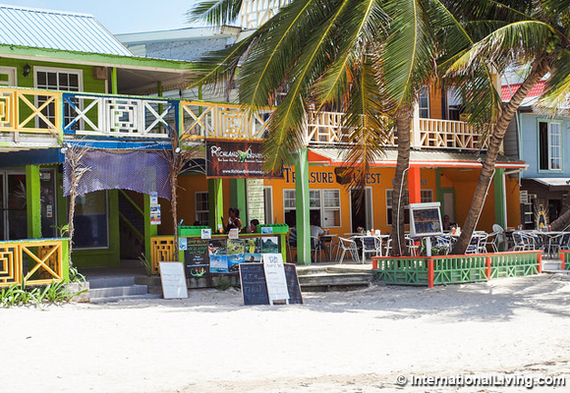 Beach Restaurants in Ambergris Caye, Belize
Mar had tried many career paths while living back home in British Columbia. But none had fulfilled her dream. "I had always wanted to open a coffee shop somewhere tropical." And she dreamed that one day she'd live all year round in a warm climate, on the sea...
When Mar retired, she fondly remembered her vacation on Ambergris Caye. "The reason I came back to Belize was specifically to buy a small coffee shop. I had every intention of fulfilling my lifelong dream here. Now I get up each morning with anticipation, knowing I'm doing exactly what I've wanted to do, with purpose."
Mar opened Marbucks, an open-air coffee house on north Ambergris Caye, in early 2015. "I wake up early every morning to walk my dogs on the beach and enjoy the sunrise. I open up the coffee shop at 7 a.m. and get ready to prepare fresh breakfasts, as well as muffins and sweet treats. It's wonderful to look up from what I may be doing at any time of the day and be reminded of the blessings we enjoy every single day: looking at the sea, feeling the breeze, hearing the surf, or the magnificent array of birds singing."
The café closes mid-afternoon so Mar has time to enjoy the activities that attracted her to the island lifestyle. "I make time to incorporate a regular Pilates class into my routine three times a week; yoga, Zumba, or water aerobics once or twice a week. Often I kayak in the afternoon, relax by my pool, or go diving.
"It is slower, simpler, more relaxed here. And I get pleasure out of my work. I don't feel that I'm missing out on anything right now."

This article comes to us courtesy of InternationalLiving.com, the world's leading authority on how to live, work, invest, travel, and retire better overseas.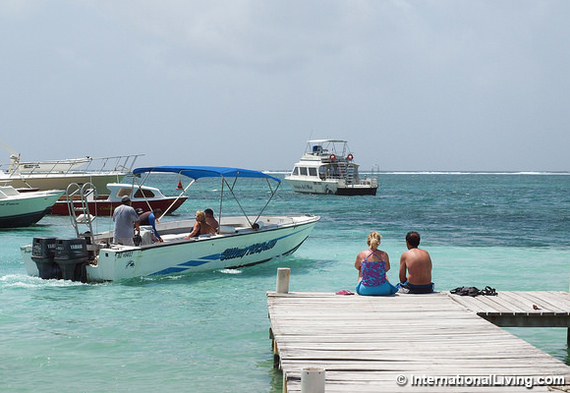 View from the Pier in Ambergris Caye, Belize
Related Articles:
Clever Incomes Mean More Leisure Time in Belize
Ambergris Caye Vs Roatán: Which Caribbean Island Would You Retire To?
Travel in Belize: Top 10 Things to Do
PHOTO GALLERY
7 Hot Travel Trends For Boomers
Calling all HuffPost superfans!
Sign up for membership to become a founding member and help shape HuffPost's next chapter