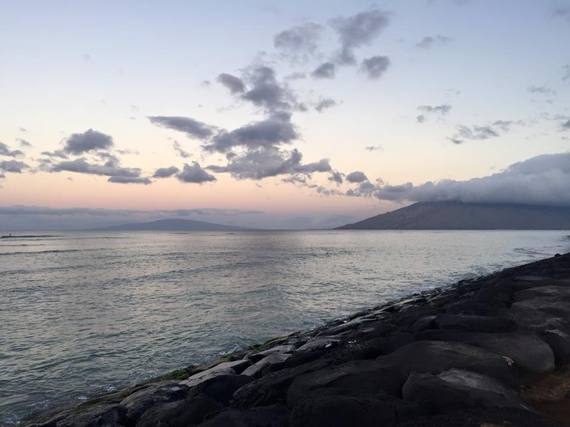 On April 8th of 2014, our family got on a one-way flight with 15 checked bags. That Tuesday morning we sold the last of our stuff and couldn't contain the excitement of starting a new adventure in our dream destination of Maui, Hawaii.
The journey to call Maui home began in April of 2010. My wife and I decided Maui would be a cool place to vacation. We got off the plane and felt "something" we had no way of explaining. The walk through the semi-open airport alone excited us.
The trip was life-changing -- that's the only way to describe it. We fell in love with the people, food, and the land. We got a glimpse of the "Aloha Spirit." Needless to say, we talked a lot on the flight home about retiring and moving to Maui someday.
We got home and got lost in the chaos of life. The death of my father in April of 2012 was the catalyst to us seriously planning the move. It took two more years, but in February of 2014, I came to Maui on my own to find a place for our family.
Finding a place was a frustrating and fascinating experience. Rent here is NOT cheap, and there is a limited selection of available places. We found a great place a few days before I was supposed to head back to Wisconsin that rents for $1,300 a month. I wrote about finding this place in the Huffington Post.
I went back to Wisconsin, sold the rest of our stuff, and got my family. We have now made it a year, and according to some, the first year is the hardest.
There are a lot of people who would love to move to Maui. There will be some people reading this that are dreaming or planning a move. I'm NOT advocating that anyone move here, but if Hawaii is your dream, know that it's possible with hard work and a plan. Here are some lessons that I hope will help your journey.
1. Educate and understand. During the planning phase of a move to Maui or another Hawaiian island, you research a lot. You want to figure out the right island and where to live on that island. There is, however, an important part of the research that gets missed. You have to study and understand the history of Hawai'i.
There is a long and complicated history in regards to how Hawai'i became a state. It's a history most of us can't understand. When you research, you will learn that you can't move here and bring your old life with you.
When you have a basic understanding of what locals experience, you come here with the attitude of giving back, not taking away. You learn to leave mainland thinking behind and embrace the Aloha Spirit. You realize locals can be affected by decisions you make. You have to do what's right for your family, but be sensitive to Hawai'i.
2. Self-sufficiency is easier. We didn't have to find work when we made the move. I have an online business that supports our family. If you have to move here and find work, you will have a difficult (but not impossible) time.
There are some in-demand professions, but if you're looking for a general work, know that jobs don't pay as much as the mainland and are hard to find. If you can move here with a profitable business, or a job that allows you to work remotely, you will experience a smoother transition.
3. Live simple. We were very conservative during the first few months of the move despite have a healthy amount of money saved. We got everything we needed from Craiglist and "moving off the island" sales. We didn't eat out or spend money unnecessarily.
If you're going to move here, life isn't and can't be about "stuff." There is so much to do, see and experience. There are so many things to learn and a lot of them don't require a lot of money.
4. Your dream is possible. Moving to Maui/Hawaii is hard. You are leaving a life you understand to move to an island in the middle of the Pacific. Life here is different, and the cost of living is high.
However, Maui is breath-taking. Life here is spectacular. I wake up every day and have to pinch myself; I still can't believe this is home. It's hard to move here, BUT it is possible. I'll say it again, I'm NOT advocating that anyone move here, but if Hawaii is your dream, know that it's possible with hard work and a plan.
Moving here was better than we ever imagined. We love our simple life and the amazing friends we've met. We give back and have forgotten mainland thinking. Maui is our home.
They say the islands choose you, either all the doors fly open, or you have a terrible time. I'm not sure if that's true but if you don't embrace what it means to live here, you won't make it.
Did you move to Maui? Are you planning a move?
Calling all HuffPost superfans!
Sign up for membership to become a founding member and help shape HuffPost's next chapter