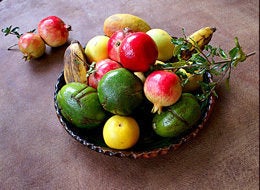 Within months of the Obama's move to the White House, much emphasis has been placed on healthy eating and the importance of fresh foods. As Michelle Obama broke ground in her vegetable garden on the South Lawn in March, many Americans began seeking practical ways to educate themselves and their families on making healthy food choices. However, you don't need your own vegetable garden to reach your nutrition goals. Planning and preparing healthful meals and snacks can be simple, easy and fun, and can start right in your local grocery store. Here are some delicious and nutritious tips to help you make healthier food choices for yourself and your family.

Get the family involved. Healthy eating should be a family affair. Fundamental nutrition education and involvement from the whole family is an essential part of building sustainable healthy eating habits that will last a lifetime. Start by scheduling regular family meals, serving a variety of healthy foods, and involving family members in the meal selection and preparation process. Make shopping exciting by finding innovative and fun ways to get your kids involved, such as choosing healthy and easy recipes to make together, exploring new healthy foods to add a sense of "adventure" to the average meal, and empowering family members to find and suggest their own healthy foods for the family to try. We all prefer eating for taste, so learning what healthy foods each family member enjoys, and incorporating them into your meal plan, will put everyone on the fast track to feeling their best while nourishing their mind and bodies.
Know your grocery store. For many families, the local grocery store is where they conduct the majority of their food shopping, and it will be helpful to know where food items with the most nutritional value are located throughout the store. As a general rule, shop the perimeter of the store to find healthy foods -- like fruit, vegetables, fish, unprocessed meat, whole grain breads, and low-fat dairy -- and avoid the temptation of processed, high sugar or high sodium foods that tend to be placed in the center aisles. It's also important to pay attention to nutrition labels. Some supermarkets offer nutrition navigation programs, such as Guiding Stars, which takes the guesswork out of nutritious shopping by eliminating the need to compare every item in the store. Guiding Stars, which has now been implemented in public school cafeterias and a private college, uses a "good - better - best" in-store rating system for a simple, at-a-glance tool that allows you to quickly identify and choose foods that offer the most nutrition for the calories. The Guiding Stars program is grounded in evidence-based science and uses the most current guidelines and recommendations of leading national and international health organizations. Products with Guiding Stars have more vitamins, minerals, fiber and whole grains and less saturated fat, trans fat, cholesterol, added sodium and added sugars. In addition to referring to a nutrition labeling program, be sure to ask if your local supermarket offers any health-related services such as store tours, educational programs or meetings with local health experts to help you and your family to implement and maintain healthy habits every day.

Make healthy snack choices. Spreading out your calories throughout the day with well-balanced, evenly portioned healthy meals or snacks may prove better than three large meals a day. The body will manage blood sugar levels better if a steady amount of food is consumed throughout the day. Stock-up on enjoyable, nutritious foods and divide them into single serving bags or containers to snack on throughout the week. Keep these healthy snacks within reach to curb hunger and quell temptation. Of course, don't underestimate the importance of eating a good breakfast to jump-start your metabolism and help you curb the urge to overeat during the day. A healthy breakfast can be as simple as a bowl of cereal and milk with sliced banana, whole grain toast with peanut butter and a glass of orange juice, or yogurt with granola and fruit. Be sure to become a champion of nutrition for your kids as well. Since young children have smaller stomachs than adults, they need to eat smaller portion sizes at meals and snacks. Pack their lunch bags and backpacks with healthy and delicious snacks such as grapes, strawberries, raisins, unbuttered light popcorn, granola bars and whole grain crackers or nuts. Don't forget to add water or low-fat milk on the side for yourself and your family as thirst can often be mistaken for hunger.

Learn to make a shopping list. Creating a healthy shopping list before you go to the store makes it simple to purchase healthy foods for the whole family. Web sites like www.guidingstars.com provide healthy eating tips and tools like a meal planner and popular recipes made with nutritious ingredients that can be found at your local grocery store. Planning meals and making a shopping list can help you to purchase only what you need, allowing you to shop quickly and efficiently and help prevent impulse shopping out of hunger or fatigue. Sticking to a list also leaves less opportunity for over-shopping which can lead to overeating or wastefulness as foods reach their expiration date. Get your children involved by asking them to select their favorite snacks from an approved list and allowing them to identify their choices in the store. Keeping kids involved in making healthy choices at an early age can foster an awareness and interest in nutrition for a lifetime.
Making nutritious food choices and living a healthy, balanced lifestyle is now easier than ever. Take advantage of the nutrition navigation and education tools available to you, either online or in your local grocery store, to help you create a healthy eating plan that you and your family can enjoy and stick to. To learn more about Guiding Stars, visit www.guidingstars.com or visit us on Facebook and Twitter.