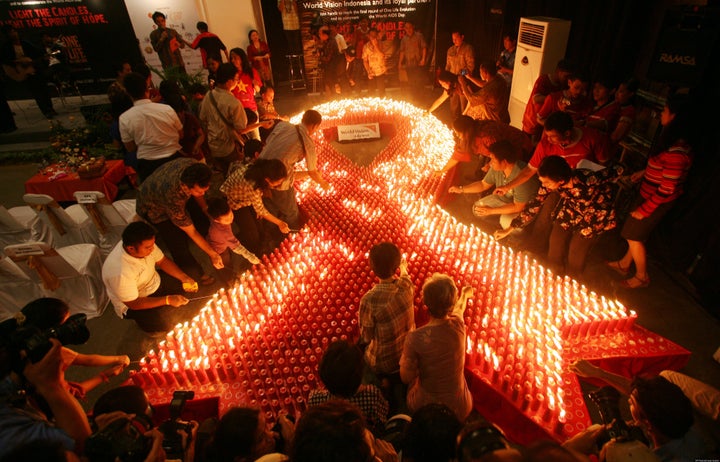 Co-authored by Kate Goertzen and Yuri Hanada
On this World AIDS Day, achieving an HIV-free generation must be a top priority. In many areas of the world, including the United States, youth bear the brunt of the HIV/AIDS epidemic.
In 2009, 370,000 children who became HIV-positive globally were infected by mother to child transmission (MTCT). That's 1,000 children every day. Provision of anti-retroviral medications (ARVs) to pregnant women living with HIV could prevent most of these infections, but only 53 percent of pregnant women who are HIV positive receive these drugs in low and middle income countries. In contrast, thanks to public health education and access to lifesaving ARV medications, MTCT has been virtually eliminated in the United States, and most babies are now born HIV-free. This makes the current HIV infection rate for this generation of young people in America all the more alarming: As many as 250,000 youth are living with HIV in America today. Furthermore, in 2006, more HIV infections occurred among people ages 13-29 in the United States than any other age group, according to the Centers for Disease Control and Prevention (CDC). Despite considerable progress in the scientific understanding of HIV as well as the eradication of MTCT in America, the incidence and prevalence of, and misconceptions about, HIV among our youngest generation suggest that we have much work to do to effectively alter the course of the epidemic among youth.
America's youth are coming of age at a time when AIDS is considered to be a treatable disease. Unlike young people in the early days of the epidemic in the U.S., most young people today have not witnessed the deaths of peers from this illness. Complacency surrounding HIV/AIDS in America has led to a kind of AIDS amnesia, particularly among youth. The results: large numbers of young people who are unaware of their risk for infection, who have never been tested, and who take unnecessary risks with their health.
In the U.S., statistics concerning HIV/AIDS among young people are particularly startling for the most vulnerable groups. Young men who have sex with men (MSM), ages 13-24, accounted for 84 percent of HIV/AIDS cases from 2004-2007. Yet, a 2005 survey of young MSM in seven major cities revealed that only 23 percent of those who had tested positive were already aware they were infected. In 2007, African Americans, another vulnerable group, represented 17 percent of adolescents ages 13-19 in the U.S., but accounted for 72 percent of HIV/AIDS cases in this age group. Young women, intravenous drug users, and youth whose parents are living with HIV/AIDS are also at increased risk.
Scientists have found that the dynamic developmental phase of adolescence itself contributes to vulnerability as a result of significant physiological changes, including those of the reproductive anatomy, which increase susceptibility to HIV infection. Additionally, youth mount robust immunological responses that may surpass those of adults, and it is unclear exactly when the switch from the biological mechanisms of child to adult drug metabolism occurs. These factors can potentially affect the safety and dosing requirements in vaccine and other biomedical prevention technology trials and yet prevention and treatment recommendations for young people are often extrapolated from the results of adult-only studies. For example, the recent finding that anti-retroviral (ARV) medication taken as a prophylactic "prevention pill" (PrEP) can reduce transmission by 43.8 percent and when taken as prescribed by as much as 90 percent is game changing; the median age in this study of MSM was 25, underscoring why youth must be included in future clinical trials.
There are additional considerations that place young people at high risk. While adolescence marks a period of exploration that may translate to episodic and risky sex, young people may not have the interpersonal skills necessary to negotiate safe behaviors that can protect them from HIV, other sexually transmitted infections (STIs), and unintended pregnancies. Lesbian, gay, bisexual and transgender youth may face stigmatizing and isolating environments that affect their psychological and sexual health, as those who are unable or unwilling to disclose their sexual orientation may withdraw from critical sources of social support and prevention services.
Furthermore, structural factors such as homelessness, transportation, and state laws regarding the confidentiality of minors' health information impede young people's access to youth-friendly services and health information. Approximately one-third of all junior and senior high schools have no on-site health services. Meanwhile, half of sexually active youth will have contracted an STI by age 25, increasing their risk for HIV, but approximately two-thirds of 15-17-year-olds and half of 18-24-year-olds have never been tested for an STI. This is why comprehensive, evidence-based, and age-appropriate sex education is needed in schools today.
The HIV/AIDS burden on youth underscores the urgent call for an enhanced focus on their unique needs. The Obama Administration's first-ever National HIV/AIDS Strategy (NHAS), announced in July, identifies the importance of addressing the growing HIV epidemic among young people. NHAS presents a prime opportunity to prioritize and target vulnerable youth with appropriate prevention and service-delivery programs while expanding efforts to reach all young people with vital HIV/AIDS information.
Every hour, two young people in the U.S. become infected with HIV; of those who do become infected, approximately 80 percent do not know that they are HIV-positive. Altering this trajectory will require a comprehensive, multifaceted approach -- one that invests in research and mobilizes all sectors of society to design and implement prevention and treatment programs that specifically address youth issues. This is the roadmap to attain an HIV-free generation in the United States. For our nation's future, we must act now.


Rear Admiral Susan Blumenthal, M.D., M.P.A. (ret.) is the Senior Policy and Medical Advisor at amfAR, The Foundation for AIDS Research. She is also a Clinical Professor at Georgetown and Tufts University Schools of Medicine and Chair of the Global Health Program at the Meridian International Center. Dr. Blumenthal served for more than 20 years in senior health leadership positions in the Federal government in the Administrations of four U.S. Presidents, including as Assistant Surgeon General of the United States, the first Deputy Assistant Secretary of Women's Health, as a White House Advisor on Health, and as Chief of the Behavioral Medicine and Basic Prevention Research Branch at the National Institutes of Health. She is the Public Health Editor of the Huffington Post. Admiral Blumenthal has received numerous awards including honorary doctorates and has been decorated with the highest medals of the US Public Health Service for her pioneering leadership and significant contributions to advancing health in the United States and worldwide. She is the recipient of the 2009 Health Leader of the Year Award from the Commissioned Officers Association and was recently named a 2010 Rock Star of Science.
Kate Goertzen, a recent graduate of Swarthmore College, serves as a Research and Policy Assistant at amfAR, The Foundation for AIDS Research.
Yuri Hanada, a recent graduate of MIT, is an Alan Rosenfield Health Policy Fellow at amfAR, The Foundation for AIDS Research.

Popular in the Community