More people today are buying up and keeping - or at least contemplating keeping - their old homes. In fact, 65% of investors are renting their properties instead of flipping? Does this make sense for you? Here are some things to consider: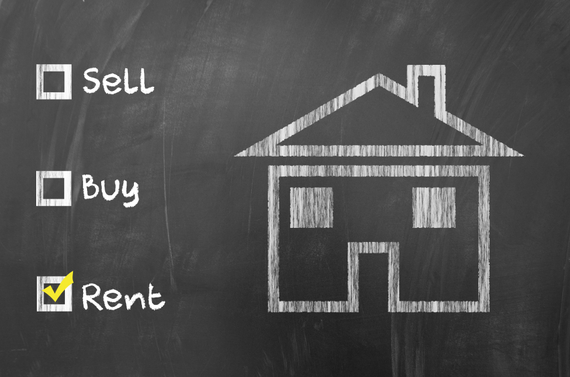 What are rents going for in your neighborhood? Your real estate agent will be happy to give you an estimate, or for a rough valuation, do a web search. This should be your first step because the agent can help you determine what kind of move-up properties are available and what the new mortgage payment would be. Comparing this with the offsetting rental income from the old house will help you decide if it's worth it.
Does your income qualify you to carry both mortgages? Your lender will likely expect two years of history managing rental properties in order to allow you to use the rental income you would gain from your old home as part of your calculations. If your debt to income ratio is fine with or without the rental income, then keep reading. Not sure? Consult with a loan officer.
Would you like another relatively passive source of income? This question is kind of a duh. Who wouldn't want additional sources of income that you could earn while you continue to do your day job? The beauty of rental income is you earn it whether you work or not. No matter what's going on with your life, you still get paid. That's pretty awesome.
What are the pros and cons? First, the positives:
• The rents received may cover some or all of the mortgage on the new property.
• Rental income makes you less needy of traditional employment income.
• You still have the home if you decide you want to keep it or pass it to a family member in the future.
• You can sell it at any time, so keeping and renting it is doesn't have to be a forever decision.
But then there's the downsides , right?
• You have to find a tenant and hope it's a good one. And how long will they stay?
• You are responsible for the expenses during down times when the property is vacant.
• You have to be ready to drop everything when issues or emergencies come up. And when have you ever known a plumbing problem that's not an emergency or doesn't happen at an inconvenient time.
• The tenant probably isn't going to treat your property with the same TLC as you.
• What if the tenant is a deadbeat or trouble? Do you know how to get them evicted, and do you have time to deal with it?
But, wait, those aren't really downsides. Here's why:
Even if you only own one rental property, it is wise to hire a property manager. Property management companies are licensed and certified, and they can handle every issue with the property for a very nominal fee - usually 10% of the monthly lease for one single family residence. The rate gets lower with each additional property under management. Unless you have a lot of extra time and have the ability to run credit reports, screen tenants, show the property, and handle maintenance, disputes, and, God forbid, evictions, then it doesn't pay to do it yourself.
So are you ready to become an investor and start supplementing your income? Are you ready to move into a bigger and better house? Well, you've got the makings for a win-win then. Speak with your real estate agent today and get a recommendation for a good property manager. Then start home shopping. There's nothing better!