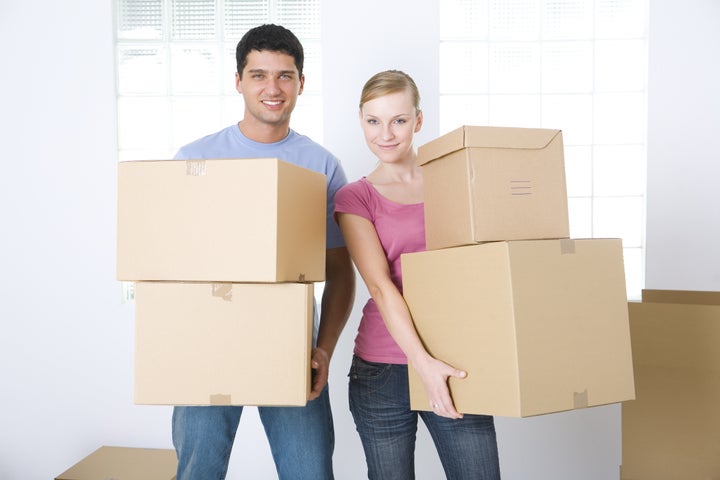 You might say it started in March of 2008 when we discovered I was pregnant with triplets. Upon returning home from the doctor's office, I was greeted by our two toddlers (then 1 and 3) and two of the sweet, snotty, slobbery kisses I'd come to expect -- and adore. As I held them in my arms, I remember looking up at my husband and thinking "Where will we live?! How will we ever fit FIVE children in this tiny, charming, practically perfect first house?!
Petty, right? Not unfounded, though. Our house was built in 1890. It has three bedrooms and one and a half bathrooms. It is historic. And it is attached. Which means a few things... for starters, "historic" and "charming" translate to "no closets" and "small bedrooms." When you add "attached" to "historic," it translates to little to no room for expansion. Which means that my gut instinct that we'd eventually need to move was right. And unfortunately, the time has come.
When we first moved into this house, I hated it. I had no friends or family in the area, no clue how to find my way to the supermarket and, with a full-time job and a newborn (our oldest, now 7), no time to meet new people. I was miserable; this house at that time was not practically perfect -- it was insanely isolating. And I wanted to rent it. Cut bait. Get out of dodge and return to the city without passing go. "We can come back when Liam is ready for kindergarten," I whined to my husband, who bore the brunt of my misery (and in fact, still does!).
Over the course of the years though, an amazing thing happened. I met the neighbors. They became my friends. In fact, they have become family. My parents marvel at our close-knit community, at how Norman Rockwell-esque it is; on summer nights we mingle on porches and on winter weekends we've been known to settle in for a football game as an impromptu potluck is born. Our children move seamlessly and comfortably from house to house -- just as we do. To leave this house, this block, this newfound "family" is torture.
This move feels premature, just like when we left the city over seven years ago. We're not ready. I'm not ready to move away from the people who have been our emotional and physical anchors, who have been known to make us dinner, walk our dog, pick up our farm share, pick up our kids and even pick me up when I'm occasionally down and out. Our pending move has me really down and out -- despite the fact that I've known deep down for years that it would eventually have to happen.
I've known for a while that three little boys can't share a dresser forever; it was easy enough when all they wore was onesies, but it's a challenge today with their size 4T "cozy pants" and sweatshirts! I've also known for a while that our oldest son and only daughter can't share a room forever; at 6 and 7 years old, it still seems OK, but that soon will change... after all, their room has no closet (charming!) and they, too, share a dresser. And speaking of sharing, we ALL share the upstairs bathroom and have already experienced the downsides of one potty for seven people -- like three (or four!) little boys "crossing streams" or one desperate little fella trying to pee while his sister is sitting on the bowl. Really. Not to worry, though, we've talked to him and I can assure you that won't happen again!
Because we are moving. To a house with another bedroom, another bathroom and a lot more closets. I suppose I should be excited. I suppose I should be grateful to have the chance to "spread out." But I'm not. I'm sad. Because spreading out means leaving our block and our new family behind.
You may conclude that we're moving far away. We're not. In fact, it's probably just about a mile, two at most. But I think that makes it even harder -- to be so close and yet so far away. No more impromptu potlucks or porch nights. No more effortlessly gliding in and out of the doors of neighbors, of these true friends who always have a kind word, a warm meal or a chilled glass of wine... unless, of course, we simply surprise our new neighbors by barging in -- it would certainly be one way of getting to know them!
Although this day -- moving day -- has been looming since those three little heartbeats first appeared on the sonogram, I am heartbroken. It is with a heavy heart that I will say goodbye to the house that truly became a home thanks to our neighbors, our friends, our family. On the upside, our next destination is a rental and, in the words immortalized in the movie The Terminator, perhaps one day, "I'll be back." Back on our block or back in town in a house that is just a teeny bit bigger. A house where, if nothing else, the potty won't need to be shared. I can only hope... after all, a girl's gotta dream!
Related