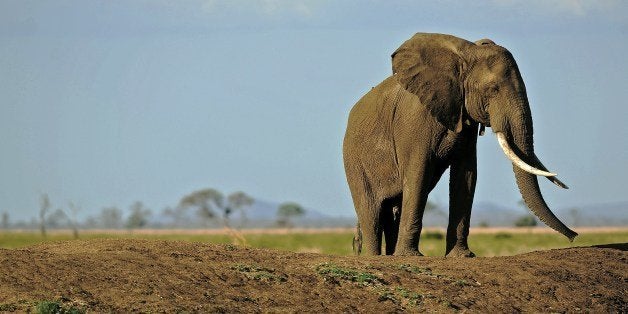 We've all heard the dire statistics about elephant poaching -- if current trends continue, there's a good chance we're looking at the end of an entire species. But apparently, poachers in Mozambique don't think that timeline is fast enough.
"The numbers from Mozambique are depressing," James Deutsch, vice president of conservation strategy for the Wildlife Conservation Society, told The Huffington Post. "Many of us were shocked. We knew that poaching was continuing, but we didn't know that it was so bad."
The recent data comes from the ongoing Great Elephant Census, an observation study meant to catalogue more than 90 percent of the world's pachyderms in 21 countries. The effort, which is funded by Microsoft co-founder Paul Allen's investment company, has already documented "unsustainable rates of killing" across swaths of the African continent.
Elephant ivory is still highly prized in some cultures, fetching upwards of $1,800 a pound, according to reports from The Guardian. Many wildlife experts have pointed to growing demand from a rising middle and upper class in China, who value the tusks as a status symbol. The country currently has a small legal ivory trade, but many conservationists say a majority of the wildlife product is imported illegally from poached animals.
"China is clearly driving the illegal ivory trade more than any other nation on earth," an elephant expert told The New York Times in 2013.
Despite the sobering news out of Mozambique, Deutsch said the country has been receptive to the statistics and plans to take action. The country enacted a new law criminalizing wildlife poaching last year, and he said a newly elected government seems to sincerely care about stopping the poaching epidemic.
The government is up against heavily armed "organized gangs" that often venture into protected national parks from neighboring Tanzania. But Deutsch said the Wildlife Conservation Society is optimistic that on-the-ground relationships with local communities will be the "single most important" thing to help keep these animals safe.
"They really are treating this as a wake-up call," he said. "That's not to say it will be easy, but at least we have a unified team."
Calling all HuffPost superfans!
Sign up for membership to become a founding member and help shape HuffPost's next chapter
BEFORE YOU GO
PHOTO GALLERY
Elephant Poaching