The only people who were surprised by the Golden Globe wins for the Amazon series "Mozart in the Jungle" and its star, Gael García Bernal, were those who have not watched the steamy, sharp, and witty show about sex, drugs, and symphonic music. Oboist Blair Tindall wrote the book and is a consultant on the series, which is likely to have a third season. In an interview, Tindall talked about how the series has changed the reaction to the book, the injury she feared would stop her career, and the eleven-year process for creating the series that began with a call from a then-near unknown young actor named Jason Schwartzman.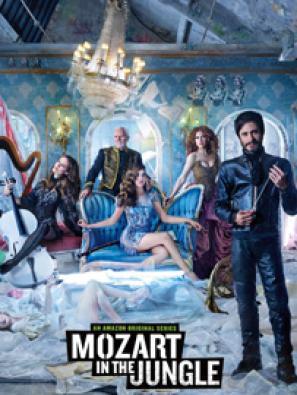 Gael García Bernal plays a somewhat eccentric but unquestionably talented and charismatic conductor. What makes somebody want to be a conductor?
I'm not sure but I could tell you, but I went through some aptitude testing about 20 years ago and they confirmed that I had really excellent musical skills, that was a relief, and then they also confirmed that my personality was absolutely wrong for playing because I am extremely extroverted. I'm just wrong for the type of music making that I had chosen. They suggested that I do something more creative like conducting or composition. For now I don't think I want to be a conductor but I'm thinking about composition now.
I was reading about Gil Kaplan, a very wealthy man who became fixated on one Mahler symphony and ended up conducting it with orchestras around the world.
I think musicians really didn't think very highly of him at the time and now they do. So I think people really appreciated what he had done and his devotion to Mahler's 2nd. His devotion to it was pretty admirable and also his story reminds me a little bit of mine because I was so ridiculed and despised for the book when it came out and that tide has really turned now. Just the online comments, comments from friends, people who were a little freaked out by the book in the beginning, fairly well known artists have emailed me since we won the Golden Globe and they are very, very excited about the attention that it's bringing to classical music. It really has been an amazing experience and to watch these actors and directors and creative people trying to figure out what we're about and really work so hard at it is something else. I feel very grateful to them.
What led you to the oboe?
I got stuck with the oboe because I was at the end of the alphabet and nobody wanted it. And that's a huge issue for me because I'm missing my front teeth. I was in a car accident when I was 17 and knocked out my front teeth. It actually wasn't that bad. I was very fortunate they got me to the hospital pretty quickly and they put the teeth back in and they said it would last 20 years. Almost 20 years to the day, they fell out. So I have dental implants in the front and I thought that was going to be a disaster. I had to live with a thing that they called a flipper tooth, it's like a denture. So I had to play with that. I glued them in with Poligrip every night and played my show. I was able to play 48 hours after they fixed my teeth, so it's actually not nearly as bad as I thought they were going to be. The fake ones look a lot better too. They're pretty stunning!
What have you taught the actress who plays you about the oboe?
Lola Kirke is just a wonderful exuberant person and she really went the extra mile. She can play the oboe a little bit now. She is a unique and quirky and wonderful and beautiful person and she's very good at homework. I noticed that they haven't even approached the reed-making aspect of oboe playing. So I'm going to take Lola to see it. I'm going to take her on a field trip next week to the oboe store here in LA to see the reed-making equipment and all the repair stuff; you know she's probably going to want to kill me at the end of it.
How did your book become a series?
The show was made by the Coppola family. I was approached originally by Jason Schwartzman, and he's the nephew of Francis Ford Coppola. I heard from him a few days after the book came out. He was only 22 at the time so it's been interesting watching his creative evolution, and very inspiring. And then he got his cousin Roman Coppola in on it, and Alex Timbers who is Broadway wunderkind and also Paul White who's a very well known director, so those were the creators. So he came to me and auctioned the book 11 years ago and just tried to get it made. He had never done anything like this before, he was so young, had just been in a couple of things. And he just kept trying and kept trying. We had an HBO deal for a little while and then they passed on us for "Girls," the series that coincidentally stars Lola's sister, Jemima Kirke.

And then the option ran out after seven or eight years and I thought, "Well, that was fun but nothing's going to happen." And then three months later they came back and said, "We have a deal with Amazon Studios," and I'm like "Wow, we are really scraping the bottom of the barrel," because I didn't know what it was. Of course now I realize it's like the best thing in the universe. We got in on the ground floor of this wonderful new different model. My agent sat down and explained it to me and then I was very excited about it and they got it made very quickly. The director, Paul Weitz, has his studio is very close to where I live. He invited me over to watch the pilot before it came out and we sat and chatted for a while and then he turned it on and the introduction to it was absolutely fabulous and outrageous and then the name "Mozart in the Jungle" pops up and I see Josh Bell whom I had known since he was 12. I hope there were no cameras in the room, because I burst into tears. I just couldn't believe it was so real and so big and it had just gotten bigger and bigger. All the people involved are so very earnest and humble and hardworking. I'm just so fortunate. They have such a diverse array of wonderful creative minds involved with it.
Who keeps the details of the music world authentic?
I'm the consultant for the show so when they have musical questions they call me. Jason and Roman's great-great uncle is a wonderful conductor, composer Anton Coppola, who's actually in the show. He is actually 99 years old, so he can give them a lot of stories but they use verbatim things, scenes and characters from my story. For example obviously Gael García Bernal who won the Golden Globe for Best Actor in a Television Comedy -- he's really great and also very modest. So his character is obviously based on Gustavo Dudamel and at the time the book came out Gustavo Dudamel was not known to American audiences. He wasn't here yet. So they realized he was our rock star of classical music, and that was perfect for Gael.
Still, he was very surprised when he won and when they won for best series. I don't think he even prepared a speech. I absolutely love all of these people and I'm so honored that they took on this project. I just loved it and when I walked into the party they all just sort of came from all four corners of the room and we had a big group hug.
What has made you happiest about the series?
If I get hit by a bus in the next five minutes I'll die happy because when I wrote the book all I wanted was for us to be part of pop culture and for us to be something that people realize they actually like. And when you read those viewer comments on Amazon people say over and over "I hate classical music but gosh now I have tickets to a symphony, I love it." So if they are not forced to sit down in uncomfortable seats and can actually just enjoy the music, everybody loves classical music.
Calling all HuffPost superfans!
Sign up for membership to become a founding member and help shape HuffPost's next chapter