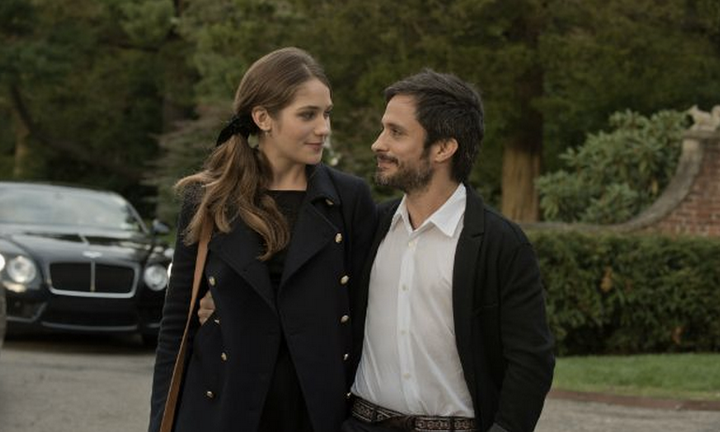 "Is classical music dead?"
That's the first question classical music podcaster Bradford Sharpe (Jason Schwartzman) lobs at Thomas Pembridge (Malcolm McDowell), former conductor of the fictional New York Symphony, on Amazon's "Mozart in the Jungle."
On the show, a dramatic comedy following 26-year-old oboe player Hailey Rutledge's (Lola Kirke) struggle to earn a seat in the famous orchestra, Thomas calls the mere suggestion that classical music is dead "sheer and utter nonsense." He declares classical music "as vibrant now as it's ever been."
But the question is one the classical community has been asking itself for decades (if not centuries), and one "Mozart in the Jungle" flirts with often -- whether as obviously as Bradford's interview or more subtly.
At the crux of the show's first season is a young new conductor, Rodrigo De Souza (Gael García Bernal), whom the orchestra's financiers hope will breathe new life into their institution. Inspired by the real-life conductor of the Los Angeles Philharmonic, Gustavo Dudamel, Rodrigo is a rock star of a leader who mixes a tireless work ethic with his bohemian interests in culture and people. He hears music, somewhat cheesily, in the traffic on the street. But relating a centuries-old art form to people living modern lives is a real challenge for the classical music vanguard.
"One thing that the show does is it demystifies the concept of a bunch of fuddy-duddies who are worshipping the dead relics of bygone art," co-creator Paul Weitz told The Huffington Post. Professional classical musicians -- including Dudamel -- have approached their teams wanting to be involved with the show to reach younger fans, explained Weitz and Schwartzman, who also helped create the Golden Globe-nominated series along with Roman Coppola and Alex Timbers. In Season 2, Rodrigo conducts the L.A. Philharmonic -- the real L.A. Philharmonic -- on screen for a few minutes, a task for Bernal that Weitz said "involved a bit of tequila."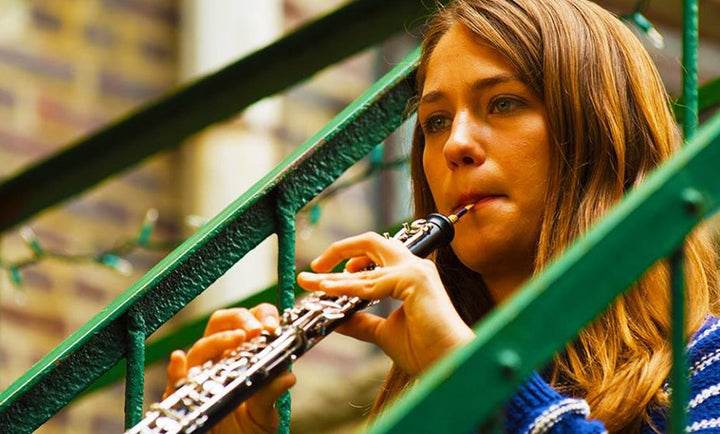 Classical musicians, Weitz explained, are "hoping the future of classical music does not involve vastly reduced audiences." So does everyone who loves the art form, which is why the question remains so hotly debated. In 2014, an article in Slate titled "Requiem: Classical Music In America Is Dead" set classical musicians, critics and fans off writing passionate rebuttals. Another, "The Lost Art Of Listening," published in Australian newsmagazine The Monthly, decried Kids These Days, inspiring a spirited discussion in the comments.
Despite whatever troubling omens have presented themselves over the years -- aging audiences, new technology, changing middle-class tastes -- few believe the death of classical music is completely unavoidable. Funding -- be it public or private -- has always been able to tip the scales. A 1926 piece in The New York Times asked whether the day might come "when the public is as eager for orchestra music as it is for opera or theatre or moving picture" before diving into more encouraging facts, such as patterns of repeat concertgoers. Another, in 1969, bemoaned the problems of the "Big Five" orchestras in Boston, Chicago, Cleveland, New York and Philadelphia, arguing for increased federal funding. Decades later, Venezuela's El Sistema, the federal program that provides music education to underprivileged youth -- and produced Dudamel -- has successfully encouraged the art form.
"Mozart in the Jungle" contains all of these questions. To make ends meet, Hailey plays in the pit orchestra for a terrible rock musical on Broadway and gives private oboe lessons to privileged kids, going home to a sizable but inconveniently located apartment. She's thrown into the famous New York orchestra, bearing witness to its entertainingly colorful and sometimes incestuous forced-family dynamic, as Rodrigo's assistant. She socializes, albeit tangentially, with the wealthy, aging patrons who subsidize their art at a party. Her boyfriend, a Juilliard-trained dancer, wonders whether the sacrifices they make are worth it, before taking a commercial gig. 
The show strives to show us the encouraging signs of life in the classical community (and the less stodgy side) by presenting characters living solidly 21st-century lives while pursuing careers that are merely unconventional. With their instruments down, they're just like anyone else -- to a hilarious extent.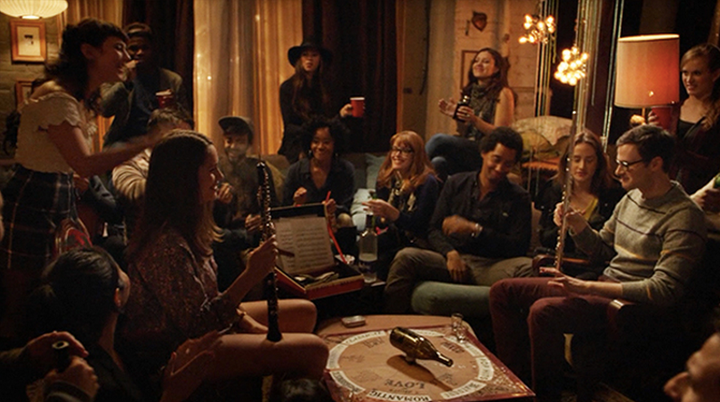 The series draws inspiration from oboist Blair Tindall's 2005 memoir Mozart in the Jungle: Sex, Drugs and Classical Music to pull back the curtain even further, embracing the most comically depraved elements of the community. One member of the New York Symphony deals prescription meds to the others. A cellist sleeps with a married conductor. Yet real professional musicians have told the show's creators that it actually doesn't go far enough in illustrating the debauched elements of the biz. One unnamed musician recalled a performance in Japan where, upon arrival at their hotel, musicians found prostitutes in each of their rooms, as a gift. (Adding to the absurdist scene, most of the out-of-town guests were gay.)
Amazon's "Mozart in the Jungle" succeeds in making relatable a group of people long thought to occupy an insular realm of dignity and class. Yet the challenges and contradictions inherent in the classical world in 2015 seemed to weigh on Schwartzman when we spoke. 
"My hope is that this music ... should be broken down and destroyed every so often, and given to young people to play with. Every time we're like, 'Oh, this is Beethoven, we shouldn't harm it!' That's how it will die," he told HuffPost. At the same time, its connection to the past is too valuable to toss aside.
"A lot of art you go and just look at on the wall. But if you're a musician, you can really connect with the composer -- it's like a time capsule," Schwartzman said.
The series won't solve any of classical's problems, but it can help answer the question for the present day. By letting us peek into the charmingly eccentric world of Hailey and Co., "Mozart in the Jungle" shows us classical still indeed has a pulse.
Season 2 of "Mozart in the Jungle" debuts on Amazon Prime Dec. 30.
PHOTO GALLERY
Celebrity Homes
Calling all HuffPost superfans!
Sign up for membership to become a founding member and help shape HuffPost's next chapter