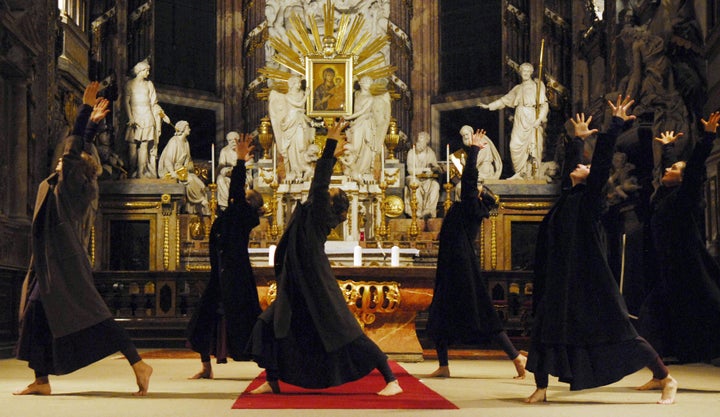 In April 1791, events were set in motion that would have changed the history of sacred music forever. Wolfgang Amadeus Mozart (whose mild notoriety as a Freemason tends to eclipse the fact that he was a Roman Catholic) had inquired about the possibility of becoming an unpaid assistant to Leopold Hofmann, the aging and increasingly indisposed chapelmaster of St. Stephen's Cathedral in Vienna. Mozart's petition was approved by month's end and it was virtually assured that the famous composer's magnanimous gesture would translate, in due time, into a handsomely paid appointment as chapelmaster at St. Stephen's, a premier venue for sacred music in the music capital of the late 18th century.
The idea of Mozart as chapelmaster at St. Stephen's Cathedral in Vienna fires the imagination in ways that few other composers can, particularly in light of the fact that he had become interested of late in composing not only large-scale sacred works but also more accessible church music in a "popular" style. We can only guess at what Mozart's "popular" music for Catholic liturgies at St. Stephen's would have sounded like. But it is nice to entertain the possibility that it would have pointed in the opposite direction of the path that Catholic church music would ultimately take. This is especially true with regard to misdirected attempts at a "popular" style in the waning decades of the 20th century. Anyone who experienced the "folk Masses" of the 1970s and 80s would surely agree.
Of course, Mozart's appointment as chapelmaster of St. Stephen's -- a position that would have required a regular output of new compositions for Catholic liturgies throughout the year -- never happened. By the end of 1791, Mozart was dead, his legacy capped off by two of his most enduring works -- "The Magic Flute," perpetually refashioned by authors de jour as the centerpiece of Masonic conspiracy theories, and his haunting "Requiem Mass."
Mozart's "Requiem Mass" occupies a special place in music history. It is a Catholic Mass for the dead written by one of the most celebrated composers in the Western world as he lay dying; a Mass he would leave unfinished at the time of his death in Vienna, Austria on Dec. 5, 1791. On the evening of Nov. 20, Mozart worked on the score of the "Requiem Mass" for the last time then took to bed with the illness that would kill him just over two weeks later (probably a streptococcal infection that led to kidney failure).
The story of Mozart's "Requiem Mass" tends to focus on the composer's tragic death at the age of 35. We romanticize the work as a requiem that the composer was writing for himself and, indeed, Mozart might have arrived at that notion as death approached in late 1791. But the origins of the "Requiem Mass" lie with another tragic death at a very tender age -- that of Anna Countess von Walsegg, who died at the age of 19 on Valentine's Day 1791. In the summer of that year, the widower Franz Count von Walsegg, a wealthy Austrian land owner and industrialist, sought to commemorate his wife's passing with a Mass for the dead which he anonymously commissioned from Mozart through an intermediary -- a figure remembered in the annals of history as "The Grey Messenger."
The secrecy of Walsegg's commission through "The Grey Messenger" has acquired a thick air of mystery around it. But there was a very practical aspect to it: Walsegg, an amateur composer, had intended to pass Mozart's "Requiem Mass" off as his own composition. Indeed, the count's personal copy of the "Requiem Mass" does not credit Mozart as the composer but instead gives his own name as the creator of the musical work. Wolfgang Amadeus Mozart did not live long enough to finish the secretive commission but Constanze Mozart -- suddenly widowed, with children, and in need of money -- made certain that her husband's commissioned work was completed.
In the early months of 1792, Franz Count von Walsegg received the full "Requiem Mass" that he had anonymously commissioned from Mozart. What Walsegg did not know at the time, however, was that only a fragment of the full work had actually been written by the famous composer. The rest was fleshed out by Franz Xaver Süssmayer, who had assisted Mozart in preparing "The Magic Flute" earlier that year, and two of Mozart's Viennese students, Franz Jacob Freystädtler and Joseph Eybler.
Mozart did not write much of the "Requiem Mass" that we continue to enshrine in churches and concert halls as his last great composition. We have known that for some time. If our stubborn hold on the "Requiem Mass" says anything about us, it might well reflect our desire to experience even a fragment of "what might have been" had Mozart lived just a little bit longer. One thing for certain: had the appointment at St. Stephen's Cathedral come through as expected, Mozart's celebrated operatic and concert works would have contended with one of the most glorious bodies of Catholic sacred music ever created. Much like Franz Count von Walsegg, the Catholic world would have been eager to claim that music as its own. Laus Deo.

Related
Popular in the Community