For far too long, Western anthropology has been seen by its critics as a tool of Western imperialists, a means of understanding how to best exploit "under-developed" societies. On the other hand there are those anthropologists who use their knowledge to create bridges between cultures and peoples. Jonathan Benthall is one of them.
I first got to know Jonathan, the former director of the Royal Anthropological Institute of Great Britain and Ireland (RAI) and now an honorary researcher in the Department of Anthropology at University College London, several decades ago. Since then I have been impressed by how he has extended the boundaries of anthropology. He has consistently championed the under-dog and spent the last decades building bridges between Islam and the West.
Jonathan has taken a particular interest in Islamic charity organizations. His most recent book is Islamic Charities and Islamic Humanism in Troubled Times (2016). He considers his research in this field to be his most significant legacy. He recounts that thanks to his work with international NGOs, his role on a number of Save the Children committees, and what he learned about the importance of understanding relations between the West and the World of Islam, he became "one of the first non-Muslim researchers to take a rounded scholarly look at the world of Islamic charities." He says he "really got interested in Islam, really by Ernest Gellner and Akbar Ahmed." One of his goals when he began this work in the 1990s was to challenge the assumption that philanthropy was a "Judeo-Christian monopoly."
In reflecting on his research on Islamic charity organizations, Jonathan states, "These charities can bring out one of the most impressive and permanent features of Islam – its encouragement to generosity. I am committed to the idea that if the potential of zakat and sadaqa as Qur'anic principles were released from current political obstacles, they could make an immense contribution to humanitarian action and poverty alleviation."
He has always been a supporter of my work over the years. I recall when he published my article on Al-Beruni, the great Muslim anthropologist from Central Asia who came to India 1,000 years ago and who wrote one of the greatest books on India, called the Kitab al-Hind, or Book of India, in the Institute's journal, Anthropology Today, in 1984. The article sparked a discussion in the academy about how anthropology is not merely a tool of Western imperialism, but part of the Islamic vision of understanding societies and cultures, challenging long-held assumptions.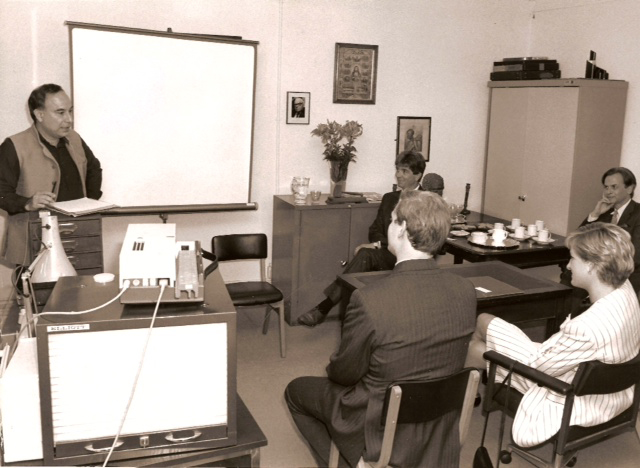 In 1990, Jonathan had invited Princess Diana to the RAI for a lecture on Islam. This was during the time of the First Gulf War and there was an urgent need for Western leaders to better understand the Muslim world. Jonathan had invited me to come and serve as an expert on Islam for Diana alongside my distinguished friend Professor Hastings Donnan. As I write about in my forthcoming book, Journey into Europe: Islam, Immigration, and Identity, Diana deeply impressed me during this session. She asked sharp, intelligent questions, demonstrated great curiosity, and expressed a true desire to help bridge the gap between Islam and the West. The next day, I saw pictures of Diana holding my book, Discovering Islam, which I had presented her following the lecture, in several papers.
I also fondly recall the privilege of meeting Jonathan's esteemed father-in-law, the great violinist Yehudi Menuhin, at a dinner at his family home. Jonathan later went on to lecture on his father-in-law's distinct legacy, particularly for young musicians, at such prestigious institutions as the University of Texas.
Jonathan was born the son of a successful businessman in Calcutta in 1941, in the midst of World War II, and grew up at a hill station in Darjeeling as a young child before moving to England to attend boarding school. His father was an amateur botanist and ran a jute mill, and his parents strove to promote Christianity as opposed to Hinduism and Islam as the best faith traditions for South Asia. Being born "to a family that was loving, but deeply imbued with colonial and racialist values" has always disturbed him. "Anthropology," he believes, "was a good corrective to this background."
Jonathan studied at King's College, Cambridge, and in 1974 applied for a director role at the RAI with virtually no anthropological experience during "a low point" for the organization and was hired after the first appointment left after a mere three months.
While he has kept his physical distance from South Asia given his painful memories as he put it of witnessing the deep racism carried out by the British Empire during his childhood, several of South Asia's eminent figures have inspired Jonathan. These figures include Abdul Sattar Edhi, M. N. Srinivas, Satyajit Ray, and Malala Yousafzai.
Given this rich, worldly background, in looking to the current state of global affairs, Jonathan remarks, "It is deeply disappointing now to see countries that ought to lead the world going apparently backwards with Trump, Brexit, the Front National in France, and Alternative for Germany; and with the risk of perpetual war, as in Orwell's Nineteen Eighty-Four."
We remain in touch, and I see that neither age nor retirement have slowed him down. True to his love of the subject, he is always on hand to cast its light on the searching issues of the day. Few in the discipline deserve the title of Mr. Anthropology as does Jonathan Benthall.
Calling all HuffPost superfans!
Sign up for membership to become a founding member and help shape HuffPost's next chapter
This post was published on the now-closed HuffPost Contributor platform. Contributors control their own work and posted freely to our site. If you need to flag this entry as abusive,
send us an email
.