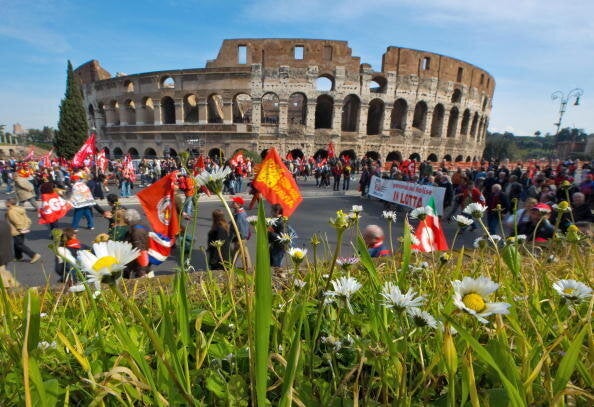 There is a topic in Italy which is beginning to interest the rest of the world: the President of the Council of Minister's proclivity to lie to the public. Furthermore, when he is asked about uncomfortable truths, he not only continues to lie or refuses to answer, but also vehemently counterattacks the press who dared to ask him certain questions.
This confrontation is currently underway with La Repubblica, the second major Italian daily newspaper property of Gruppo Espresso. Its only fault is to assume that the chief of government is accountable and coherent. It does not matter if the president is a womanizer, or even worse if he humiliates his wife: what counts is that our president speaks the truth in front of the nation. «Communists», is the adjective full of disdain with which Berlusconi reacts.
So, today Italians should protest, a little further, the scandal that came out a couple of weeks ago regarding the prime minister, Silvio Berlusconi, involved with a teenager. This is the scandal that has caused his wife to seek a divorce.
La Repubblica, instead, has risen as a strong voice on the case, and after a couple of weeks since the scandal began, addressed Berlusconi with ten questions that have, as of yet, gone unanswered.
These are the questions from La Repubblica:
1) When and how did Berlusconi meet Elio Letizia, the father of the 18 year-old Naomi?

2) How many times did he meet Mr. Letizia? Where, and for what occasion? (Berlusconi said that has been a friend of Letizia for many years. At the beginning of the scandal, however, he indicated him as the driver of former prime minister Bettino Craxi. This assertion was immediately denied by Craxi's son).

3) How can he describe the reasons of his friendship with Elio Letizia?

4) A few days following the scandal, Berlusconi tried to justify himself during a TV show, saying that he met the girl's father to discuss the candidates for the next European and administrative elections. Yet, he had always affirmed before that he was not having anything to do with the names of the future candidates. How is it that he was discussing these political matters with the girl's father? Elio Letizia, is not inscribed in any political party or unions, nor is he influential in the Southern Italy society.

5) When did Berlusconi meet Noemi Letizia for the first time? (the scandal started when he arrived at Noemi's 18th birthday party and she declared to the Press that she and "Papi" (Daddy), were seeing each other for at least two years in Rome and Milano). In other words, they were seeing each other while she was a minor. After these public comments, Berlusconi's wife, Veronica Lario, asked for divorce and declared that "she cannot live anymore married to a man who goes out with minors.")

6) How many times did Berlusconi and Noemi Letizia meet and where?

7) Does Berlusconi take care of the education, life and future of Noemi? Does he give financial support to her family?

8) If it is true, as Noemi has declared, that Berlusconi had made her understand that he could help her in a career as actress or as politician? This instrumental use of the woman's body does not impoverish the quality of democracy of a country, as other members of his own coalition have declared?

9) Veronica Lario reported that her husband "goes out with minors". Are there other minors whom the prime minister meets?

10) Veronica Lario has also declared "I have tried to help my husband, I have begged the people who is surrounding him to do the same, as one does with a sick person. It was all to no avail." How is the premier's health?
Italians are genius in the art of surviving, but even better in the art of pretending. Since the Roman times, we have been unique in many different disciplines, some quite world renown. We were clever also in conquering other countries and populations, and in distant times we have produced political heavyweights such as Machiavelli and subsequent politicians of value.
But today, in a world where communication has no borders, how can a Prime Minister of a Western country not publicly answer to the Press ?
Laura Kisslkiss@inwind.it
Related
Popular in the Community