Meanwhile: Conspiracy Rumors Swirl Around Photo Op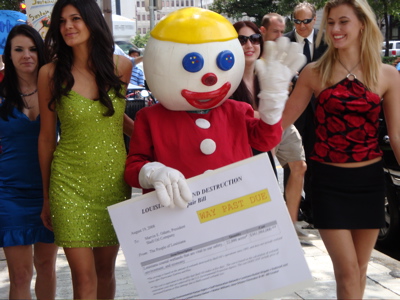 An ominous email came in to the sluggo.com listserv, and writers for independent media knew it could only mean one thing. Mr. Bill was ramping up for another confrontation with the "bad guys" at Shell Oil in New Orleans. Mr. Bill and his entourage, which included bodyguards and super models, promised an appearance on the steps of One Shell Square, at 701 Poydras today, August 19.
All signs pointed to a successful completion of Mr. Bill's mission with much fanfare and hoopla--this stuff only happens in the Crescent City.
Ever since Mr. Bill predicted the landfall of Katrina in a prescient public service announcement in 2004, his prognostications have become legendary in South Louisiana. That a clay man could rise to the occasion and take on the Bush administration is the stuff that epics are made of.
New Orleans has embraced the diminutive Mr. Bill, and today he promised to stand tall on his tiny clay feet and present Shell Oil with a "huge bill" for their negligence and malfeasance regarding wetlands losses. It was a great photo op.
As tropical storm Fay churned across Florida, the skies above Poydras street turned ominous and a deluge pelted the venue at One Shell Square. The ghost of Katrina was palpable. A sense of confusion and dread settled over the motley gathering of six wetlands advocates and one independent reporter as it became clear that Mr. Bill and his handlers were nowhere in sight.
Whispered rumors suggested that perhaps Sluggo had staged a coup d'é·tat and, GASP, kidnapped the colorful doughboy.
Shell has dredged 8.8 million cubic yards of pipelines since 1983, causing 22,624 acres of wetlands loss, and the oil giant certainly did not need any more bad press. Neutralizing Mr. Bill was not out of the question.

Mr. Bill at Undisclosed Location
Several phone calls fraught with irritation and worry followed before Mr. Bill's undisclosed location was disclosed. It seemed the press handlers were more concerned about the comfort of FOX NEWS and the local Times Picayune to bother alerting independent media about the rain contingency. So much for the ubiquitous Blackberry. All it would have taken was an email to avoid soggy clothes and cameras.
Aaron Viles of the Gulf Restoration Network recognized previously friendly press when he saw it and bent over backwards to smooth over the gaffs by Mr. Bill's advance team. He graciously endured the blue prose of this irritated reporter and indicated that Mr. Bill was indeed under the protection of a bodyguard, and that Sluggo was not behind either the rainstorm or the changed venue.
Viles was intent on keeping distractions to a minimum.
"There is solid evidence that forty to sixty percent of Louisiana's coastal wetlands loss can be traced to oil and gas activities," Viles said.
"It is only fair that companies like Shell pay for the cost of damage they have caused."
Anne Rolfes, founding director of the Louisiana Bucket Brigade, called Shell on the carpet for not practicing what it preaches in its own 2007 Shell Sustainability Report.
"Shell should admit its past mistakes and live up to its words," Rolfes said.
Mr. Bill had certainly established this message and solid environmental credentials over the years. He has always been a darling of progressive media, and all the press wanted was a nice photo op. Viles escorted the press to Mr. Bill's limo and indicated the best vantage point for some great photos. All seemed to be smoothed over.
But, then things started to fall apart. Mr. Bill's message was clearly being compromised by the medium.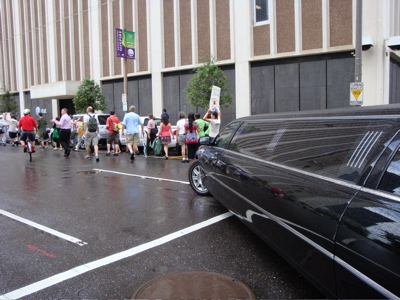 Grumbling was heard from the greens that it was totally inappropriate to be protesting BIG OIL and have Mr. Bill arrive in a gas-guzzling stretch limo. Someone named Lee said that one would expect the Mr. Bill of old to come parachuting out of the sky, and not take such a blatant Hollywood approach.
A drenched feminist named Cathy was incensed that Mr. Bill would lower himself and court the bimbo factor in the form of super models. "Where have the protest tactics of the sixties gone," she wailed.
Mr. Bill sensed the discontent and refocused attention on his wetlands message. Grasping an "overdue" bill for $361,984,000 in his chubby, clubby white fingers, the Gumby-textured man attacked Shell.
"This does not include their abuses from the previous decades, nor the price tag for the damage, which would not have occurred during Katrina, if our natural hurricane defense, the wetlands, had not been decimated by the oil industry," Mr. Bill said.
"OH NO, Fix the coast you broke, Shell Oil," Mr. Bill cried, as he sauntered down Poydras, his arms draped low around the waist of a super model.
Whispered rumors followed Bill and his entourage. Perhaps Sluggo had compromised the PR team. It might be a right wing conspiracy after all.
Calling all HuffPost superfans!
Sign up for membership to become a founding member and help shape HuffPost's next chapter