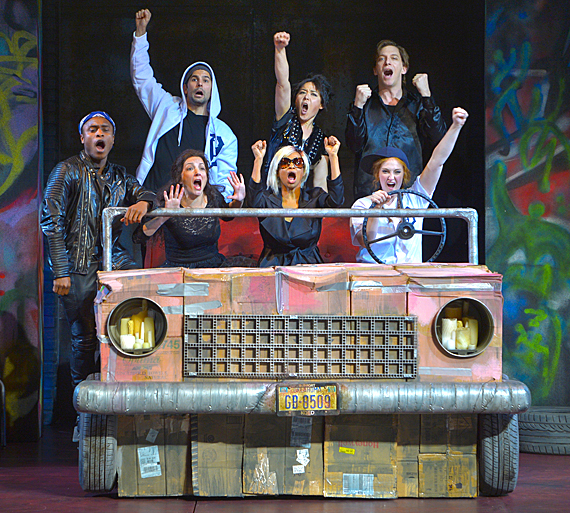 Exuberant troupers ride a Simpsons episode into the candle-lit future.
Humans have passed hours sitting around campfires and swapping stories as long as they have known how to make fires and grunt. OK, I can't prove that but I challenge anyone to disprove it. So what could possibly be special about a fireside bull session driven by efforts to recall people and events that might have some meaning to everyone in earshot?
In Anne Washburn's Mr. Burns, a post-electric play, that sort of al fresco gathering, deep in a Northern California forest, is special. For seven strangers, survivors of a catastrophe that shattered the world they knew, it opens doors to the future by revealing aspects of the past: fragments of shared knowledge and experience.
Their common thread -- which they follow to bizarre and hilarious ends -- is The Simpsons. Memories of recalled episodes provide not only grist for conversation but also direction and meaning to uprooted lives. Considering the place of TV in contemporary America and the fact that Matt Groening's animated satire is still going strong in its 26th year, finding a better touchstone would be difficult.
A sellout in its New York premiere in 2013, Washburn's dark comedy is receiving rollicking treatment from American Conservatory Theater in the Geary. The production was mounted jointly by ACT and the Guthrie Theater in Minneapolis, where it will move in late March.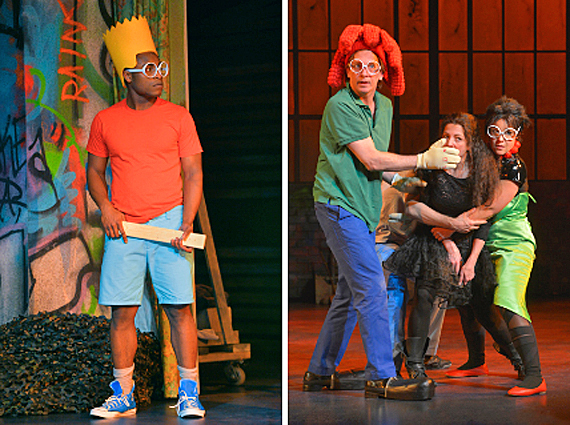 Ryan Williams French (left) and Jim Lichtscheidl, Charity Jones and Anna Ishida rehearse a well-known episode from The Simpsons.
Although the setting is apocalyptic, Mr. Burns offers only a scant and tentative glimpse at the disaster that brought the group together. It involved, among other things, a nuclear meltdown that destroyed the nation's electric grid, and presumably similar grids all across the world. There was no going back.
What matters for these survivors is the need to preserve and hand down something of their shared history, connecting generation to generation. They can do it only through the spoken word, a medium that is not anchored in stone or printed volumes. It evolves.
The show's three acts span 82 years, long enough for shards of remembered tales to grow a life of their own, adding and transforming elements while retaining enough of their source to remain recognizable. I don't know whether any Simpsons episode ever lifted tunes from Gilbert and Sullivan's The Mikado but it surfaces hilariously here, as do slivers of commercials for chablis and Diet Coke, among others.
In the fireside give-and-take, memories are fuzzy and script lines may be shaky, but the response is ecstatic when someone hits on the actual words and their source. The past, after all, must be carried forward with accuracy.
By Act Two, seven years later, the group has become one of many troupes of storytellers competing for audiences, and lines have assumed a life of their own as commodities to be bought and sold, usable only by their owners.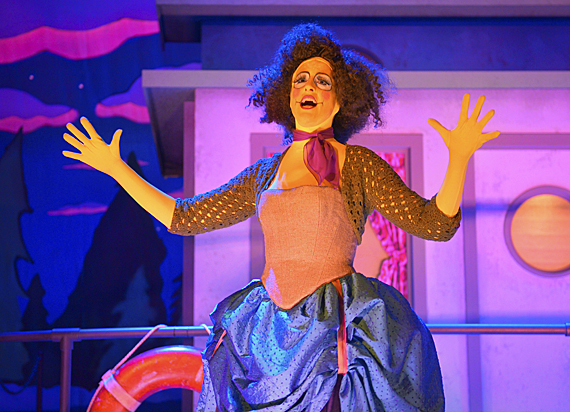 Andrea Wollenberg narrates a staging of The Simpsons' 'Cape Feare.'
Seventy-five years later, in ACT Three, storytelling has become a polished theatrical art, displayed here by familiar characters in a narrative that blends whimsy with homicidal melodrama. It's The Simpsons, re-created darkly.
Washburn's inventive antics are delivered with vigor and tonal variety by a no-star cast of eight: Nick Gabriel, Anna Ishida, Kelsey Venter, Ryan Williams French, Charity Jones, Jim Lichtscheidl, Tracey A. Leigh and Andrea Wollenberg. Wollenberg doubles as an offstage instrumentalist and impressive on-stage singer, and David Möschler provides expert instrumental support. Michael Friedman composed the wide-ranging score and Washburn added the lyrics. Mark Rucker directed.
The three acts (staged with one intermission) take place in very different venues -- a dense forest, a graffiti-spattered industrial building and a brightly cartoonish houseboat -- all beautifully realized by Ralph Funicello. Alex Jaeger did the costumes, in styles that range from contemporary streetwear to gaudy apparel and wigs straight out of The Simpsons.
Being reasonably familiar with the TV series will certainly let a viewer pick up nuances that went over my head, and I'm sure over many others, but you don't have to be a Simpsons addict to appreciate the delights of Mr. Burns. It sizzles.
Mr. Burns, a post-electric play runs through March 15 at American Conservatory Theater's Geary Theater, 415 Geary St., San Francisco.Tickets are $20-$120, from 415-749-2228 or www.act-sf.org.
REAL LIFE. REAL NEWS. REAL VOICES.
Help us tell more of the stories that matter from voices that too often remain unheard.