 Since the days when Beijing was known in the West as Peking, MR Chow has been the go-to place for Chinese cuisine. And until last month, that meant enduring the flash bulbs of the paparazzi in Beverly Hills' Golden Triangle. But now, the famed restaurant has set up shop in the quiet beach community of Malibu with Chef Kit Lau at the helm.
Located in the Malibu Country Mart, the latest incarnation of MR Chow (with locations in London, New York and Miami) still features the same menu as its sister restaurant but in a more casual setting.
"It has a more laid-back atmosphere," says maître d' Scott Marcus, who adds that the location is also less touristy than the Beverly Hills joint.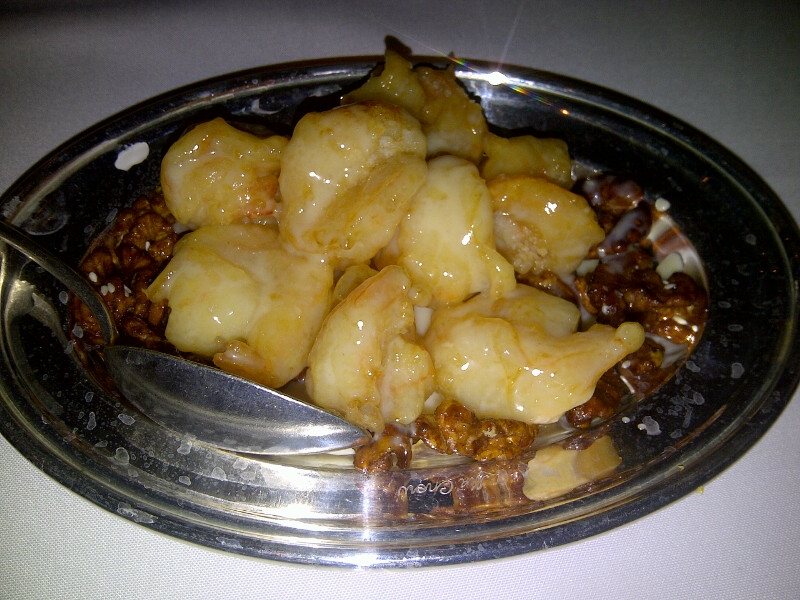 Glazed prawns and walnuts (Photo by Scott Bridges)
The restaurant is currently only open for dinner. Pasta Chef Ella Hu -- the restaurant's first female pasta chef -- puts on a nightly demonstration of her pasta-making technique, a blend of prestidigitation and pizzazz, which delights and entertains diners and results in an impressive display of noodles and spontaneous applause.
Everything in the restaurant is white, linens, tile floors, staff uniforms, patrons, etc. The space is intimate, a nice way of saying that the maître d' pulls tables out to make room for diners to sit, but also intimate in the sense that one feels as comfortable as at home.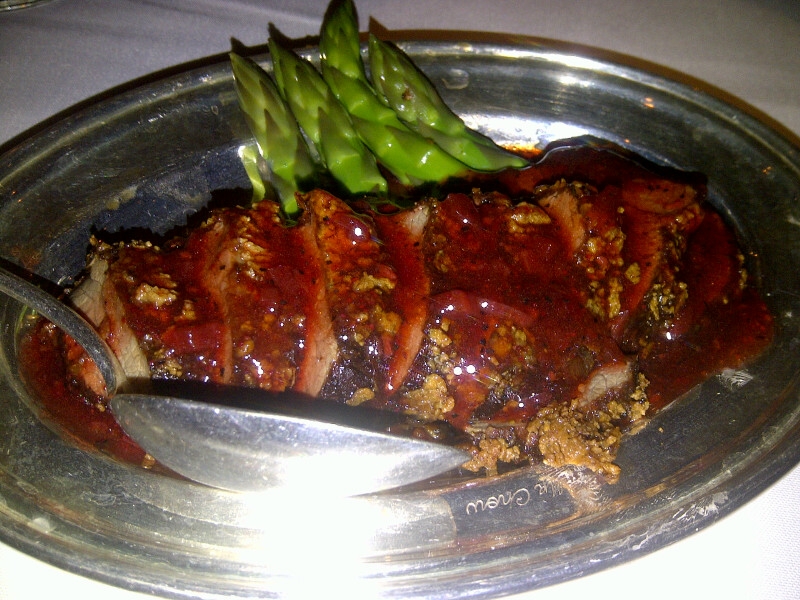 The ma mignon has been on the menu since 1975. (Photo by Scott Bridges)
Most diners prefer MR Chow's three-course prix-fixe menu, designed for a family style dinner for a group of three or so. Although the menu is ample, dishes are a little pricey and not for the faint of wallet.
For appetizers, you can't beat the glazed prawns and candied walnuts, the chicken satay or the Dungeness crab. Signature dishes include the ma mignon, a favorite on the menu since 1975; the drunken fish, poached sole in rice wine; and the crisp, tender gambler's duck with pancakes and plum sauce.

The renowned Beijing Duck. (Photo by Scott Bridges)
The restaurant has a full bar and features quality specialty cocktails, such as the sweet and spicy strawberry blueberry jalapeno martini or the espresso martini (notice I wrote "or" and not "and" -- I don't advise following one with the other).
MR Chow represents the best of Beijing cuisine, and provides a quality fine dining option in Malibu.
REAL LIFE. REAL NEWS. REAL VOICES.
Help us tell more of the stories that matter from voices that too often remain unheard.