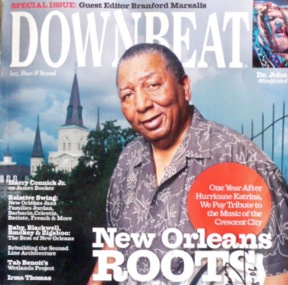 "This is a who you know town. If you know somebody you can do anything you want, but if you don't know anybody, you can forget about it. So you have to get vocal on the sons of bitches." - Bob French
During the 2008 presidential primaries I interviewed Habitat for Humanity Musicians Village resident Bob French for The Huffington Post's Off the Bus project. Candidates often visited the Musicians Village as a campaign backdrop. At the time, Senator Obama was campaigning on loan forgiveness to attract doctors and students to New Orleans and reaching out to displaced residents. Bob said, "I think they're great ideas. I don't think we'll ever get any from the administration we have now. Because they ain't about poor folks. They're about their friends."
When I read him American Constitution Party member Tom Tancredo's suggestion that New Orleans receive no federal assistance, he answered, "They got tall mountains in Colorado, tell him to go take a jump off one of them. I think he's an idiot." Bob is an interviewer's dream and possibly a publisher's nightmare, because he lets the chips fall where they may.
A drummer and band leader for his family's Original Tuxedo Jazz Band founded 100 years ago, Bob is the friend you call when you need to vent. He can out-vent anyone in the City of New Orleans, if not the entire United States. I interviewed him in February just after the Saints won the Superbowl and the Obama administration invited him to play at the the White House. The word eff will be used as a substitute.
I went on this trip because I wanted to meet the man, I wanted to meet his old lady. And I got a chance to see the White House, from the inside and not the outside. It was a good experience. He was cool, man. She was cool. They're nice people. I don't see anything else but that. We played for little kids and they were appreciative, so that was okay. Both of them wrote personal checks to the Musicians Village, Michelle and Barack.

Ann Marie Wilkins, whose husband was one of Michelle Obama's professors at Harvard, was a driving force behind the Musicians Village, so residents of the Village, playing for the Governors Ball with Harry Connick, Jr. happened organically. "It was great meeting both of them - personality plus. This has been a special year. Harry's band and the five of us played the White House. It was hip, we got 50 governors out there and the Obamas. They're sitting down listening to the band. There was a part where just the guys from New Orleans played. Obama and his old lady, they were all swinging out. That's good enough.
I made some bets that he would never win. When Ann Marie said Obama would win, I said what is an Obama? Is he black or white? She said black, and I told her these racist mother effers will never elect a black man. Now the Republicans, every time we look up they're trying to find something wrong. All this was wrong before he got in office. He's trying to clean up what they couldn't clean up. And you don't hear about Bush any more, it's like he's nonexistent. He's a disgrace, because we never should have been in any of these wars. At the inauguration I watched him and he wanted no part of that. He had to be there. He'll go down in history as the guy who had to turn it over to the black cat."

"Everything Obama's for they're against. If he tells them 'I want to save a life,' they won't give him the votes. But he's a strong dude, I could tell that meeting him. And his old lady, my god is she fine! She made my day, she sat right in front of the bandstand where I could look at her. And she's a nice person.
On The Saints Beating the Colts in the Superbowl
That sad-assed Manning boy y'all got. Little a**hole wouldn't even shake our guy's hand. I hope we whip their ass every time we play them.
I met Mitch Landrieu and I think Mitch is a good dude. You can talk to Mitch. I played three months ago in the Village -- George [French, Bob's brother on bass], a piano player and myself. We were taking a break and Mitch came over and I said, 'I'm Bob French.' He said 'I know who you are.' Landrieu congratulated Bob on an article about his weekly gig at Irwin Mayfield's Jazz Playhouse.
The first time New Orleans trumpet player and bandleader Irvin Mayfield jumped up on stage to sit in with the Original Tuxedo Jazz Band, Bob told him, "If you were Ellis Marsalis then you could do that, but I have grandchildren older than you."

"So when he got ready to open a joint, I was surprised he hired me," Bob said. [Pianist David] Torkanowsky told him if you're going to do Monday night, you might as well hire Bob French," who has been loving the gig. "The band comes on time, they start on time, they play like a band, the people have fun and we always have a good crowd."

And Mayfield? "He calls me Mr. French. What's hip is, I asked him why don't you play, and he came up and played a couple of times with us. So it's all good."
This is a who you know town. If you know somebody you can do anything you want, but if you don't know anybody, you can forget about it. So you have to get vocal on the sons of bitches.
Back in February, at the time of this interview, Bob was gearing up for his post-White House visit radio show and planning to play Zigaboo's Modeliste's song O-B-A-M-A Obama.
Because Barack is the president and I had the opportunity to meet the man and talk to him. I'll play it at the beginning of the show, middle of the show and last of the show. They'll be calling, but let them find me. They don't pay me. Let em find me. I told the station I wasn't working today, and I wasn't working Friday. I'm going to go see the president. And if they don't like that eff them. That's all I've got to say.
Update: Bob French is no longer at WWOZ-FM, but he did stop by the station today to promote his upcoming trip to the Rock and Roll Hall of Fame, his upcoming book and his live CD.
Photo from the cover of Downbeat Magazine.
Calling all HuffPost superfans!
Sign up for membership to become a founding member and help shape HuffPost's next chapter