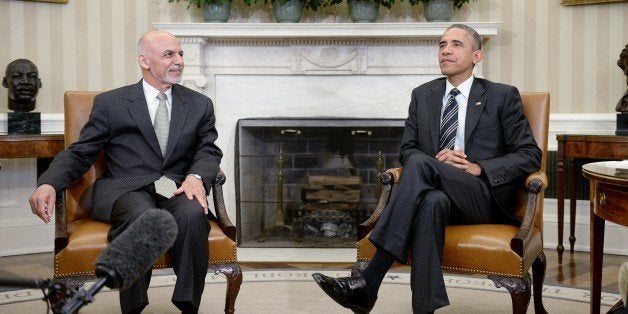 Newly-elected Afghan President Ashraf Ghani has arrived in Washington at the invitation of President Barack Obama, along with former rival and current Chief Executive Officer Abdullah Abdullah. Additionally, House Speaker John Boehner has invited President Ghani to address a joint session of Congress.
Although President Ghani, a former university professor and World Bank official, is no stranger to the U.S., this will be his first visit as the head of the Government of the Islamic Republic of Afghanistan (GIRoA). He has already begun using his knowledge of American politics to patch up the relationship between the two countries, which precipitously deteriorated under his predecessor Hamid Karzai. President Ghani has also embarked on a charm offensive relative to Afghanistan's relationship with Pakistan which was very bumpy during Karzai's regime. Although a breakthrough does not seem imminent, this can be very helpful with regard to any negotiations with the Taliban who have safe havens in Pakistan. The U.S. can play a very effective role.
At the core of his visit to Washington is a discussion about the continued involvement of the U.S. in Afghanistan's reconstruction efforts. The current mission consisting of about 10,000 U.S. troops to train and assist the Afghan National Security Forces (ANSF) will be considerably reduced in scope at the end of 2016. GIRoA is very weary of this sudden disengagement, indicating a lack of confidence in the ability of ANSF to keep the Taliban insurgents at bay.
While a sudden disengagement from Afghanistan under the current conditions could prove detrimental, the U.S. needs to press President Ghani and his delegation for a concrete plan of reform, crucial for a future stable Afghanistan. The most important elements are political and institutional reform, including the marginalization and sidelining of many "bad actors" who still occupy powerful positions in the government. These are the holdovers from the former ranks of Mujahidin who are responsible for the culture of impunity and corruption. Any political reform, with the aim of national reconciliation, must draw people from all walks of life across all tribal and ethnic groups, but it should not include persons with shady pasts, notably the former warlords and their surrogates. The first step in reforming the institutions must consists of purging the government bureaucracy of corrupt and incompetent leadership. At least, President Ghani must try to curb the endemic nature of the patronage system.
Economic reform is also a must for Afghanistan, as no viable nation state can sustain itself in perpetuity with foreign aid. President Ghani has not yet unveiled a road map for eventually weaning off this heavy dependence on international aid. Collecting taxes and making sure that tariffs on goods crossing the Afghan borders end up in the Afghan treasury instead of the pockets of powerful people would be a good start relative to economic reform. Afghanistan's natural resources are a potentially tremendous source of revenue. Many countries including China and India have made modest investments in the mining sector and are eager to play a larger role, but they are hesitant due to the insecure environment. Additionally, Afghanistan can benefit from the so called "Silk Road Economic Belt" which aims to commercially connect underdeveloped western China with Central Asian countries. Again, Afghanistan's participation would depend on the security situation. After assuming the presidency, President Ghani's first foreign trip was to China in October of 2014, underscoring the importance of that country in the future development of Afghanistan.
The U.S., NATO, and other coalition partners in the past 13 years have helped GIRoA and the people of Afghanistan assume more responsibility for the affairs of their country including security, better health care, education, and infrastructure building. These gains, albeit modest, have come with a heavy cost in terms of blood and treasure on all sides. The reversal of these gains could cause Afghanistan to slip back into chaos with adverse consequences for the U.S., Afghanistan, the region, and the world.
Right now, ISIS is trying to extend its tentacles to any failed state in the region, with a number of Taliban leaders already pledging allegiance. Since a recurrence of a failed Afghanistan is in no one's interest, President Ghani and his delegation must convince the U.S. public, which has for all practical purposes forgotten the war in Afghanistan, that this is a war worth fighting for and that they (GIRoA) are unconditionally prepared to do their part. To do this, President Ghani needs to lay out his plan and time table for the country's reform relative to political inclusiveness, economic reform, institution building, curbing the culture of impunity perpetuated by the powerful figures, etc. He needs to articulate this during his speech at the joint session of Congress.
The U.S. has the right and a duty to hold the feet of the Afghan leadership to the fire to do their part for their country to insure any future investment in blood and treasure is not wasted, something we failed to do during the crucial years after the intervention in Afghanistan and the ouster of Taliban in 2001.
__
Abdullah Sharif served as a US diplomat in Afghanistan for the Department of State and the Department of Defense. He recently authored Sardar: From Afghanistan's Golden Age to Carnage, which details his experiences. More information is available at www.sardarbook.com.
Calling all HuffPost superfans!
Sign up for membership to become a founding member and help shape HuffPost's next chapter