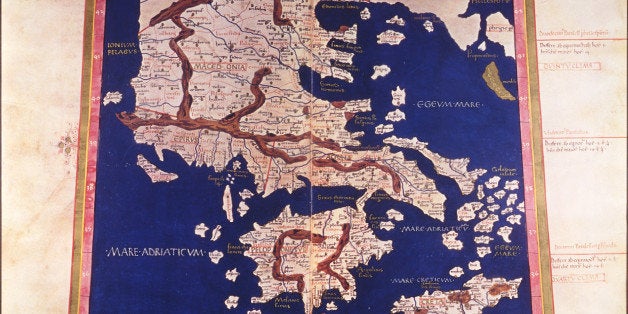 Did I love geography class in grade 9 and 10? Nope. I did, however, learn to love geography as the man who taught our class did everything in his power to make our class interesting. I remember when he taught us about precipitation he would run around the room, shushing us, telling us to listen as he dashed from window to window, lowering all the blinds in a wild frenzy while 30 14- and-15-year-olds laughed our heads off. He said he wanted to tell us about PEEcipitation... more laughter. Let me tell you, being a mother of a now-17-year-old, it's not always easy to make these creatures laugh and or learn!!
Mr. Macpherson was special. Above all, he recognized I was a sad, scared and very unhappy teenage girl who wanted nothing to do with school and especially authority. I came from a troubled home, and lived in the worst part of the city I grew up in. I was angry and often even cruel to my teachers verbally, but never to Mr. Macpherson... it breaks my heart today that I was ever that person.
Mr. Macpherson saw something in me that no one else did. He told me I was smart and funny, that I had so much ability (that word always stuck with me, as I truly didn't believe I had any) and that I could talk to him any time I wanted to. I remember crying in front of him just before I finally left home at the end of grade 10. He always listened, he always had a smile for me but above all, he LOVED teaching and he LOVED the children.
I left school after grade 11, as I had by then turned down a darker path. I did drugs, drank and lived in a horror show rooming house. By the time I was 23, I decided that I wanted to go to university, but didn't have my grade 12 certificate. I went back to my old high school (G.L. ROBERTS) and found Mr. Macpherson. He remembered me, which was another wonderful quality of his. He was so kind and he wrote a letter of referral to the university that I wanted to attend. I never attended, I was still far too messed up to make the leap.
I travelled around, living in Ireland, Vancouver and Toronto, until I had my son in 1997, at which time I completed my grade 12 diploma. I always thought about Mr. Macpherson and his kindness. As time went on, I found myself in a career in corporate banking. I worked hard, and remembered him telling me, "You have so much ability." I harnessed that ability and since have become quite successful in my career and have started my undergrad in psychology.
I never saw Mr. Macpherson again, but I did try last year at our high school reunion. He wasn't there, as he had to go back to Scotland due to a family loss. I asked all the teachers about him, I stayed long enough to find out he wasn't there, get a brief update and went home.
Life is funny sometimes. We think about what we should say or do and often don't do it. I wonder why that is? I was not the only person that loved him; so many students loved him and that was apparent on our class reunion's Facebook page.
Teachers are important and have the extreme ability to change a person's life. Mr. Macpherson is a true example of this.
Become part of the conversation and tell us about your own favorite teacher using the hashtag #HPHeartsTeachers on Twitter and Facebook.
REAL LIFE. REAL NEWS. REAL VOICES.
Help us tell more of the stories that matter from voices that too often remain unheard.