Here's a challenge for all of you Christmas trivia buffs out there: Name the first-ever animated holiday special produced especially for television.
If you were thinking Rudolph the Red-Nosed Reindeer, you'd be wrong. That much-beloved Rankin-Bass production didn't debut on NBC until December 6, 1964. Likewise A Charlie Brown Christmas (That Peabody Award-winning program didn't premiere on CBS 'til December 9, 1965) and Dr. Seuss' How the Grinch Stole Christmas (This Chuck Jones-directed holiday favorite didn't bow on the Tiffany Network until December 18, 1966).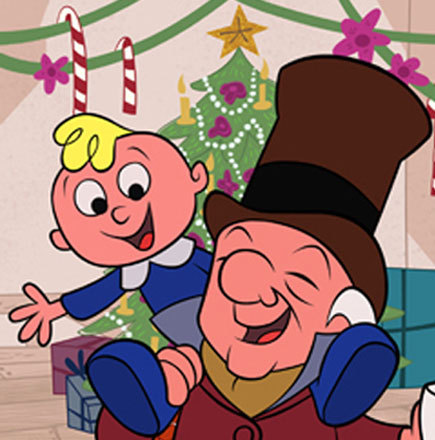 So which TV program can claim the first-ever-animated-Xmas-special crown? Mr. Magoo's Christmas Carol. This surprisingly faithful adaptation-for-television of Charles Dickens' 1843 novella debuted on NBC on December 18, 1962. And it has remained a holiday favorite for 50+ years now, largely because of the wonderful score that Broadway vets Jule Styne and Bob Merrill wrote for this seasonal favorite.
Producer / playwright Timothy Pinckney explained during a recent phone call:
And what's fun about this upcoming Actors Fund benefit is that its roots can actually be traced back to another one-night-only concert presentation that we did in 2002. We had worked with the Jule Styne estate on this version of Funny Girl that we presented -- appropriately enough -- at the New Amsterdam Theatre. Which was, of course, the very stage that Fanny Brice performed on when she was in the Ziegfeld Follies.
But instead of just doing a straightforward concert version of Funny Girl, we decided to adapt the script of that show to accommodate a different Fanny Brice in every scene. So that when this show started, the first Fanny Brice you saw was Sutton Foster and she sang I'm the Greatest Star. And then -- over the course of this special concert version of Funny Girl -- a new star like Idina Menzel, Kristin Chenoweth, Carolee Carmello, Bebe Neuwith and Jane Krakowski would come out onstage with each new scene. And you'd then get to hear their interpretation of all those great Bob Merrill & Jule Styne songs.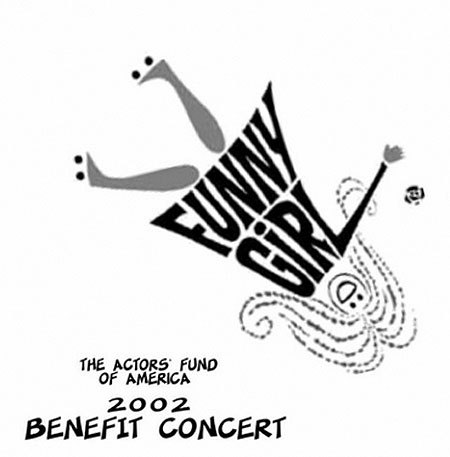 "So we presented this much beloved Broadway show in a different way and it was a very successful night for The Actors Fund. But more importantly, the Styne estate was very pleased with what we'd done. And we've had a good relationship with them ever since then," Pinckney continued.
In fact, the estate actually approached us about putting together a concert presentation of Mr. Magoo's Christmas Carol because this animated TV special is a great telling of Charles Dickens' classic holiday tale. And they were thinking that this project might have legs as a show beyond the animated special if for no other reason than this TV show's score is beautiful and was written just about the same time that Bob & Jule were working on Funny Girl. I mean, these guys were at the very top of their game when they wrote the songs for this animated Christmas special.
But that said, Timothy still faced quite a challenge as he translated Barbara Chain's teleplay (which -- in & of itself -- had been freely adapted from Charles Dickens' novella) to the stage. Given that this 1962 holiday special had been built around the nearsighted Mr. Magoo ... Well, did that then mean -- when the Actors Fund went about casting a performer to play this show's title role -- that they'd then have to find someone who could do a really great Jim Backus impression? (Editor's note: Backus was the comedy legend who voiced Mr. Magoo from this cartoon character's first appearance in UPA's 1949 short, The Ragtime Bear right through to CBS' 1977 animated series, What's New, Mr. Magoo?).
I was initially concerned about this aspect of Mr. Magoo's Christmas Carol as well. But as I watched & rewatched this animated holiday special, I realized that this cartoon character was really only Mr. Magoo in the first scene in this TV show and then again at the very end of the show. Inbetween these two points in the program, Magoo's just another contract player at UPA Animation Studio. So playing Ebenezer Scrooge was really just another gig for him, his next role at that studio.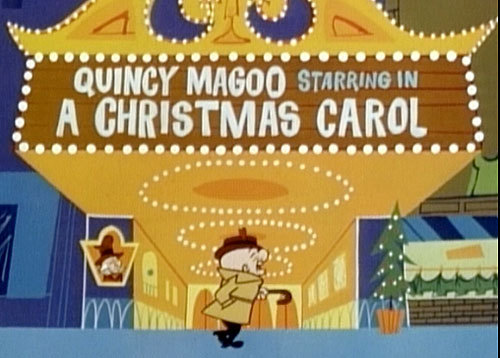 So after taking this observation into consideration, Timothy crafted the script for the concert presentation of Mr. Magoo's Christmas Carol in such a way that the actor who was playing this show's title role could then channel that cartoon character's larger-than-life personality & energy rather than slavishly imitate Jim Backus' vocal performance.
"In the end, building a stage version of Mr. Magoo's Christmas Carol around someone who was going to have to then do an impression of a cartoon character that was at the height of his popularity back in the 1950s ... that idea just didn't seem stage-worthy," Timothy admitted.
But given how strong Bob & Jule's songs are -- That's the real treasure of Mr. Magoo's Christmas Carol. That it has this classic Broadway score -- we just felt that this show would be better served with a real actor, rather than a cartoon character, in the title role. Especially when you consider that this show is -- at its heart of hearts -- really a traditional and beautifully rendered telling of that Charles Dickens classic.
So will this concert presentation feature any songs that Merrill & Styne that had written for Mr. Magoo's Christmas Carol that were then cut or dropped from the holiday special. Sadly, Pinckey says "No."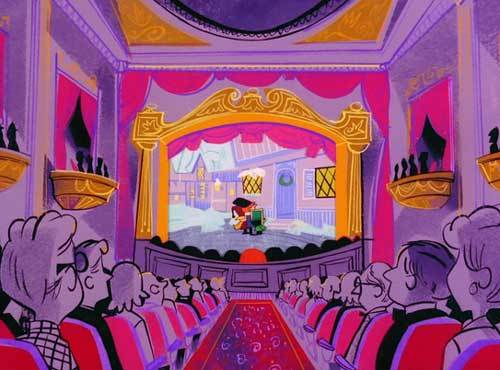 "We actually asked the estate about that. But there just didn't seem to any songs that Bob & Jule wrote that then didn't make it into this TV program," Timothy admitted.
I mean, that was something that we did with our Funny Girl concert presentation. The Jule Stein estate found us a trunk song that had originally been Nick Arnstein's solo in the show which then wound up being cut in Boston. And Peter Gallagher -- who played Nick Arnstein at our 2002 fundraising event -- got to present this song for the first time in New York. But as for Mr. Magoo's Christmas Carol, it'll just be the songs that Bob & Julie wrote for the holiday special plus some reprises.
So having firmed up a script and a score for their one-night-only concert presentation of Mr. Magoo's Christmas Carol, how did Carl Andress (i.e., this show's director), John McDaniel (music director) and Marcos Santana (choreographer) then go about casting this show?
"Well, that's the great thing about being The Actors Fund. Given that we are the human services organization for everybody in the entertainment industry, when we do events like this, the community just comes together and helps us. It's their commitment to the cause and generosity that makes events of this size possible," Pinckney enthused.
I mean, Mr. Magoo's Christmas Carol is going to sound absolutely amazing. We're going to have a 28 piece orchestra playing the score at this concert presentation. And every one of those musicians volunteered their time & their talents because they sincerely believe in The Actors Fund and what our organization does for the entertainment community.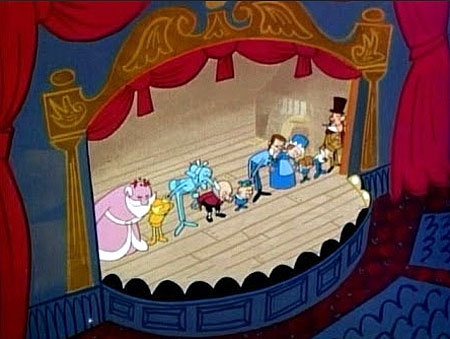 "As for the actual cast of the show, it's just an embarrassment of riches. Everyone came on board for the right reasons. They wanted to do this show to help raise money for The Actors Fund," Timothy continued.
Which is why we've got people like Christopher Sieber -- who's doing eight shows a week in Matilda -- carving out time to come rehearse Mr. Magoo's Christmas Carol. The Fund has a long, distinguished history of presenting benefits and events like this. But the cast that's come together for this concert presentation -- I think, personally -- is one of the best we've ever had.
And you want to know the really funny part? A lot of these performers didn't just join this production because it was an Actors Fund event. They wanted to be part of this show because they grew up watching Mr. Magoo's Christmas Carol on television every holiday season and they just loved the idea that they were now going to get the chance to perform those great Jule Styne & Bob Merrill songs live onstage. Even the performers who couldn't take part in this concert presentation because of scheduling conflicts -- as soon as they heard what we were doing -- were like 'Oooh! I wish I could be in that!'
Well, if you'd like to catch The Actors Fund's one-night-only concert version of that classic holiday special, Mr. Magoo's Christmas Carol (which will be presented at the Gerald W. Lynch Theater at John Jay College on Monday, December 15th at 7:30 p.m.), not to mention help out a very worthy cause ... Well, you might then want to swing by The Actors Fund store and pick up a ticket for this benefit presentation.
Popular in the Community