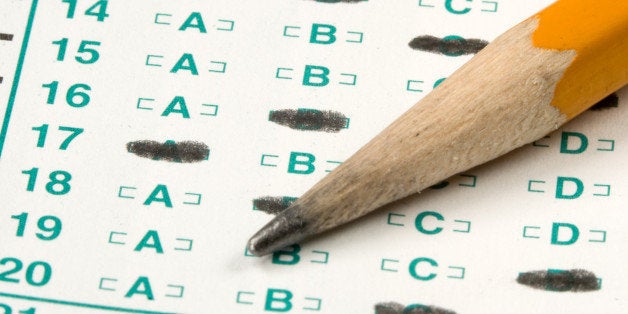 Mr. Mayor, race has been a heartbreaking conversation in the city lately, justifiably so. You've spoken passionately about your own son and fearing for his safety as a person of color. I can understand how racism is a part of your daily life.
But race isn't the center of every issue. And New York City students shouldn't be penalized by the City Council, NYC Department of Education and, potentially, the New York State legislature making it into an issue when it isn't one.
Next Thursday there's a hearing at City Hall about the admissions process to NYC's esteemed specialized high schools, a system which has been protected by state law since 1971, and has assured thousands of students of an exemplary education, for free.
Because the racial makeup of these schools has shifted recently, as has the makeup of the city at large, people are questioning and challenging the way kids are admitted. Admissions is based solely on a single test made up of 100 questions, 50 math and 50 verbal. Couldn't be more straightforward. And that certainly isn't racist.
The admissions policy is not racist either. Admission to these schools is based solely on merit. Color, race, gender, sexual preferences, socio-economic status, neighborhood, borough don't come into the decision making at all.
The test is biased though -- biased towards kids who work hard. Some of the content of the SHSAT isn't taught in schools: sections like scrambled paragraphs, where kids are given five sentences they have to reorder in a logical chronology. That ability to read, comprehend, and interpret is just the kind of critical thinking and problem solving ability that I have heard the principal at Brooklyn Tech say that he and his teachers work to instill in their students.
Those are exactly the kind of students who should be at New York City's specialized high schools.
Your son goes to one of these specialized high schools. He got in because he was prepared, has supportive parents who knew about the tests, and came from a community where other kids had specialized high schools in sight and worked hard to accomplish their goals.
What happens when kids who aren't used to academic rigor are accepted into these schools? How will they function in the requisite college level 9th grade engineering courses at Brooklyn Tech? Are they up for taking only AP classes like they do at High School of American Studies? Or will they be able to manage comprehensive scientific research as they do at Bronx Science? Will teachers have to change the way they teach to accommodate kids who aren't prepared for this level of intensity? Will tutoring, now not part of the teachers' contract, be offered to get kids up to speed? Will extra services be provided for those who crack under the pressure, already an issue at some of these institutions?
The reason some groups are falling in representation is that others are growing. Ebb and flow. Motivated immigrant groups who see education for their children as a way out of poverty. Have you thought about what will happen to these hard working kids who won't have the same access to these schools anymore? Kids from families living at or below the poverty level? My daughter's trigonometry tutor moved here from China with her family when she was 8. Speaking no English, she started test prep in 3rd grade. She graduated from Tech and Brown University and now is applying to medical school.
Instead of changing an admissions policy that rewards hard work and preparation to a process that is subjective and that could be manipulated, how about putting systems in place to get kids ready? Provide test prep to those who don't have access. Share information with families early enough so they can support their kids on this journey.
Offer free workbooks. City sponsored test prep clinics. Spend some of that Aris money you'll be saving on a test prep specific website to help. A coalition of alumni from the 8 specialized high schools put together a comprehensive list of suggestions.
The end result should be admission because of hard work. Admission to capable kids who are able to withstand the difficulty and challenges of being in a specialized high school.
Mr. Mayor, the issue isn't race. The issue is communication. Educating families and communities. Providing test prep and resources for kids who otherwise wouldn't have them. The solution is preparedness. Improving elementary and middle schools where poor test scores and low academic achievement are the norm. Making sure schools are doing their jobs for all students not just for some. In the end it's not just about the test. Or admissions criteria. It's giving all NYC kids the opportunity to soar, not fail, no matter who they are.
Popular in the Community