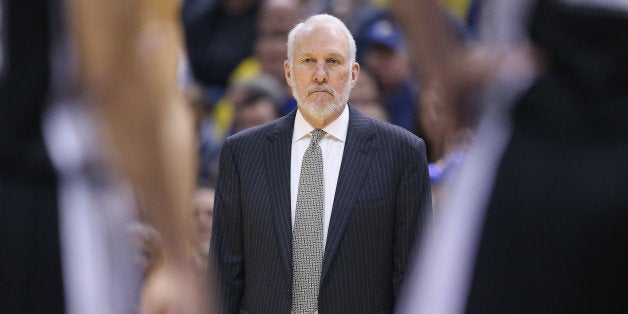 San Antonio Spurs head coach Gregg Popovich has just joined yet another elite list: the ninth coach in NBA history to record 1,000 regular-season wins. He sits at 1,000 wins and 462 losses for a 68.4 percent winning percentage, better than any of the other eight except Phil Jackson's 70.4 percent.
In typical Popovich fashion, he refused to take credit. He told reporters after the game, "I've been here a long time and I've had good players. That's the formula." But dig a little deeper: Popovich is not only the NBA's longest-tenured active coach, helming the Spurs since 1996, but he's also one of only two coaches to reach 1,000 wins with one team (the other being Jerry Sloan with the Utah Jazz). The Spurs, in the Popovich era, have notched a heady 67.7 percent winning percentage, far and away the best in the NBA over that span.
He's a three-time Coach of the Year winner who's led the Spurs to 17 consecutive playoff appearances, 16 seasons of 50 wins or better (in a season with 82 games), four seasons of 60 wins or better, six NBA Finals appearances, and five NBA titles.
But what makes him so special?
First, there are the things he refuses to take credit for. His greatest basketball achievement, to my mind, wasn't the cascade of brilliant draft picks, like snagging Manu Ginobili with the 57th pick in 1999 or Tony Parker with the 28st pick in 2001. His greatest basketball achievement hasn't been the relentlessly smart moves, like the swing-for-the-fences trade that brought the Spurs Kawhi Leonard or the trades that bring struggling talents (the most recent being Boris Diaw) from elsewhere to breathe new life into their careers in San Antonio.
His greatest basketball achievement wasn't building championship teams that would strangle opposing offenses to the point that their philosophy was putting their opponents through "48 minutes of hell."
Popovich's genius has been in his defiance of NBA wisdom. NBA wisdom holds that players can carry championship teams until they simply can't anymore, and when that time comes they should be let go.
Conventional NBA wisdom holds that defense wins championships. As recently as 2008, when the Celtics had just clinched a championship with a defense-fueled rout of the Lakers, Boston fans began spontaneously bellowing "DE-FENSE! DE-FENSE!" because it had delivered them to the promised land.
But Popovich didn't trade Tim, Tony, or Manu; he kept tinkering and kept building. Basketball is about scoring more points than the other team, and Popovich was going to win with the players who brought him so much success in the first place. He picked up role players, ran a smart system, built around Tim Duncan, and kept doing things his way. The Spurs Way.
And it worked. His team had a championship snatched from under their noses in 2013, and he pulled them up off the mat. They battled to the 2014 Finals and dismantled the Heat's superior athleticism and defense with an avalanche of beautifully played offense.
Go back and listen to Popovich talking to his Spurs in timeouts during the 2014 NBA finals. In Games 1 and 2, especially, before the Spurs made a joke of it, he wasn't preaching defense like most coaches in his situation, or even preaching defense like he would have with the Spurs' early-2000s championship teams. Popovich wasn't going on about locking the Heat down or defending with energy or getting a stop. Pop was stressing principles of offense. He was talking about sharp passes, taking care of the ball, crispness of curls off screens.
He was talking about execution, not disruption.
The Spurs, the defending champions as they are built right now, are the first team in recent memory to win by simply cranking up the offense. Popovich built a scoring machine: a crowd-pleasing, age-serving engine. Tim Duncan, Manu Ginobili and Tony Parker don't have to run the way they ran on defense when the Spurs choked opponents to death. All they have to do is use their veterans' wiles to score in the most beautifully constructed scoring machine that I think the NBA has ever seen.
But he'll go to his grave telling us that he was handed some incredible players and all he did was not screw it up. That's Pop.
And I think the best way to capture why he's so special is to listen to him talk about just what he's done.
There are two quotes I love, and two that are quintessential Pop, in the video below.
On what it really takes to win, and why he doesn't watch a lot of film during the regular season, at 5:30:
"It's the same stuff, every day. Whoever executes the best, whoever is the most competitive, and does both on a consistent basis for more of the 48 (minutes), that's the team that wins. Take it to the bank."
And on how he treats player development, at 6:16:
"Our method is usually tough love. I don't think coddling someone, blowing smoke at them, really works, and beating them to death mentally doesn't really work. So to give them a clear picture of what's demanded and needed is the first important thing, and then showing the care and concern after that. Being there for them on the court, caring about what they do off the court, understanding who they are on the planet, what makes them tick, you do all that. And if that doesn't get through, get rid of 'em."
It's why he's so special. He himself has said he's not a basketball lifer, that this is his job and he loves it but the day will come -- and, unfortunately, it will come soon -- that he walks away for good.
And when he's gone, we'll miss him because Pop is special. He's never done this for love of the game. He's reached milestone after milestone, including this latest one, by first, foremost, and always treating his team like family.
REAL LIFE. REAL NEWS. REAL VOICES.
Help us tell more of the stories that matter from voices that too often remain unheard.