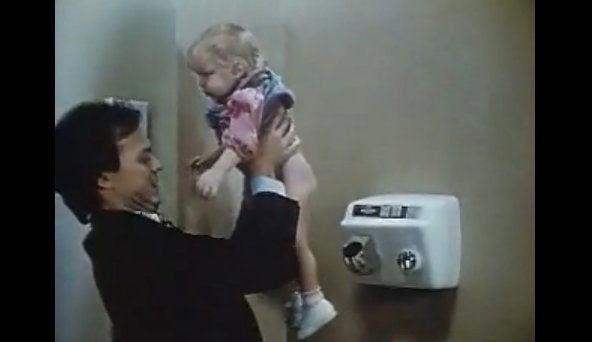 Mr. Mom -- that bumbling caricature of a father who doesn't know "a diaper genie from a garbage disposal" (and is equally inept with both) -- has died, the Wall Street Journal reported this morning.
Still unclear as this obituary went to press was whether Mr. Mom's death might bring an end to the decades-long mystery of why he was spoken of often, but never actually seen. All have heard tell of his helpless incompetence when alone with his own children, but whenever scientists investigated a reported sighting, it turned out that the man in question was perfectly capable of doing parenting stuff. Maybe he didn't want to. Or maybe he didn't do things exactly the way his wife might have. But he was not a hapless idiot.
This led to speculation that Mr. Mom did not actually exist. Instead, theories went, he was either a product of Hollywood's imagination or a conspiracy by those who would keep women down by suggesting that men somehow couldn't cook dinner or burp a baby. Or both. At the same time.
The date of death is unclear, but appears to have occurred sometime between the 1983 release of his eponymous movie, in which he was played by Michael Keaton, and the release last year of a Boston College study finding that the percentage of stay-at-home parents who are men has doubled in the past decade. (Okay, okay, it's still just 3.4 percent, but it's a start.)
It should be noted that this is not the first time Mr. Mom's death has been announced. Apparently previous reports were somewhat exaggerated because, well, we are still talking about him right now, aren't we?
Among those unsure of the veracity of the rumors was Lance Somerfeld, a founder of the NYC Dads Group, a 700-member chapter on Meetup.com. "Yeah, I heard rumblings about the death of Mr. Mom from some nannies on the playground today," he said. "No time to confirm it though - too busy helping my son navigate the monkey bars, reading Curious George together, preparing his lunch, and taking him grocery shopping."
If the reports turn out to be true, he said, "I'd be excited to move beyond Mr. Mom to some more important chapters in fatherhood like parental leave, increasing classes/resources for new dads, and how dads fit into the work-life equation."

Mr. Mom is survived by the 70 million Dads across the country who do not need applause, or a silly demeaning moniker, when they matter-of-factly take on their share of domestic tasks. (Also, please don't say they are babysitting when they are with their kids.)
In lieu of flowers, comments may be left below about why the stereotype of the helpless father simply won't go away.
Popular in the Community