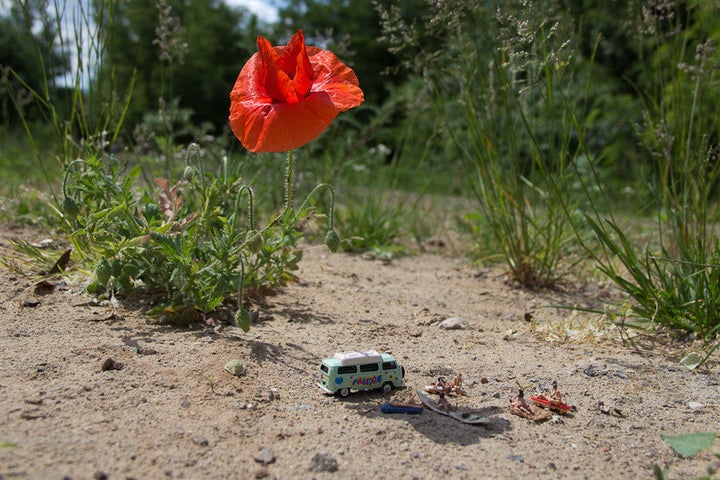 It's not often that we see tiny figurines in graphic sexual positions posed outdoors. But in Berlin-based micro-sculptor and street musician Mr. Peluche's series, "My Summer of Love - Make Love Not War" and "Sexy Flowers," that's exactly what you will find -- dozens of photographs documenting these miniature humans making sweet, sweet love.
Certainly not for children, nor those among us who shy away from the sexually explicit, Mr. Peluche has created a hilarious and imaginative series that will most definitely change the way you look at those innocent plastic figures from your childhood. Each scene almost begs viewers to create their own backstory to the photograph before their eyes. Friends who've had too much to drink appear to engage in an orgy while on a camping trip, while a man and a woman who could be having extramarital affairs secretly make love in an open flower, hidden in plain sight.

The series reminds us of a NSFW version of Slinkachu's 'little people,' since both artists depict miniature humans quietly inhabiting the great big "real world." We caught up with Mr. Peluche via e-mail about what inspired his project. Scroll down for more photographs.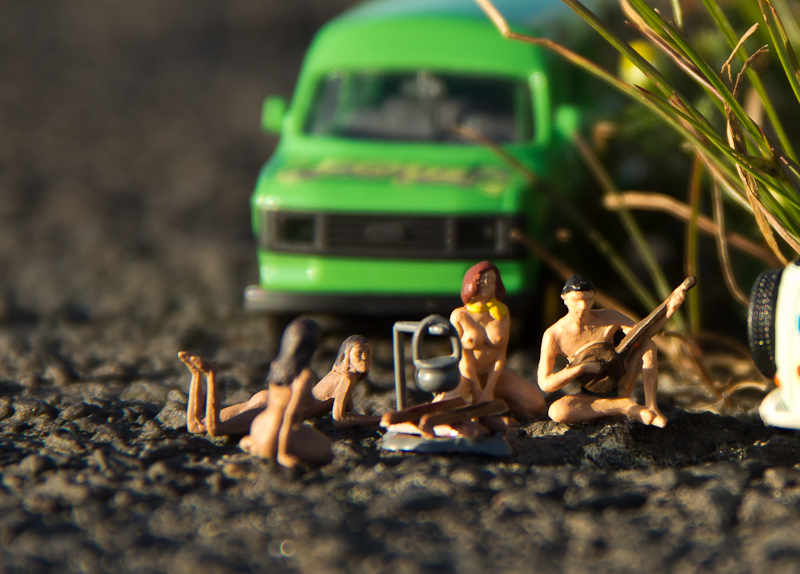 The Huffington Post: Where did you first get the idea for the project?
Mr. Peluche: For a couple of years now I've spent the summer months traveling and living life outside as a street musician in Barcelona, Paris, Amsterdam and Berlin... I was glad to meet a lot of the young people from all over the world, among them some artists who drew my attention towards street art. I had time to watch them while I was playing my songs. Besides music I have always been interested in art, people and, nature, and was happy as some of the guys comissioned me to take in flagranti photos of their mural art with a camera they gave me.
When you're living outside close to the ground and under a star-spangled sky, you see a lot of things going on between people... Love is certainly in the air. That's what I intended to capture in this project.
HP: How did you create the figurines?
Mr. P: The miniature humans can be bought as unpainted plastic model figures from model railway shops or on the Internet. There is a long tradition of manufacturing these scale figures here in Germany, some of the companies are the global market leaders. I often remodel the characters by adjusting arm, head or leg positions that fit to my proposed composition. Sometimes I am add tiny body parts with air dry modeling clay. When the clay and glue are dried (which can take up to one day) the characters are painted with acrylic paint, a work that demands patience. Sometimes I have to use a hair from my eyebrow or eyelash as a paintbrush for the smallest details of the figures, like eyes, mouth or nipples, as they are so tiny. They often undergo a kind of micro-cosmetic-surgery in order to create an authentic image in front of my camera lens.
HP: Do you ever imagine a backstory to the scenes you create?
Mr. P: Oh yes, I do create scenarios, characters, and melodies all day long -- on the bus, or in the library -- everywhere. I love to make up stories about the people who pass me during my performance or in a café. For me, a good life is about storytelling with various means, like music, writing and photography. "I'm just sittin' here watching the wheels go round and round," and this watching often inspires me to sketch a scene on paper which I try to capture with the photographs later. I love people who chuckle about their own little secrets in public places without cause, and I am one of them. With my figurines I can be an actor-director, a director who is not only a location-scout, set and lightning designer, but also responsible for the context and composition of the installations. With my art I am celebrating the vibrant pulse of the city. The pictures can be seen as a travelog or the diary of a traveling man.
Take a look through the slideshow below to see more photographs from his series and find more information here.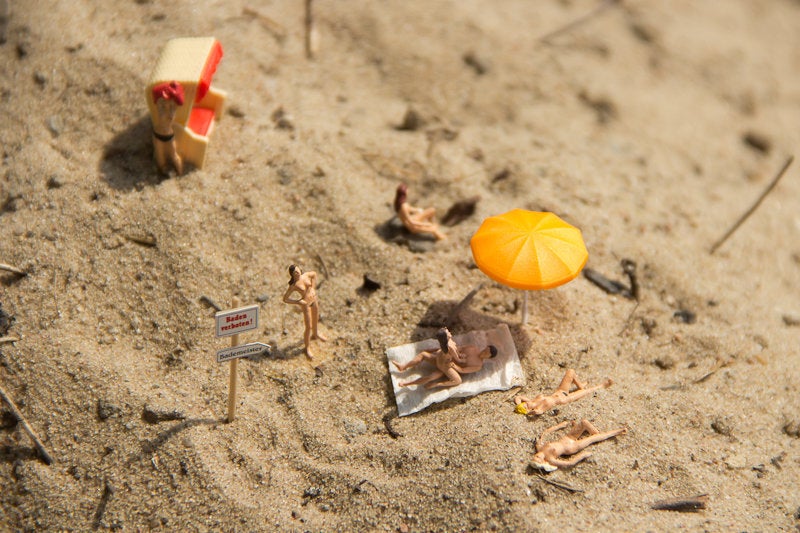 Mr. Peluche
Popular in the Community