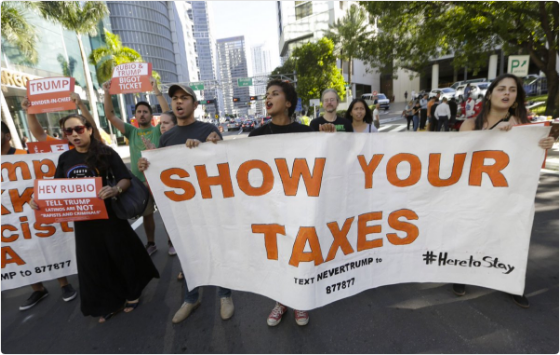 With tax day a few days away, some questions still loom on the minds of most taxpayers: Will I get a return this year? What tax breaks, if any, will I receive? If I have to pay taxes every year, why is President Trump able to get away with not paying his taxes? And, why has he not released his tax returns yet, like most all other U.S. Presidents?
While Trump may think no one cares about his returns, a new Bloomberg/Morning Consult survey, in fact, shows that a majority of registered voters — about 53 percent of them — found that it was very important for the President to release his tax returns.
Nonetheless, it is known that, against his will, two of Trump's incomplete tax returns have leaked to the the public.
A 1995 tax record released in October 2016 showed $916 million in business losses due to mismanagement of his casinos in Atlantic City, an airline company, and the Plaza Hotel in Manhattan. This experience explained why Trump may have also avoided paying individual income taxes for nearly two decades.
Additionally, a recent reveal of a portion of Trump's 2005 tax returns was publicized by MSNBC's Rachel Maddow. While the two pages of Trump's 1040 do not provide very important information normally in the Schedules of a tax return (which could reveal his business ties, creditors and potential conflicts of interest), it does highlight that Trump paid $38 million in federal income taxes on annual income of $150 million. Out of that amount, about $31 million was paid under the Alternative Minimum Tax (AMT), effectively paying a tax rate of only 25 percent ― well below the standard 35 percent corporate tax rate.
And at almost no surprise, Trump has proposed to repeal the AMT in his tax cuts proposal, which he has apparently scrapped due to fear of another loss, like the failure of Trumpcare passing in Congress.
The AMT, is a "secondary tax put in place to prevent the wealthy from artificially reducing their tax bill through the use of tax preference items." So, if the AMT was not in place, Trump would have only paid about 4 percent of effective taxes, much less than most middle class households, sometimes averaging 14 percent to 25 percent effective rates.
1. Applying Tax cuts on individuals from seven individual tax brackets to three ― rates are 33 percent, 25 percent, and 12 percent. This new marginal tax rate plan will only benefit higher income earners, especially those in the top one percent. Additionally, it calls to repeal personal exemptions for taxpayers, their dependents, and heads of households. According to a CNBC article, this means that "Twenty percent of households and more than half of single parents would pay more under Trump's tax plan even with the child-care breaks [which will remain]."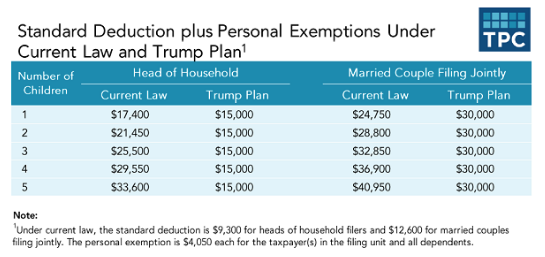 2. Cutting corporate tax rates. A second central piece of Trump's possible tax cuts are aimed to reduce income taxes to large corporations. Trump and many Republicans have discussed cutting corporate tax rates from 35 percent to between 15 percent to 20 percent.
However, decreasing the corporate tax rate will cause the U.S. to lose revenue from existing companies and potentially allow only small gains of revenue if new companies, not already doing business in the U.S., chose it as its new home (Note: About 30 percent Global Fortune 500 businesses are already U.S. based, and U.S. Fortune 500 companies represent two-thirds of U.S. GDP). This revenue could otherwise be invested in educating our workforce, imposing strong federal regulations, and even providing additional access to capital for small and medium-sized businesses.
The proposed massive corporate tax cut would basically be a gift to big corporate interest. It is also the result of an incredible manipulation. Nominal corporate tax rates in the U.S. are as high as 35 percent, but effective tax rates, the actual rate of taxes paid given loopholes and other special tax benefits in the tax code, are on average as low as 14 percent for big business, like the oil or banking industries, and much less in the real estate or telecommunications industries.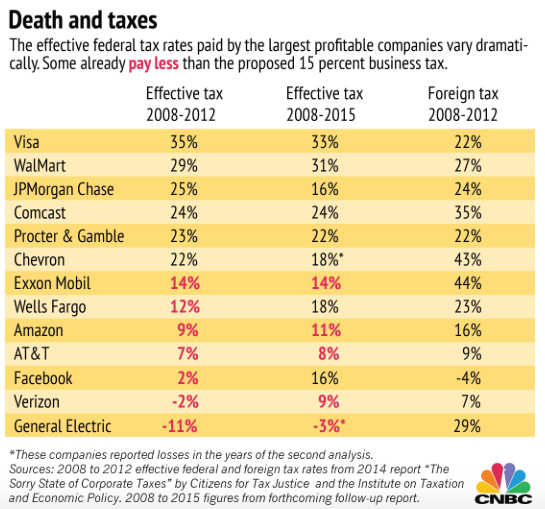 When arguing for such a dramatic tax cut, a typical reasoning is to compete with the corporate tax rates in countries such as Ireland, which is misleading. Ireland has a 15 percent corporate tax rate because policies have shifted from direct taxes to indirect taxes that include a value added tax (VAT). In Ireland, the VAT rate stands at 23 percent of every sale of good (including imports, wholesale or retail) and all services. Accordingly, introducing a corporate tax cut of this magnitude, without a holistic tax reform, will increase the federal deficit and make it impossible to carry out, for instance, the infrastructure investments needed by the country.
3. Repeal the estate and gift taxes. Republicans refer to this tax as the "death tax"; a political ploy to get more people to rally behind repealing the IRS-recognized estate tax. However, with the current estate and gift tax exemption amount being $5.45 million as of 2016, this tax affects maybe 5 percent of the population. Indeed some experts have estimated that because a married couple can jointly have a an exemption of almost 11 million, the tax only applies to 0.2 percent of those with the most wealth in America. Therefore, yes, it is another plan to protect the interests of Trump and the wealthy, when even Bill Gates Sr., the wealthiest man in the U.S., is a proponent of the estate tax. He believes that "instead of leaving a prodigious national debt for our children and grandchildren, we should retain a robust estate tax and avoid the unprecedented interest costs of that debt."
Estate tax would generate about $275 billion over the next decade under current law, according to the Center on Budget and Policy Priorities (CBPP). "While this is less than 1 percent of federal revenue over the period, it is significantly more than the federal government will spend on the Food and Drug Administration, the Center for Disease Control and Prevention, and the Environmental Protection Agency Combined." These are all vital agencies that Trump also wants to eliminate, as stated in his recent budget proposal.
To the contrary, there are many loopholes in the Estate and Gift Tax Law that require fixing. For instance, according to current law, the estate (and its beneficiaries) enjoy what is defined as "stepped-up basis", that means that the tax value of the assets inherited is the market value at the time of the benefactor's death, and not the actual cost basis. Accordingly, with well designed planning, largely appreciated assets can go from one generation to another without being taxed.
This capital gains tax exclusion is estimated by the Congressional Budget Office as a $50 billion tax expenditure to benefit only the wealthy in America. Solely by addressing this type of a loophole, the government can generate substantial revenue that can in effect help the nation's budget priorities, working people, and work to reduce the federal debt.
Ultimately, Trump is not planning a tax reform. Instead, the pattern is clear that he is moving towards massive tax cuts to help himself and the wealthiest in America. This will be detrimental to vital investments for our future, especially for middle and working class Americans, such as in education, health care, infrastructure, and energy renewal to prevent climate change (again, areas that he is cutting). With tax day just just around the corner, Trump has an opportunity to release his 2016 and previous tax returns, and prove his real intentions for America's taxpayers. It's as simple as that.
Calling all HuffPost superfans!
Sign up for membership to become a founding member and help shape HuffPost's next chapter